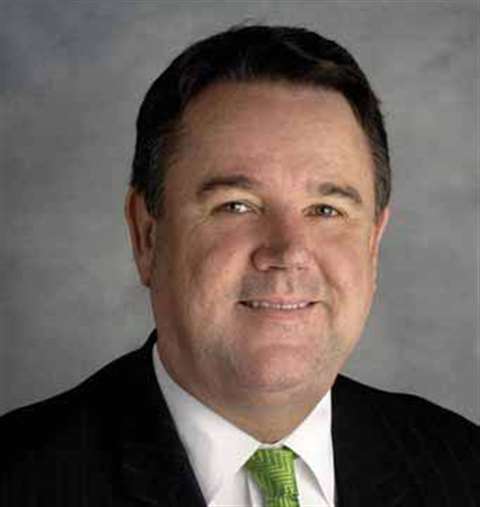 Think about Australian architecture and images of Sydney's Harbour Bridge or Opera House probably spring to mind. But a stones throw from these iconic structures are some new additions - Deutsche Bank Place, Aurora Place and 30 The Bond - and the link between all three is Bovis Lend Lease.
Deutsche Bank Place and Aurora Place are both high rise developments in Sydney's central business district (CBD), designed by Norman Foster and Renzo Piano respectively, and constructed by Bovis. Just round the corner in Sydney's upcoming Millers Point district is 30 The Bond which is not only the head office for Bovis's Asia Pacific division and a showcase for environmentally sensitive design, but is also part of the company's recent construction portfolio.
It is in a bright and airy conference room in 30 The Bond, which overlooks Sydney Harbour, that iC meets with Murray Coleman, the man recently appointed to CEO for Bovis's Asia Pacific region. Mr Coleman joined Bovis 19 years ago as a site engineer and worked his way up the ladder to take over his current role in July 2005 but his career in construction is a natural one as he was brought up with engineering.
"My Father worked for a large firm of consulting engineers and one of my earliest memories of his engineering influence is from when I was five years old," explained Mr Coleman. "I remember sitting on the 21st level of the tallest building in Melbourne at the time - the Axa Building - with my feet dangling over the edge, while my Father checked some plans."
As well as Australia, Mr Coleman's new role also covers China, Hong Kong, Japan, Malaysia, New Zealand, Singapore, Taiwan, Thailand, India, Korea, the Philippines and Vietnam. Bovis' worldwide operation generated over AUS$ 9.5 billion (US$ 7 billion) in the financial year to the end of June 2005 and more than AUS$ 1.6 billion (US$ 1.2 billion) of the revenue came from work by the Asia Pacific division.
Mr Coleman has worked extensively throughout the region, as well as in the UK and the US, in previous roles at Bovis but has spent the last few months bolstering his knowledge about operations in each country. "We are already clear about our strategy in Australia but we need to develop clear strategies for each individual country within the Asia Pacific region," he said. "The region covers a wide range of markets, each with different economic drivers and different cultures." Getting to grips with the new challenge is obviously something that Mr Coleman relishes.
Australia is the main market for Bovis'Asia Pacific division and new orders during the last financial year in Australia alone generated more than AUS$ 1 billion (US$ 740 million) in sales. The company has built a name for itself in Australia through its involvement in high-profile, innovative projects like 30 The Bond, Deutsche Bank Place and Aurora Place. Bovis was also involved in the redevelopment of Sydney's Darling Harbour and worked in joint venture with property developer Mervac on the athlete's village for the 2000 Sydney Olympics.
"The Olympics were good for the Australian construction sector," said Mr Coleman. "Not only in terms of the amount of work that was generated in the run up to the games but it also increased awareness of the capability which exists within the Australian construction sector.
There are only three other main players in the Australian market apart from us - Multiplex, Leighton and Thiess - and these names are increasingly gaining work overseas. But there are very few foreign companies competing for work in Australia."
For clarification, it should be added that Thiess is a wholly-owned subsidiary of Leighton, and that the latter company's largest shareholder is the German contractor Hochtief, with a 53% interest.
New areas
Despite the company's recent success in its home market, Mr Coleman is still looking to further develop and widen Bovis' involvement in the Australian construction sector. "We work in all the main construction sectors - commercial, retail infrastructure and residential - in Australia," explains Mr Coleman. "But we are also looking at moving more into the transportation sector. Rail will be a big growth area in Australia in the next few years and road investment is also increasing but it is difficult to grow organically in the roads market so we will probably look to joint ventures or acquisitions."
Under Mr Coleman's guidance, Bovis has also begun to focus its attention on Private Finance Initiative (PFI) building and operating projects in the last six months. "We have not actively pursued PFI or design, build, finance and operate (DBFO) style contracts over the last few years but we are now changing our strategy to target this kind of work," said Mr Coleman. He also revealed that Bovis is already in the final stages of negotiations for a PFI contract in the defence sector.
Bovis has five main offices in Australia which employ 1150 people and judging from the company's recent contract wins, there will be plenty of work to keep them busy over the next few years. Contracts awarded to Bovis in recent months include an AUS$ 250 million (US$ 187 million) deal to upgrade Brisbane Airport, a AUS$ 125 million (US$ 93.5 million) project to build two prisons in Queensland and a AUS$ 150 million (US$ 112 million) scheme to build a new headquarters for the Australian Taxation Office in Canberra.
Bovis' approach to work varies throughout the Asia Pacific region. "In Australia we generally focus on design and construct projects," said Mr Coleman. "But in other areas our clients' needs very from full project management to just construction.
"The type of clients we work for also varies. In China, for example, we tend to only work on major projects for multinational companies rather than bidding for locally derived contracts," said Mr Coleman.
"The Chinese construction market is probably one of the fastest growing in the Asia Pacific region and there is huge potential for further growth with foreign investment in China racing ahead. There were 32000 separate building sites in Shanghai a few years ago and I am sure that there are still a similar number underway today."
Bovis has been working in China for 12 years and has recently started work on its fifth pharmaceutical contract in three years for GE Healthcare in Shanghai, which has been valued at US$ 25 million. Bovis' operation in China is based in Shanghai and employs 140 people.
"One of the biggest problems we have had in China is with the level of skills and training," said Mr Coleman. "We are overcoming the problem by providing appropriate safety and risk assessment training, as well as vocational training, ourselves. Health and safety can also be a problem - strict regulations exist but they are often not enforced."
According to Mr Coleman, Bovis' order books in other parts of the Asia Pacific region are also growing. "Work levels in most areas are steady but the commercial sector in Malaysia is really starting to take off and we are expecting to see growth in our telecommunications work in Japan," he said.
"Work in Thailand is increasing. We have carried out a lot of work for the hospitality industry around Phuket following the tsunami in 2004 but we expect the growth to continue beyond the rebuilding work."
Singapore has long been a key market for Bovis and the company first established its presence there 30 years ago. "The construction sector in Singapore is beginning to recover but has contracted by -50% compared to three years ago," said Mr Coleman. "The Singapore market is very cyclical. Industrial work there has dropped significantly over the last few years but recent growth in retail work is helping to boost the sector."
Bovis' work in Taiwan is also growing and the company is currently working on a US$ 300 million industrial project to build a new LCD glass manufacturing facility for Corning in Taichung.
In general Mr Coleman is positive about prospects in the Asia Pacific region and will be focusing on developing strategies for each market in the coming months to "get more drive". However, he also believes that people are a vital part of developing the right strategy. "Having the right people in the right place at the right time is 95% of the battle," he added.