ALE uses AL.SK350 in Texas
By Christian Shelton02 January 2019
International heavy transport and lifting specialist ALE is using its AL.SK350 super heavy lift crane, which it says is the world's largest capacity land-based crane, for an oil and gas project in Ingleside, Texas, USA.
The AL.SK350 has been commissioned to lift three modules onto an offshore topside. The combined weight of the three modules, including the block and tackle, is 6,614 tonnes – although the units are being lifted individually. The first, a heater module, weighing approximately 1,200 tonnes, was lifted at the end of 2018, with the two remaining modules scheduled to be lifted in January and February 2019.
The crane lifted the first module with an installation outreach of 63.1 m. The AL.SK350 was rigged with a 124 m main boom, and a 49 m ballast radius, along with a heavy winch system and 4,000 tonnes of ballast.
ALE said the crane will complete all three lifts from one position. "Our AL.SK350 is the only crane on the market to lift this weight at such a long outreach. The project really showcases the capabilities of the AL.SK350 to perform some of the world's heaviest ever crane lifts in such a congested site," commented Filippo Anello, ALE global projects division director. "As there was minimal space to position the crane, it can only be rigged in one location to perform all of the lifts – making the AL.SK350 the ideal piece of equipment."
Following their initial trial installation on land, the three modules will be removed in the second quarter of 2019. After that they will head to Israel for installation offshore.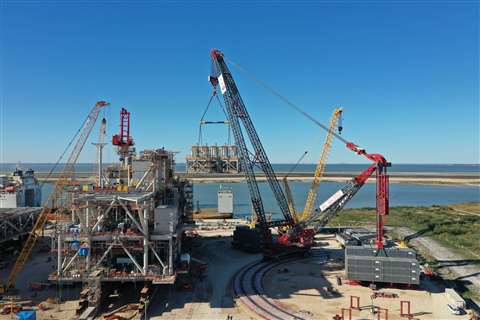 ALE's AL.SK350 super heavy lift crane being used in Texas, USA