In its short history (the show launched in 2017) APEX Asia has been warmly embraced by the global access industry, with most of the world's top manufacturers attending the show. It will also be a showcase for China-based construction equipment producers that have moved into access, some of them in the past 12 months. All of them are hoping to take advantage of the growing rental sector in the country.
One of these companies is China-based manufacturer LiuGong, which is starting off its access equipment division at the show with a 22m working height scissor lift. LiuGong's D-series scissors adopt a new hydraulic system and advanced electrical control.
The series has been developed to be energy-efficient and offer extended operation times. It includes tilt sensor and overload protection, pothole protection and anti-debris clamp function. A range of batteries, from different manufacturers, can be used in the series, as well as a lithium battery option.
Zoomlion is also set to launch new models at APEX Asia. The manufacturer will show a new 14m electric articulating boom lift, 20m electric articulating boom lift, 34m telescopic boom lift, and low level electric scissor lifts.
"China is changing and moving towards more lithium because the cost is coming down," commented David He, sales and marketing director of Zoomlion Aerial Work Platform Machinery Company.
New access manufacturer
New Chinese access equipment manufacturer Fronteq, set up by overhead gantry crane specialist Eurocrane, plans to exhibit up to ten models at the show.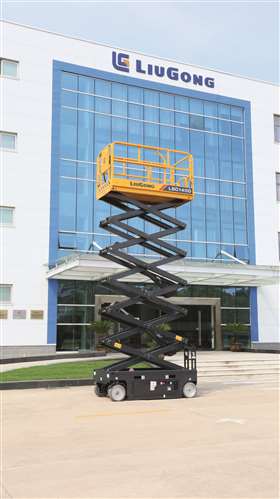 Elsewhere, China's biggest access equipment manufacturer Dingli will be displaying a number of new products, including the BT24RT telescopic boom lift, the BA24RT articulating boom version and BA20ERT articulating boom.
The BT24RT has a working height of 24.8m, with a maximum of 450kg in the basket. According to the company it provides a good combination of height, load capacity, power, ease of maintenance and energy efficiency. The 24.3m working height BA24RT offers the same range of features, with a basket capacity of 300kg.
The battery-powered BA20ERT offers 230kg in the basket. Power and flexibility have been upgraded from previous models, along with energy conservation.
Generalist construction equipment manufacturers based in China have been launching into access in recent years, with XCMG one such company that has significantly expanded its MEWP (Mobile Elevated Working Platform) output. At Bauma China last year the company launched a telescopic big boom to compete with JLG's 1850SJ and Genie's SX-180. The 56.6m platform height GTBZ58S uses some of the technology from the Chinese manufacturer's long experience with producing truck mounted platforms.
At APEX Asia the company will continue to fill out its telescopic boom range with the 20m GTBZ20S.
Worldwide players
JLG will be sharing its recently-launched ES Series lightweight electric scissors with visitors, incorporating the ES1530L, ES1330L and ES1530LC. The three models fill the gap in JLG's lightweight scissor category, with higher specifications, better performance and easier serviceability.
They have a dual-front electric drive motor, which provides a zero inside turning radius. The light and compact footprint fits into a standard elevator. Meanwhile, it is open to multiple transportation options, covering most trucks and containers. In addition, they meet new American National Standards Institute (ANSI) 92.20 standards, which also gives the equipment a higher used resale value in Asia.
The launch of JLG's rough terrain 520AJ in the Asia market will effectively fill the gap in the 18m working height area to provide greater flexibly and use in more applications. The 520AJ follows the 450AJ design and has enhanced performance and load capacity of 250kg, says the manufacturer. The 520AJ can reach full working height in 40 seconds, saving 37% of lift time and giving the operator more time to work. Horizontal outreach is 10.65m.
Genie will also have its new compact scissor at the show. The GS-1330m offers a maximum platform height of 3.9m and a maximum working height of 5.9m, with a two-person, 227kg capacity, weighing in at just 889kg. It has an all-electric DC drive system and can be driven at full height, and in the stowed position.
The company is also aiming its latest Xtra Capacity models at Asia. The S-85 XC and SX-135 XC will be on the stand, along with its latest hybrid offering, the Z-60/37FE. The XC models are engineered with a redesigned boom structure that boasts increased performance, range of motion and envelope control, as well as a jib capable of handling the 454kg maximum capacity. The S-85 XC has 27.74m working height with 22.71m of outreach. The automatic envelope control retracts as the booms reach their operating envelope, allowing for simple platform positioning.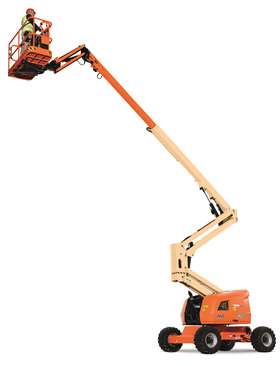 The SX-135 XC has an increased range of motion, with 5.48m-9.14m telescoping Jib-extension and 125 degrees of jib articulation. It has load sense technology for accurate load weighing and zero-load field calibration.
From Haulotte is the new HTL3207 telehandler, designed to be compact and comfortable. It can be used in a variety of applications such as forklifts, cranes and MEWP and represents the view that telehandlers are starting to gain some minor traction in Asia.
Also at the show will be the new compact Haulotte Star 8S mast lift, with an AC motor and designed to be easy to use in small spaces. Other products on display will be the HA20LE Pro boom, launched in China in 2018. Its all-electric drive design meets the goal of Haulotte's green policy; the company will only launch battery-powered rough terrain booms from now on.
However, the company's existing diesel-powered HA16RTJ boom – which was localised in 2018 – and is favoured by the domestic market, will be at the show. It has upgraded devices, such as Haulotte lighting systems, to improve safety.
Genie had its new compact scissor on show, the GS-1330m
Skyjack is bringing a variety of MEWPs to APEX Asia. The DC scissor lift and low level access market are strong performers throughout the Asia market, says the manufacturer, so it is bringing its SJIII 3219 DC electric scissor lift and SJ16 vertical mast to the event. It will also have its SJ63 AJ articulating boom, with an enhanced up-and-over clearance. The company will also promote the Easydrive function.
As with all the manufacturers, China is not the only country in Asia which is being focused on. As Skyjack says, "Over the past few years Skyjack has seen a growing demand for aerial access equipment in the South Korean market.
"In response to that growth, Skyjack started by providing a dedicated service support staff back in 2013, then slowly grew the team from there. In 2018, with a well-rounded service and sales team, Skyjack thought it prudent to open an official facility in Sangnok-gu, just south of Seoul."