APEX launch for 43 m Palazzani
By Euan Youdale03 June 2014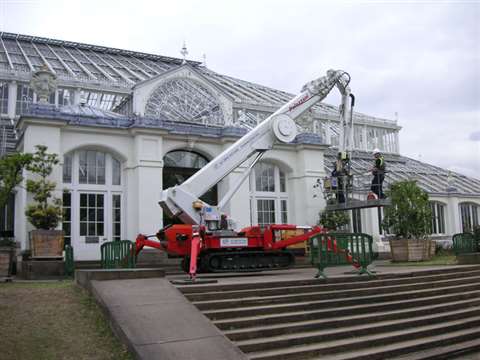 Palazzani is launching the 43 m XTJ 43 track mounted platform at APEX 2014 this month.
The three-day exhibition for the aerial work platform industry takes place in Amsterdam 24 – 26 June. Make sure you register ahead of the show to avoid a €20 charge on the door by visiting the APEX website www.apexshow.com
The Palazzani XTJ 43 replaces and is a significant upgrade of the Italian manufacturer's XTJ 42, with an increased working height and components from its latest Ragno range of machines.
The XTJ 43 uses a six-section boom and two-section jib to reach a maximum working height of 43 m and maximum outreach of 19 m.
The model offers a large basket measuring 2.4 m x 0.7 m x 1.1 m that rotates at 90°+ 80°, with a standard capacity of 230 kg and an optional 330 kg.
With its stowed dimensions and 1.4 km/h speed, the unit can travel on a 40% slope. Standard on the XTJ 43 are radio controls, automatic set-up, variable width track chassis and communication system.
The COS (Clever Outreach System) selects the optimal outreach automatically, according to the stabilisers' position. The ACD (Advanced Control Diagnostic) offers a colour touch screen monitor with advanced diagnostic functions, while the EPC (Electric Power Controller) provides optimised power to the machine and the VDM (Variable Displacement Hydraulic Motors) runs the machine at top speed when precision is not required and reduces it when an accurate control is required.
Palazzani Industrie can be found at Stand 660, along with a range of other products.