Ardent makes €4.7 million Ammann order
By Joe Malone04 April 2017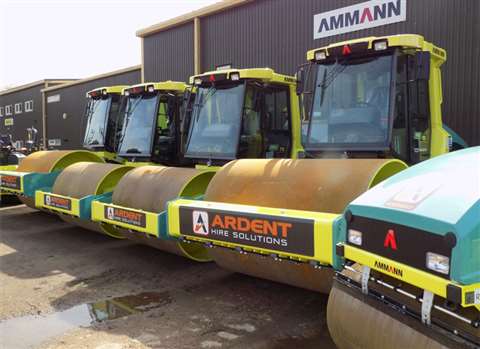 UK-based rental company Ardent Hire Solutions has struck a £4 million (€4.67 million) deal with Ammann's UK and Ireland importer A&Y Equipment to buy over 100 new Ammann rollers.
The deal comprises a range of Ammann's compaction machines, which include trench rollers, light tandem rollers and single drum self-propelled rollers. The new machines will add to Ardent's existing fleet of Ammann rollers located throughout its 14 national depots.
The trench rollers will be the latest Rammax 1575 model, which is remote controlled and features an articulating and oscillating central joint.
Three versions of the ARX tandem rollers are also included in the deal. These range from the ARX12 with a drum width of 80cm, the ARX26 with a drum width of 120cm, and the ARX45, which has a drum width of 138cm and a compaction output of 55kN.
The largest machine in the order is the 17 tonne ASC170, which Ammann said delivered industry-leading compaction outputs via its advanced vibratory and amplitude systems.
Tom Gleeson, Ardent's commercial director, said, "We chose Ammann due to its market leading products driven by innovative design.
"For example, by Ammann introducing its articulating and oscillating central joint on the trench roller, we are able to provide our customers with greater safety specification and a solution to machine stability and control."
He added that Ammann's product offering complimented its customer demand, making it the "perfect fit".