Asia conference educates in Malaysia
By Euan Youdale19 July 2018
The IPAF Asia Conference and Showcase was held last week in Kuala Lumpur, Malaysia.
It is the first time such an event has been held in the country, which has become an important and fast-developing market for MEWPs.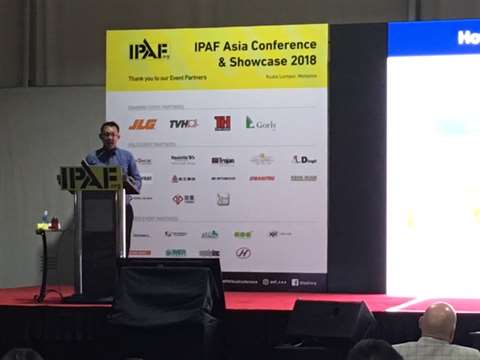 Some 300 delegates, mostly from around Asia, gathered on 19 July to see a wide range of presentations touching on key aspects of the industry, including safe use of MEWPs, sustaining the industry through effective management and new technologies.
The day kicked off with the launch of Malaysia's guidelines for Safe Use of Mobile Elevating Work Platforms. The comprehensive guidelines were produced by IPAF, The Master Builders Association of Malaysia (MBAM), CIDB Malaysia, and the Malaysia Department of Occupational Safety and Health (DOSH).
The guidlines are a first step towards the introduction of working at height safety regulation.
It was swiftly followed by a Memorandum of Understanding (MOU), signed by IPAF and MBAM, with the aim of developing quality training for MEWPs in Malaysia. It was witnessed by the conference's guest of honour and speaker Haiji Kormain bin Haji Mohd Noir, deputy director general off occupational safety at DOSH.
The event was accompanied by a two-day exhibition of MEWP manufacturers and other related suppliers, and a gala dinner that took place on the evening of the 18 July.
Read more about the conference and the Malaysia access market in the next issue of Access International - August/September 2018.