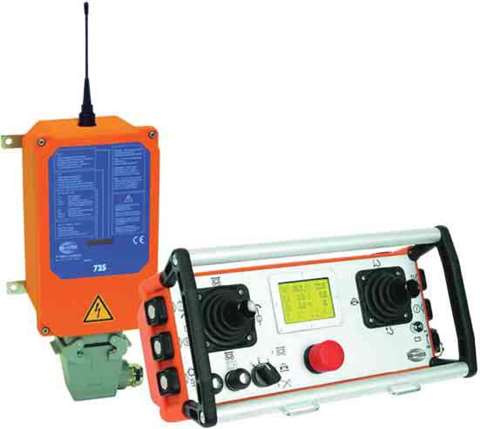 Achieving safety, efficiency and productivity-these are the goals that owners and users of today's cranes are striving to achieve, and increasingly they are turning to wireless remote control as a technology that can assist.
Some countries appear to be leading the way in the adoption of these systems. One manufacturer of radio remote control systems, for example, has estimated that in the Spanish market, as many as 95 % of tower cranes are fitted with these systems as opposed to being controlled from a cabin compared with its estimate of 30 % in the US.
Transmitter and receiver size has been reduced, and the reliability of the systems have been dramatically improved, and additional features have been added, such as the ability to provide critical operating information via two-way communication between sensors onboard the crane and the hand held transmitter.
Developments have not stopped, however. According to Diego de Miguel, technical engineer at Spanish manufacturer Motorman, "The trend is increasingly towards joystick controllers as opposed to push button types. The latter generally only allow two travel speeds, for example, but crane manufacturers are increasingly offering three speeds. We have to develop systems that will allow for this."
Motorman most recently teamed up with Swedish manufacturer Tele Radio to develop a control system for Irmãos Tavares, a Portuguese manufacturer of tower cranes. Motorman offers joystick systems with up to six hoisting speed steps, with four speed steps on slewing and trolley control, using receivers with 10,15, 20 or 24 relays, depending on application.
Travelling cranes, in the shape of its MJ controller. This comes with an integrated safety system and is designed to meet Category 1 of EN300220-1.
Data from afar
Another growing requirement is for bi-directional communication between the transmitter and receiver to allow the display of critical crane operating information right in front of the operator.
HBC's Spectrum 3 system, as used on the Liebherr crane mentioned above, provides this communication capability to transmit data from sensors on the crane to the transmitter. The data is displayed on a large custom-designed LCD display integrated into the transmitter.
A wide range of operating parameters is
HBC radiomatic, headquartered in Germany, is one of the largest manufacturers of radio control systems, and is another that offers joystick systems. It recently developed a solution for Liebherr for the latter's LR1400/2-W, a 400 tonne capacity narrow track crawler crane that has been specially developed for installing wind turbines in Spain and Scotland, where the roads are particularly narrow. The crane has four outriggers connected to a second slewing ring to allow them to move independently of the upper structure.
HBC supplied its Spectrum 3 transmitter system to control all crane movements, outrigger operations and upper structure slewing. Spectrum 3 is HBC's top-of-the-line unit that communicates using 433 and 869 MHz frequencies and can also operate using the DECT standard. One high frequency channel is standard, but up to four can be integrated, allowing a maximum of 120 commands to be digitally transmitted. Two, three or four joysticks can be specified used, depending on the application.
In the US, Control Chief is another company that supplies joystick controllers for crane applications. On offer is a wide range of control systems in the Telechief and Summit Series but also available is the SJ Series that provides a five-speed dual joystick transmitter capable of four motion motor control.
Leading Italian manufacturer Autec also offers a joystick model in its Modular series of remote control systems that are suitable for a wide range of applications, including electric overhead visible to the operator, including data on ground pressures.
The most normal need for information, however, is usually less demanding than the Liebherr application. In most cases, basic information concerning crane operating conditions, such as wind speeds and crane loads, are the norm.
Motorman, for example, has been working on a new system, to be launched soon, that integrates an anemometer and load cells on the crane to transmit this information back to an LCD display on the transmitter to allow the operator to know the conditions under which he is operating.
Itowa, a leading Spanish manufacturer of remote control systems, has recently launched its ANM 400. This is an anemometer that integrates into its systems to provide audible and acoustic warnings of excessive wind speeds
Italian manufacturer Imet has gone the two-way broadcast route. Its latest offering, the M550 push button range, makes use of bidirectional transmission technology to display on the transmitter all warning data generated by a crane's onboard sensors, including wind speed, load weight and other danger alerts.
Autec's new MJ controller, and its counterpart MK push button version, both also feature a two way communication capability to allow the display of crane operating parameters via either an LCD or LED display.
Interruption to radio signals that have the potential to cause an inadvertent system switch off. Manufacturers are, therefore, increasingly providing automated frequency shifting capabilities for their systems without the need for manual intervention.
Radiomatic AFM (Automatic Frequency Management) is the name HBC has given to its solution to the problem of radio interference. Available for the company's 735 and 770 Spectrum systems, it automatically changes the frequency if the one being used is momentarily interrupted or occupied by another radio system. This change occurs in fractions of a second.
Motorman's new system is another that has this capability. The receiver in the system automatically and constantly scans the frequencies in its band, and switches to a clear one in the event of an interruption.
Itowa also makes use of this type of technology to provide security and reliability of transmission in its radio control systems.
And the rest
Bush button systems remain a popular solution for remote control applications, and the manufacturers have been busy launching new improved models or upgraded versions of their existing product lines.
The heart of Control Chief Corporation's product range is the Command Chief control
Good communication
An area of increasing concern where radio remote control is concerned is that of transmission reliability. As radio traffic increases on today's busy sites and work places, the risk increases of system. This, the company claims, is still the first and only PLC-based wireless crane control. The company offers several systems that make use of the Command Chief, the LK3000 handset, TK6 belly box transmitter, the Telechief and Summit series pushbutton devices. The company now also acts as Swedish manufacturer Akerstroms' partner to provide the latter's products to customers in the North and South American marketplaces.
Akerstroms has recently launched two new wireless transmitters for crane applications-the Remotus Jupiter and Remotus Mercury. The first of these is designed for most standard applications and makes use of the general frequency band, while Mercury has been developed for extreme applications with special requirements, for example, individual frequencies and distinctive functions. Both can be used indoors and outdoors, and are certified to IP65 (fully sealed). Two models of each are available, the Jupiter/Mercury 10 that has 10 two stage buttons and the Jupiter/Mercury 9RS, which has nine two stage buttons and a rotary switch that can be programmed for up to 18 functions in four positions.
Spanish manufacturer Ikusi is in the process of launching the compact TM70 push button unit that offers more than 13 relays to provide increased functions and more contacts to provide more machine movements. The first TM70s will be available to operate in the 800 MHz frequency band, with 433 MHz models being available later this year.
The Planar is German manufacturer NBB Controls and Components AG's latest offering. This is a six dual-stage and four single-stage push button unit with an LED or multi-functional display that the company says is well suited to crane, hoist and other mobile applications.
Finally, Swedish manufacturer Tele Radio has launched the T20 designed for smaller simple applications. It joins its larger brothers, the T60 and 860. Both these systems eight functions sealed to IP65. An upgraded transmitter on the larger 860 offers up to 24 different functions controlled by 12 dual stage pushbuttons. A new receiver has been introduced for the 860 that provides 24 relays instead of the previous 20.
With a wide range of solutions to chose from in a variety of formats, there is no doubt that whatever your control needs are, simple to sophisticated, the answer is now well and truly in the palm of your hand.