Attachments – a wider range of options
The attachment industry is so wide ranging that any given sector can be the subject of manufacturer activity at any given time.
Take for example magnets, and the new Gida Magnet range from Inmalo, which the specialist hydraulic attachment supplier described as a valuable addition to any demolition project.
With steel remnants often scattered over sites, leaving them buried loses potential revenue from the scrap and poses a costly danger for vehicle tyres and crusher or screener belts.
Easy to switch with Inmalo and Gida
United Kingdom-based Inmalo said that Gida HMG scrap magnets are extremely powerful and responsive and designed for ease of use and reliability.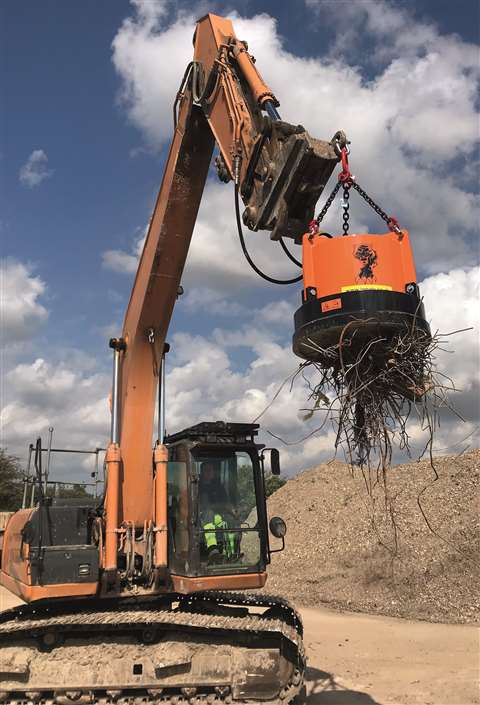 Hydraulics plug straight into the excavator's breaker circuit, hopefully without the need to change any settings, making it easy to switch between attachments.
Included in this range is the HMG-T versions with teeth, which help unearth buried or trapped metal debris below the surface.
Aitch Demolition, based in the south of England, purchased a HMG115-C for its demolition jobs, Managing director Harold Allen said: "We've been looking for a magnet which is efficient and powerful. The Gida unit replaces one of our older units that leaked a lot and broke down regularly. Clients need to have confidence that the equipment we use is fit for purpose and the Gida magnet offers this."Charles Polak from Inmalo added: "The Gida magnets have many benefits and advantages for the demolition industry over other magnet products currently available in the UK. We are very pleased with the positive feedback clients are giving us."
A high flow range, up to 200 l/min and back pressure allowance up to 40 bar ensure safe, smooth and constant power.
Elsewhere, William Coyle of Coyle Plant Hire has purchased three HMG-95 units for the company's rental fleet.
William said: "In simple terms we needed a reliable unit that doesn't leak on site and is easy to install. Our customers need peace of mind that they are hiring a quality piece of equipment.
"We have been very pleased with the magnets' performance and the feedback from site. We have been using them since October 2018 and we haven't had a single oil leak."
Connection by chains is standard. However, Inmalo can supply direct mounting head brackets for automatic quick couplers such as OilQuick and Lehnhoff.
Green's long-term experience
Another company with long-term experience of supplying attachments to the demolition and recycling sector is Green Attachments. The company, based in the city of Lahti, Finland, describes itself as providing a complete range of European made attachments for excavators and wheeled loaders.
The company's Yellow R rotating hydraulic pulverisers are said to be suitable for both the secondary demolition phase and the primary demolition of reinforced concrete structures. The geometry of the pulverisers' hydraulic rotation and straight design allows easy operation in demolition and at ground level.
Chopping reinforcements is easy with its sharp cutting blades, and the robust structure of the pulveriser allows efficient demolition of, for example, reinforced concrete structures. The Yellow R pulveriser's design has been developed according to customer's needs to acquire light and durable structure combined with high power and competency.
The company adds that previously companies had to have different kinds of crushers and grapples with fixed features to complete the demolition process but nowadays it can be completed with the rotating pulveriser alone, as the attachments can perform all the necessary steps from demolition application and pulverising to cleaning the area of demolition. This multi-functionality is important in smaller jobs.
The geometry of Yellow line rotating pulveriser makes sure that maximum power is reached at the right moment. Maximum power is required when jaws are almost fully open and there must be enough power available to cut even thin plates.
For increased performance, Yellow line rotating pulverisers have a high-speed valve and the cylinder are big enough to ensure huge capability, while being reversed to protect the cylinder rod. As standard, there is a pressure relief valve to protect motor, and orbital motors are equipped with gear in order to be more reliable. The changeable teeth of these Yellow line rotating pulverisers are made of special forged material. Wear resistant cutting blades are bolt mounted and easily reversible. Hydraulic rotation makes positioning of pulverisers easy.
Since pulverisers are also used for sorting of material, the ability to rotate is essential.
The range consists of 10 models for 7 to 120 t excavators.
Primary demolition
Also from Green Attachments, Yellow line demolition and sorting grapples have been designed for demolition and recycling applications. The demolition grapples have been designed to complement customer requirements to acquire light yet robust structure with productivity that is both powerful and efficient. With its sturdy structure, a grapple like this is suitable for primary demolition of targets made of brick or wood, though it can manage other materials as well. Recycling applications require precise and efficient separating, which is easily managed by grapple. Typically, Yellow grapples are used in recycling plants, where they can downsize and load the material effectively due to their fully rotatable structure, which ensures easy manoeuvrability. In addition to this, the light structure of a Yellow G grapples enables them to be used in long reach applications.
Demolition and sorting grapples are available with or without rotation. Without rotation the grapple is suitable for rotating tilt installation, while the rotation is recommended by Green Attachments whenever the application is demolition or other demanding heavy duty work.
The range consists of nine models and many jaw options for 2.5 to 65 t excavators.
BPH Attachments is expanding its Prodem hydraulic attachments portfolio in the United Kingdom with the addition of a new crusher bucket.
Designed to efficiently crush and convert waste material including brick, concrete, rock and even wood into reusable hardcore or infill, directly on site, the Prodem PCB Crusher Bucket became available to hire or purchase from the exclusive UK importer BPH Attachments in January 2020.
Industry users have estimated the attachment, which features a patented auto-reverse crushing drum, can increase productivity to anything between 34 and 45 t/hr on site by reducing operator input and increasing use of site machinery. It also has intuitive jaw adjustment, high displacement radial piston hydraulic motors, wear resistant teeth, and easy forward-facing or reverse-facing loading.
Thanks to the attachment's versatility, BPH says the bucket can be used to reduce the volume of a variety of materials on construction or demolition sites, recycling, excavations, pipelines and road works, and in quarries.
As the crusher bucket can be fitted to excavators already working on site, it is said to negate the need for additional machinery, and also saves cost by cutting down on transport requirements, as materials can either be reused on site or the bulk will be reduced.
Key specifications are:
· Suitable for 8 to 55 t excavators including skid steer and backhoe loaders
· Loading capacity: 0.4 to 1.8 cu m (14 to 63 cu ft)
· Required oil flow from 80 to 550 l/min
· PCB 400 crushes up to 70 cu m/hr (2,72 cu ft/hr).
Matt Bastable, sales director at BPH Attachments, said: "We are thrilled to be launching the Prodem Crusher Bucket to the UK market. We're always looking for innovative products to add to our ever-expanding range, and our attachments portfolio has now increased by 35% in the past year alone. With further announcements due soon, it's an exciting time for the BPH Attachments."
In recent months, Spanish manufacturer Xcentric has developed a series of crushing buckets, building on the previous series, which it says was well received by the market.
The new models are characterised by a different operating mechanics system from the previous one and by being much simpler in terms of internal assembly.
The new XC design does not need lubrication or a drainage line, expanding possible use without maintenance.
Xcentric's modified outside design
According to Xcentric, there has been a slight modification of the outside design and possible combinations regarding the adjustment of the granulometry have been significantly increased. The different positions have also been numbered to make the adjustment easier.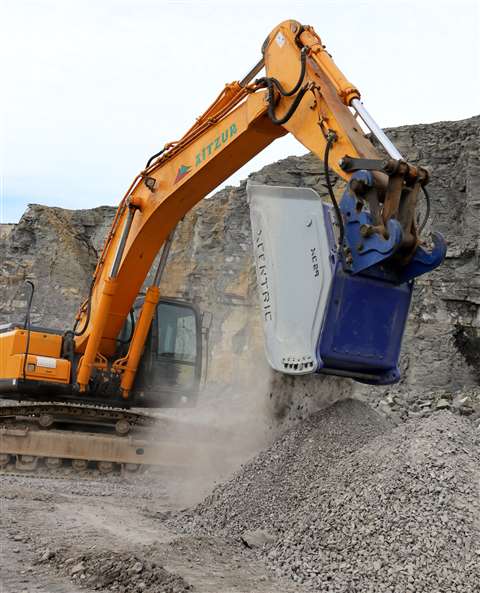 This breadth of positions in the new granulometry system allows the material to be crushed to such a small size that sand can be produced in some cases.
Another feature is the ease with which Xcentric can now replace the jaws in case of wear, as the bucket can be opened completely to perform this operation.
The current range comprises the XC8, which is the smallest crusher currently available, XC9, XC13, XC19 and the XC24, and the company is developing further models as well as the first prototypes of its new A Series.
German company Darda has expanded its Multi Cutter portfolio – the universal cutter now comes with a 350 mm (13 in) opening width, for carriers up to 9 t.
After Darda's new Multi Cutter MC300 was presented to the public at Bauma in Munich in April 2019, the manufacturer of environmentally friendly hydraulic demolition equipment showed the new Multi Tool at September's Recycling Aktiv show in Karlsruhe, also in a live test.
Based on its little brother MC200, the MC300 weighs 290 kg (639 lb) and has a cutting force of 60 t. With its 350 mm opening width, the MC300 offers maximum productivity for use with carriers from 2.5 to 9 t. And in combination with a remote-controlled Brokk demolition robot B200 or B300, Darda said it becomes even more effective.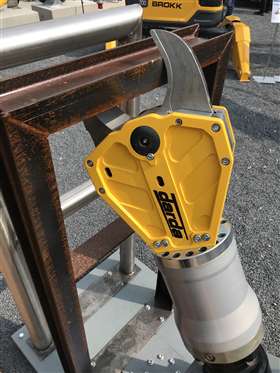 According to Darda, its multi cutters stand for safe and efficient cutting of profiles, utility lines and cables in a variety of industries.
These include demolition, gutting, construction, recycling and the nuclear industry. In construction, for example, entire industrial halls and production facilities are cleared of pipes, steel girders and ventilation shafts, heaps of cables are cut into small pieces, and the materials are sorted in the preparation of the subsequent demolition work.
In recycling yards, plastic pipes, high-voltage cables, deep-sea cables and much more, including a great deal of scrap, are cut.
They are also particularly popular with contractors when used for internal coring.
"Its slim design and manoeuvrability make our Multi Cutter an economical cutting tool for small carriers, even when they are working in difficult to access places," said sales manager Andreas Ruf.
"And regrindable and replaceable cutting blades guarantee easy maintenance and low wear costs."
First published in the January-February 2020 issue of Demolition & Recycling International