Attachments: Tilting at other markets
By Sandy Guthrie07 February 2018
One of the most interesting developments in attachments has been the acceptance of tiltrotators in new markets, as until relatively recently, their use was confined almost exclusively to Nordic countries, where they became almost the norm.
Outside these countries, the usefulness of a tiltrotator was, until the past few years, either not understood or ignored.
That has all changed now, as the manufacturers of tiltrotators are seeing sales expanding in countries that are virtually new markets to them. And this, in turn, has led to expansion.
For Engcon, this meant another factory in Strömsund, Sweden, near the company's headquarters.
The company said that underpinning the investment in the new factory was the need to meet increasing demand for Engcon's products, as well as reducing delivery times.
Investment in two test facilities at this new factory has been followed this year by a new extension at its Polish site. The company said the Polish factory increased its capacity to meet a growing demand for tiltrotators on the continent, especially in France and Holland.
Stig Engström, Engcon's founder, said, "Europe has discovered the tiltrotator. It all started with an explosive growth in sales back in the early 2000s. That meant that we had seriously to step up our rate of production."
In 2003, Engcon decided to establish a presence in Poland and to start up its own manufacturing operations in the country. The company leased a factory building and began production.
"Starting up production in Poland gave us a real boost. Eventually, we began reaching such large volumes that we needed to invest again. We bought a larger industrial site and built a new, modern factory, which opened its doors in 2012. The factory was built entirely in line with our Swedish requirements."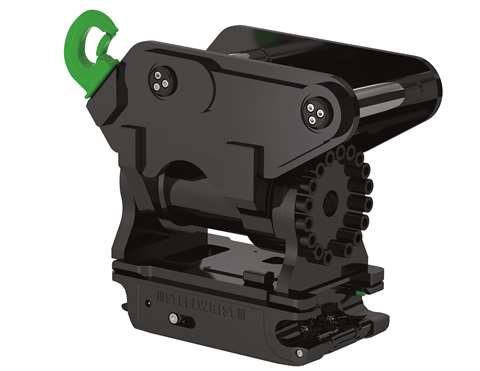 Another Swedish tiltrotator manufacturer, Steelwrist, is enlarging its production space as it invests in a new fully-automated production facility, while moving its operations to Rosersberg, close to Stockholm's Arlanda airport, in the next few months.
Steelwrist sells products in more than 25 countries, and established its own subsidiaries in the US, South Korea, UK and Norway in 2017. In addition, the staff has been expanded in several European markets at the same time as the product portfolio has been expanded.
All production and assembly of Steelwrist's tiltrotators, quick couplers and work tools is currently based in Sollentuna, north of Stockholm.
Stefan Stockhaus, CEO, said, "The new premises almost triple the production area and create an opportunity for us to continue to grow at a rapid pace."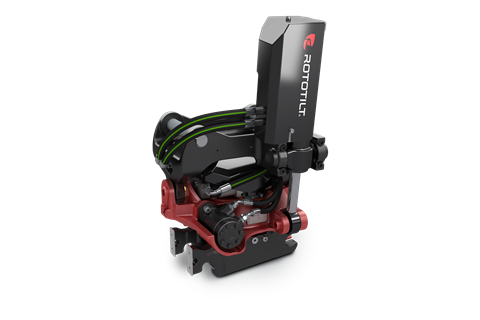 And then Rototilt, yet another Swedish manufacturer, has expanded its range with the launch of the R2 model.
Based on the Rototilt R product platform, the R2 tiltrotator will replace the RT20B. The company said this meant new smart features with Innovative Control System (ICS) and SecureLock.
Sven-Roger Ekström, product manager, said, "SecureLock allows the operator to be sure that tools are always correctly coupled, providing a very high level of safety for everyone at the job site."
Rototilt said the design was based on the larger models of the Rototilt R platform with an integrated swivel. It was said to be stronger, with 12% higher permissible breakout torque, allowing double the flow rate for extra functionality, and it fits larger excavators from 3 to 6.5 tonnes.
Rototilt's ICS claims that, via a display, operators can gain easier adjustment options and a better overview of the tiltrotator system.
Hand in hand with tiltrotators come quick couplers, and Rototilt's series of quick couplers is being expanded.
"The launch of quick couplers S40, S45 and S50 is timely," said Ekström. "Together with the new R2, the ICS and SecureLock, customers obtain a unique whole where everything is controlled from one and the same display."
Upgrading
Over the past few years, Engcon has been upgrading its first generation tiltrotators and the latest EC233 is now set to replace the EC30.
This summer it will be launching the EC233, a new tiltrotator for excavators up to 33 tonnes. It is a Generation 2 model, and it features a 45° tilt angle "for best access", robust design, a central lubrication system and heavy-duty shaft bearings for extended service life.
The EC233 also comes ePS-ready – the Engcon Positioning System for synchronisation with excavator guidance systems. Standard equipment includes tilt cylinders with check (load holding) valves and the Q-Safe quick coupler for maximum safety.
Engcon's coupler is called Q-Safe. The company pointed out that with around 20 different excavator manufacturers, there was no agreed standard of coupler control.
It said that operators will be fully trained and hold the appropriate licences, but each time they change machine, they have to adapt to the different coupler operating system.
The Q-Safe coupler uses the QSC locking system, and Engcon's engineers have created a logical locking sequence that the company said applied to all coupler types, irrespective of manufacturer or model.
Engcon said that an important safety feature of the QSC locking system was that, as well as standardising the coupler operation across different machines, it also added the requirement for positive ground pressure on the coupler/dipper before the coupler will operate. This means that buckets must be grounded before the coupler can be opened, which in turn reduces the risk of personal injury caused by falling attachments.
The safety angle at Steelwrist uses Front Pin Lock (FPL) technology, which it said allowed the operator to see clearly when the work tool is in the safe position. Red incicates that the lock is open, and a green signal means the bucket is in a safe position.
It said that as the FPL technology was not dependent on sensors, it could work equally well with all types of control systems – regardless of whether the excavator was small, large, new or used.
Steelwrist's Powertilt was described as a marriage between the original tilt motor from Helac Corporation and the FPL technology. It said that there was a safe quick coupler solution when the tilt function, and not the full blown tiltrotator use, was needed.
Steelwrist's TMX is a tilt function for the smallest excavators. It is available as direct-mounted and with S30 and S40 couplers – both manual and hydraulic.
Full functionality
Hill Engineering introduced its Tefra Tilt in 2014, and it is designed for customers who need the full functionality of a tilt bucket but see the versatility of having the 180° tilt function on all of their attachments with a standard pin grabbing system.
The company said that most tilt rotate systems were designed with dedicated attachments, which came with a high level of investment. Sales and marketing manager Oliver Phelan said, "The Tefra Tilt represents a very strong middle ground. The product itself has really taken off.
"We have seen a 60% growth in sales of the Tilt over the last year and it's still growing."
Hill estimates that a Tefra Tilt in comparison to its equivalent in a tiltrotator is approximately 30% of the cost.
Looking at the attachment market as a whole, Dehaco said it felt that the market for hydraulic attachments was almost back on track.
It said that last year, Dehaco had shown that there was, besides the "relatively stable demand for hydraulic breakers and grabs", a growing demand for shears and, especially, for hydraulic crushers.
"Especially in The Netherlands, home market of Dehaco, we sold a lot of crushers and we think this trend will continue for a while," it said.
The Dehaco CR140R Crusher is the biggest crusher Dehaco has ever delivered. The Dutch demolition firm Lek Sloopwerken was the first company worldwide to have bought one.
Dehaco said the powerful shear was mounted on the huge triple boom of the Hitachi ZX870-3 and was developed with both the client, Lek Sloopwerken, and Dehaco with the Italian firm Mantovanibenne.
Dehaco said it was also investing in innovation. "For example, we are extending our Hyrax hydraulic compactor series with bigger models. Following the 125, 175, 250 and 400 series, a Hyrax 700 was also launched on the market in 2017.
Bobcat is launching the new WS-SL20 self-levelling wheel saw. Approved for use on the Bobcat S630, S650, S770 and S850 skidsteer loaders; the T590, T650, T770 and T870 compact track loaders and the A770 all-wheel steer loader, the WS-SL20 is designed to cut through asphalt, rock and concrete surfaces.
The WS-SL20 has a variable segments wheel, which allows the user to change the width of the wheel – 50, 80, 100, 120mm – quickly in the field, instead of replacing the complete wheel in a workshop.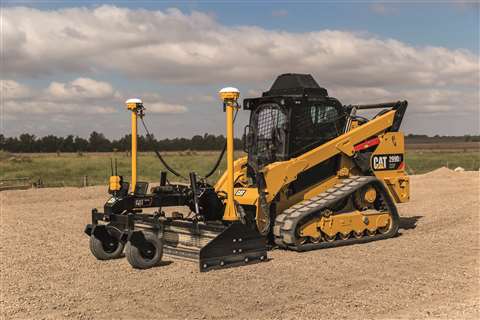 New Box Blades have been launched for Caterpillar's skidsteer, compact track and multi-terrain loaders.
The Box Blade is designed for grading and levelling for large commercial properties, roadways, and car parks. The 2.1m and 2.4m models are designed to operate both manually and automatically with the use of laser or GPS grading systems.
The Box Blade attachment has been developed to integrate with AccuGrade electronic components and was said to be able to achieve high levels of grading accuracy while increasing productivity and reducing operating costs.
Demolition
A significant proportion of the attachment market is tied into the demolition world, with hydraulic breakers and so on.
Atlas Copco's hydraulic attachment tools division became part of Epiroc from the beginning of this year, and Epiroc is claiming a first in hydraulic breaker technology. Many of the company's rig-mounted heavy hydraulic breakers now feature the patented Intelligent Protection System (IPS).
AutoControl and StartSelect have been features on Atlas Copco hydraulic breakers for some years, but Epiroc said it was now taking these features to a higher level.
The functions are being combined in Epiroc´s IPS, which ensures that the hydraulic breaker always starts in the AutoStart mode. When the contact pressure between chisel and material increases and AutoControl switches from a short piston stroke to a long piston stroke, IPS switches automatically to the AutoStop mode. When the chisel breaks through the material the breaker automatically shuts off and prevents blank firing.
IPS is said to make the breaking process even simpler for the operator by automatically adapting the breaker's operating behaviour to any working condition. Uptime is higher since IPS requires no operator intervention or reaction, said Epiroc.
Atlas Copco's HB 2000, HB 2500, HB 3100, HB 3600 and HB 4700 are equipped with IPS. During 2018, all other heavy hydraulic breakers in its range will incorporate this system.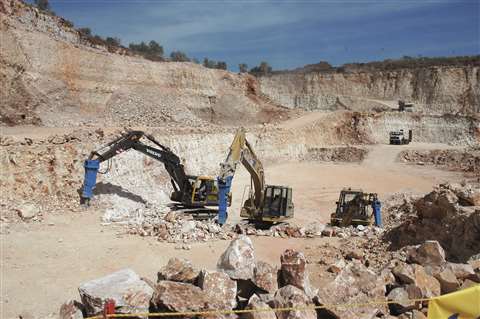 Idromeccanica Italiana said that three models had been added to its already large range of breakers in the IMI range – two for machines from 4 to 10 tonnes and one for machines from 14 to 22 tonnes.
The first two are the IMI 28HP and IMI 38HP, which are available in closed, silenced and dampened versions.
The third new entry is said to be suitable on any machine from 14 to 22 tonnes, and can operate with an automatic greasing device and the capability of adjusting the pressure and blows, and therefore the energy of the blow.
Another Italian breaker manufacturer, Mantovanibenne, said its CR60R Combi demolition attachments were tested during 2017, and officially launched in January 2018.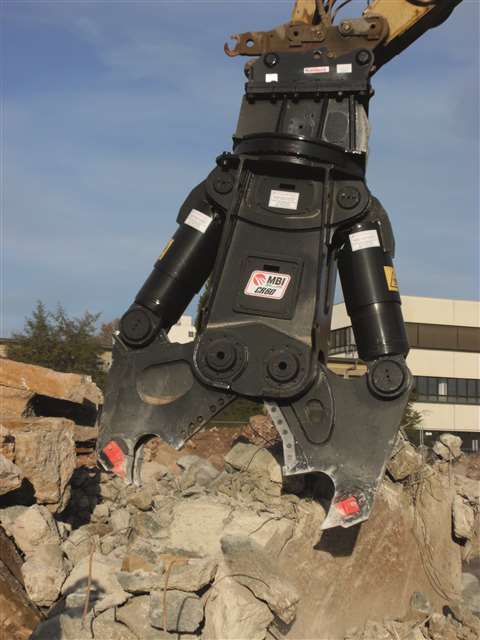 Development of the prototype started in Germany, when one of the world's biggest demolition contractors explained its specific needs to Mantovanibenne.
The CR60R Combi, which the company said was still a prototype name which might change in the future, weighs 6.65 tonnes. It said the model could be defined as a hybrid product as it incorporated design features of two different MBI product lines – the CR concrete crusher and the SH Eagle II metal shear.
This new tool has been designed for concrete structures heavily reinforced with steel bars, or concrete buildings with a steel skeleton.
The latest development from Finnish manufacturer Allu is the Transformer G Series – a hydraulic front shovel bucket for screening and crushing that is suitable for a 300 tonne mining excavator.
It is believed to be the world's largest material processing attachment ever, weighing 32,000kg, 3,781mm high, with a width of 4,760mm, and a depth of 3,746mm.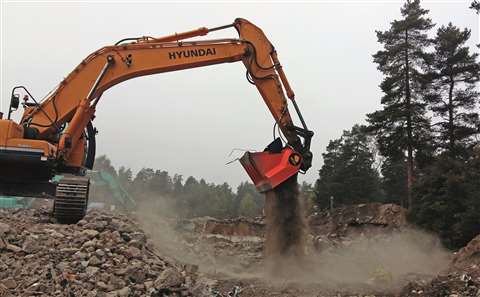 The main attachments offered by Allu fall into two product categories – Transformers and Processors.
Allu Transformers are hydraulic attachments for wheeled loaders, excavators and skid steers which are capable of undertaking multiple functions in a one-step operation, such as screening, crushing, aerating, blending, mixing, separating and loading.
Allu Processor is a mixer attachment for excavators which is said to convert the excavator into a versatile mixing tool capable of penetrating and mixing a variety of difficult materials – everything from clay, silt, peat, sludge and sediment, to dredged material and contaminated soil.
Environmental benefits
MB Crusher said that waste and residue which were once materials to be disposed of, are now being transformed by MB into a new source of profit, with significant environmental benefits.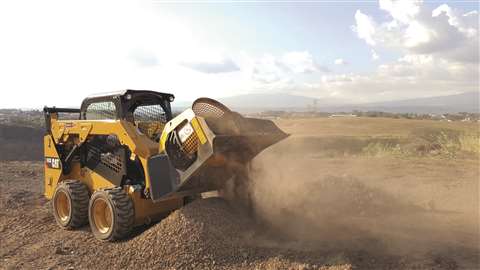 The Italian company said that until recently, nobody had thought of this. Then MB Crusher designed and produced machinery that transforms loaders, skidsteer loaders and backhoe loaders into mobile crushing and screening tools.
MB-L crusher buckets and MB-LS screening buckets can be used with machines from 2.4 to 25 tonnes.
Rotar International has been working with earthmoving machinery supplier Lenhoff, and the result is a Lehnhoff Variolock VL 250 full hydraulic quick coupler, completely integrated in the Rotar Combi Shear.
It said the big advantages were better stability, more compact design, all the technology inside leading to less failure and damage, and no hoses on the outside.
Cangini, an Italian company producing a range of products for the earthmoving, screening, handling, road and green maintenance, has said it is preparing for the launch of a 360° innovative change.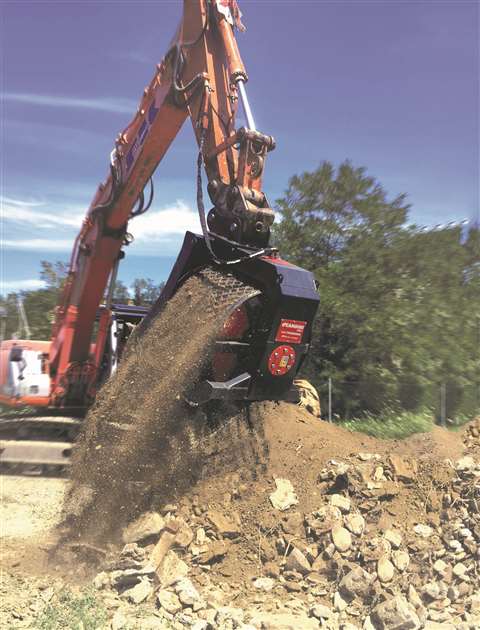 With 20 patented products and 29 years' experience, Cangini has invested in its R&D department in this last year to develop new products and rethink the existing products in terms of yield and safety standards.
New Cangini communication tools have just been published. The website has been totally rethought; the product catalogue is now in an online PDF interactive format; and there is a new and clear spare-parts catalogue.
There is a new water coating plant, which, together with all the other workstations, will be interconnected with a view to the Industry 4.0 plan, the company said. The new 2,400m2 of production space will be devoted exclusively to hydraulic tools to more than double the number of products per week.
Export orders
BAV Crushers said it was now adding export orders to its UK sales. Increasingly, these orders are coming through an expanding dealer network, with repeat customers in France, Switzerland and Norway.
Its BAV-CB range of compact crusher buckets is now in its eighth year of production. The five-model range spans all sizes of crawler excavator from 2.5 tonne minis, right up to full-sized 25 tonne tracked machines.
Another UK firm, Digbits, said the current favourite attachment in its line up was the General Purpose Rake bucket.
The product was launched shortly before the 2017 Plantworx exhibition in the UK, but the company said sales took off after the show, once it had taken the chance to talk face-to-face with a wide number of customers to revise the range of available options.
The General Purpose Rake bucket is designed and manufactured, along with other buckets, attachments and spare parts, in Digbits' in-house engineering works in the UK.
Hardlife (UK), which trades as Bucket Warehouse in the UK, is a part of an international group based in both the UK and Norway, supplying excavator buckets and attachments worldwide. It has added the Kovaco four-in-one bucket to its range.
The Hydraulic four-in-one bucket is fitted with bush cylinders for smooth transition between actions. Sizes range between 1,400 and 2,200mm, and they can be supplied with or without teeth.