Attachments: Working from all angles
Innovation is the buzzword for attachments manufacturers, with many creating new ways to make their products as adaptable as possible while also improving the safety and comfort of operators.
Daniele Paciotti, product manager at Bobcat Attachments Europe, Middle East & Asia (EMEA), said, "With the increasing versatility of excavators comes the increased frequency of changing attachments.
"Switzerland is pioneering the trend for switching from mechanical couplers to hydraulic, with advanced control systems protecting bystanders from unintended release of attachments. This initiative will ultimately lead to the point where fully hydraulic solutions will become the industry standard in regulated countries."
Caterpillar has recently launched three new multi-processor models – MP332, MP345 and MP365 – that accept multiple interchangeable jaws for taking on a variety of specialised demolition tasks.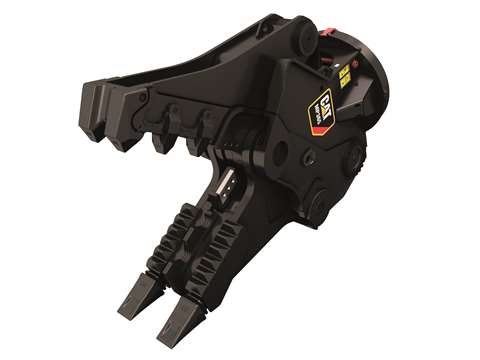 Compared with previous models, the new models can cycle 50% faster and generate up to 19% greater cutting/crushing forces, Caterpillar said. The locking system allows a single operator to change jaw types in about 15 minutes or less, using only standard hand tools.
Jaw types include concrete cutter, demolition, pulveriser, shear, tank shear and universal for cutting steel and crushing concrete. Most cutting blades can be flipped in two ways, allowing four cutting edges to be used before a replacement is required.
Caterpillar's "speed booster" technology automatically shifts hydraulic action between force (boost mode) and speed (speed mode) as operating conditions vary.
Under no-load conditions, the speed valve allows high hydraulic flow rapidly to open the jaw or close it to contact. At material contact, maximum cutting/crushing force is applied. Depending on the multi-processor model and jaw being used, forces range from approximately 460 to 1,270 tonnes.
Popularity
Finnish company Green Attachments – with a range of attachments for excavators and wheeled loaders – said that it had been surprised by the popularity of its rotating pulveriser.
Yellow R rotating hydraulic pulverisers are designed for applications such as reinforcing iron separation from concrete, as well as the demolition of reinforced concrete structures thanks to a rotating design.
Green Attachments said that the pulveriser gave contractors multi-functionality by offering an alternative to changing crushers and grapples in and out of operation. Using its pulveriser on smaller jobs, it can perform demolition, pulverise, clean the area using rotating pulverisers and do the grapple's work.
The range consists of ten models for 7 to 120 tonne excavators.
Yellow R's changeable teeth are made of specially-forged material, the manufacturer said, and wear-resistant cutting blades are bolt-mounted and easily reversible. A high-speed valve increases performance of the rotating pulverisers and a pressure relief valve protects the motor.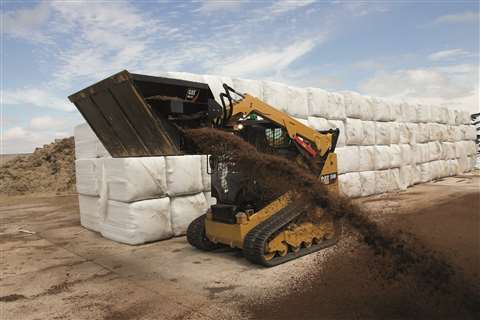 In September, Caterpillar launched its side discharge buckets designed for use with skid steer, multi-terrain, compact tracked and compact wheeled loaders.
The buckets collect and transport loose materials and then discharge these materials via a belt-type conveyor from adjustable openings on either side of the bucket. A rotating agitator works to keep material flowing to the conveyor.
The rubber conveyor belt, which can discharge material left and right, is powered by two externally-mounted, reversible, hydraulic motors eliminating any intermediate drive mechanisms, according to Caterpillar.
Agitator paddles are available in sand and sawdust configurations, and the agitator assembly is powered by a third, high-torque hydraulic motor reducing material bridging in the bucket to ensure consistent material flow to the conveyor.
Grease system
UK-based Ulrich Attachments has partnered with Lubemec to include a single point grease system that will further improve the capabilities of its high-tip bucket, an enabling attachment for wheeled loader vehicles.
The system's design requires the installation of a set of protectively covered grease pipes, which run from individual nipple points to the central block. The system means the driver need only grease a single point on the block to distribute grease periodically to each vital point across the attachment, safely and successfully, Ulrich said.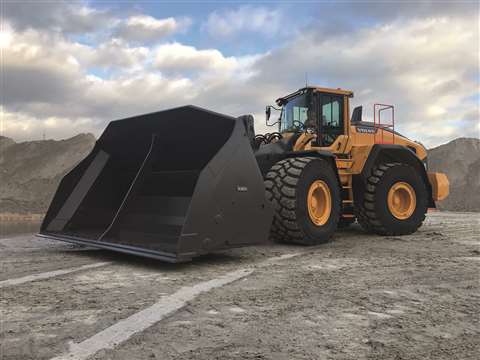 Jason Periam, sales manager at Ulrich, said, "Relevant experience has taught us that while many plant vehicles have automatic grease systems installed, the attachments fitted often get overlooked.
"Effectively maintaining the function of hardworking attachments, using correctly applied lubricants is essential to prolonging equipment life and performance. This simultaneously improves operation safety levels, as operators needn't physically access the bucket to apply lubrication."
Ulrich plans to include the lubricating mechanism as standard within its high-tip buckets in 2019.
Attachments manufacturer Prodem launched its new range in January – the PSB rotary screening buckets.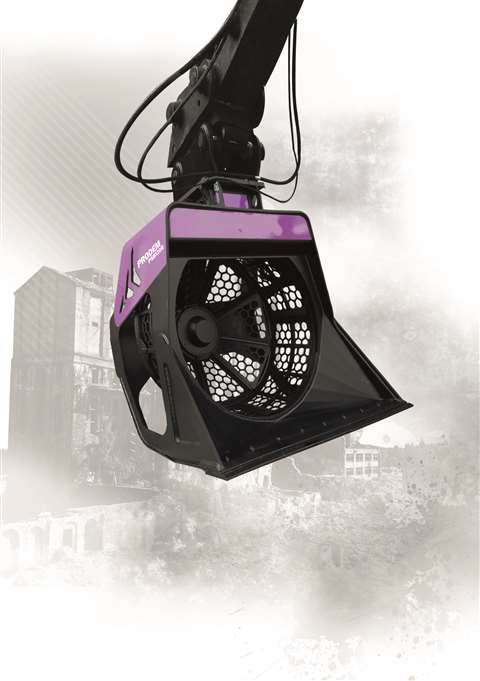 With nine models available, the Prodem PSB-R range is suitable for use on excavators weighing 2.5 to 75 tonnes and allows the in-situ usage of otherwise wasted materials, thereby keeping costs down, said Prodem.
The series is said to be ideal for waste material selection on demolition sites, aggregate recovery on construction and building renovation sites, organic waste separation in landfill sites, filling containment cages and covering pipes in pipeline works.
The design has an exclusive inlet profile to facilitate material loading better, and from the PSB120R upwards, there is also a tapered bottom to increase the screening surface and maximise productivity.
It is also available in a wheeled-loader version.
Matthew Bastable, sales director at Prodem, said, "We think that the demands of the customer to achieve more productivity will mean that they will want to use their excavators more efficiently, using more attachments on each excavator and therefore across their fleet."
He continued, "All our attachments can be used in the European market. We supply our attachments with bespoke brackets made to the customer's specifications which means that our attachments can go on any excavator including those with any European coupling system."
Wheel saw
In January, Bobcat launched the new WS-SL20 self-levelling wheel saw designed to cut efficiently through asphalt, rock and concrete surfaces. It is approved for use on the Bobcat S630, S650, S770 and S850 skid-steer loaders; the T590, T650, T770 and T870 compact track loaders and the A770 all-wheel steer loader.
The wheel saw has a variable segments wheel, which allows the user to change the width of the wheel – 50, 80, 100, 120 millimetres (mm) – quickly in the field, instead of replacing the complete wheel in a workshop – providing a saving of 10 hours in the process – according to Bobcat.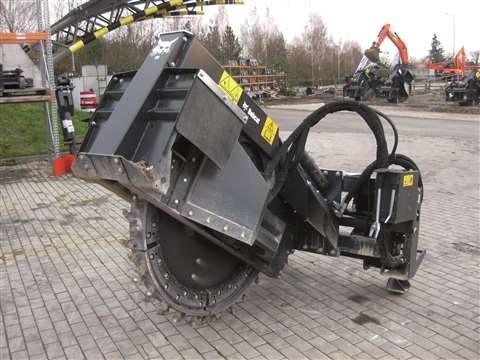 The self-levelling feature on the WS-SL20 allows the attachment to follow and adapt to the contours of the ground, and the new design means that a trench cleaner is no longer needed.
Also new in 2019 is the addition of two model sizes of self-levelling planer attachments – the PSL50 (50cm width) and PSL120 (120cm width) planers for use with Bobcat high flow compact loaders.
Particularly suited to fibre optic projects, the PSL50 offers the same features as the existing PSL60 60cm model with self-levelling, side-shift and tilting. The PSL120 is said by Bobcat to be ideal for road maintenance, sharing the same features as the PSL100 100cm width model.
The self-levelling system maintains a constant planing depth, independent of the position of the planer, even when the loader lift arm position changes or when the loader drives over bumps or debris, the manufacturer claimed.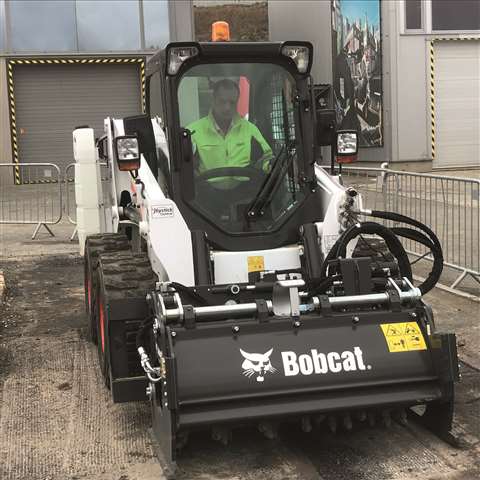 Paciotti at Bobcat said, "Increased requests for precision positioning are also increasing the demand for tiltrotators. There are already markets which are almost impossible to penetrate without a tiltrotator solution. The cost of this is becoming more acceptable around Europe.
"This attachment is also seen to be increasing safety, because in some cases you don´t need additional workers to finish the job with shovels."
Tiltrotators
The increased demand for tiltrotators has prompted Swedish tiltrotator manufacturer Steelwrist to set up a French subsidiary, which it said would strengthen its presence on the French market.
The new company will be called Steelwrist France SAS and will be based in Massy, south of Paris.
Although Steelwrist has had its own organisation in France for several years, it is now taking the step of establishing a local company as a result of the continued growth of the market for tiltrotators.
Swedish-based Engcon – known for its tiltrotators – released a new accessory at the end of 2018, its SK02 mini sorting grab. Particularly suited for small excavators from 1.5 to 3 tonnes, the new device weighs 109kg.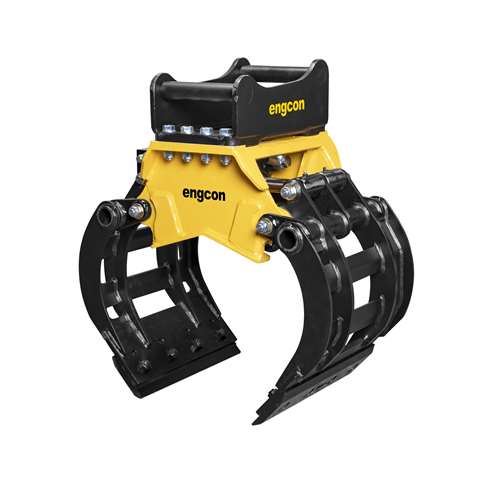 It has a width of 400mm and a maximum grab strength of 5.7kN.
The SK02 gate/bracket is attached via screws and said by the manufacturer to be easily adapted to the attachment type of the excavator carrier. The attachment also has screwed cutting blades, is prepared for digging teeth, and can be delivered with sealed/tight sides for use as a clamshell bucket.
Johan Johansson, design engineer at Engcon, said, "We are committed to providing the best, most demanding tools that can be attached to a tiltrotator. Our new sorting grab responds to customers' needs."
Heavy duty
On the heavy-duty side, Rototilt is launching a new grapple designed for heavier jobs such as work with railway sleepers and rails. With a weight of 160kg, the grapple has a tip-to-tip force of 20kN.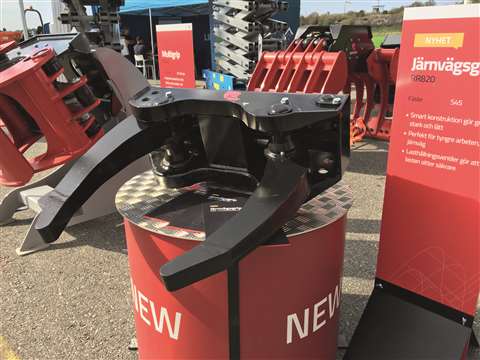 Sven-Roger Ekström, product manager at Rototilt, said, "The railway grapple is designed to be light and strong, and angled at 40° for maximum efficiency. Operators should feel safe with Rototilt. As a part of our total solution, the grapple has integrated load-holding valves."
The RR820 railway grapple has a maximum lifting capacity of 5,000kg and has matching tiltrotators and quick couplers.
The grapple is optimised for use with the manufacturer's other tools and is also detachable, based on the same principle as Rototilt's other grapple modules with quick coupler docking.
Other news for the manufacturer includes a factory expansion in Vindeln, Sweden, due for completion at the end of 2019.
Grapples
Germany-based Kinshofer has updated its D-Series grapples with a new light, compact and flexible shell, created for sorting and demolition. The series of grapples are available for 2 to 80 tonne excavators with 360° endless rotation.
Kinshofer's cylinderless HPXdrive powers the D04HPX, D06HPX, D09HPX and D35HPX, and provides constant closing force compared to competitive grapples, according to the company.
The D-Series has pressure relief valves as well as a perforated shell design that filters fine dust and gravel while keeping larger pieces in the shells. If an operator overworks the grapple, the shells flex to avoid structural damage. To ensure safe operation, Kinshofer said, the grapples have a non-return valve to keep the load secured even if a pressure drop occurs.
For small-grained bulk material such as sand and gravel, Kinshofer offers side plates. Delicate materials like curbstones can be handled carefully and positioned by equipping the grapples with a compression rail adapter.
In early 2018, Kinshofer acquired the WS drum cutter series with the purchase of Schaeff Transverse Cutter from Atlas. The company said that drum cutters were a quieter alternative to hydraulic breakers, and that the WS-Series was one of quietest in the industry.
The low decibel output and minimal vibrations of the attachments are achieved through a high-torque hydraulic motor. The motor powers the drum cutter while its gear reduction optimises torque and cutting force.
The controlled speed of the attachment reduces noise and vibration as well as maximising operator comfort. Additionally, the hydraulic motor is adjustable to match the output of an excavator's hydraulics.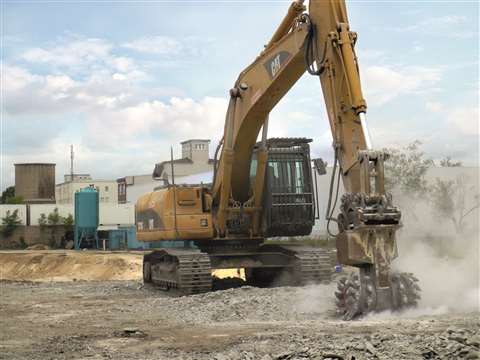 Based on the application, Kinshofer has four chisel tips that attach to the wear pick – standard, heavy-duty, wear-protected and wood. Wear picks can be replaced in minutes. There's also a choice of rock drum, profiling drum or demolition drum.
Kinshofer said its application specialists worked closely with customers to understand applications and material conditions so they could recommend the best drum and chisel tip for each situation. The combination is said to be key to optimising performance and reducing attachment wear.
The WS-Series drum cutters are available in seven models for 2 to 60 tonne excavators and can be paired with Kinshofer's NOX Tiltrotator – enabling 360° continuous rotation and multi-directional tilting up to 55°.
Epiroc has expanded its hydraulic attachments portfolio with three new ranges – ERC transverse drum cutters with integrated hydraulic rotation, ER-L axial drum cutters, and ADU auger drive units based on Erkat drum cutter technology.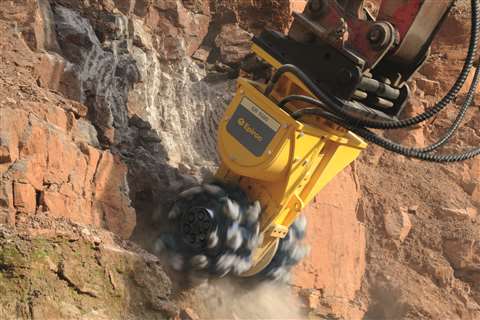 The ER range of transverse drum cutters replaces Epiroc's DC drum cutter range. Now covering carriers up to 125 tonnes, the range has more models, options and a larger variety of cutting heads.
Epiroc said that ER drum cutters were an efficient choice for rock or concrete wall and surface profiling, trenching, soft rock and frozen soil excavation, and demolition. They can also be used up to 30m underwater without additional installation or modification.
It said its ERC models had integrated hydraulic rotation that allowed even higher accuracy and productivity in challenging applications.
Both models have a wide range of cutting heads for various applications and the QuickSnap retaining system allows fast, simple pick changing.
Designed for narrow trenching, pile head removal and gutter cleaning, the new ER-L axial or longitudinal drum cutters have an adaptable high torque radial piston motor and a strong lubrication-free bearing system. ER-L models can replace the cutter head with an auger for soft rock drilling.
The manufacturer's compact new auger drive units are said to give maximum on-site flexibility with quick auger exchange and a variety of augers available for different applications.
Remote control
Paciotti at Bobcat said that its innovation centre in Dobris, Czech Republic, was working on some innovative remote control and land clearing applications that would be revealed soon.
As for the future of attachments, Paciotti said that downsizing would be a key theme.
"Attachments like shears or mowers were starting on machines from 5 tonnes upwards in the past – now you can see them on 2 tonne excavators. There are two reasons for this. First, excavators are not only perceived as machines for just digging holes anymore, and second, the continuous trend of increasing stability allows for heavier attachments."
He also said that the excavator blade was not only used for dozing and backfilling anymore.
"With increased demand for carrier versatility, blade attachments are being introduced. There are attachments suppliers specialised in this direction, who are using blade hydraulics to power a hydraulic attachment. They are providing blade-mounted loader couplers, so operators can use attachments from their loader fleets on excavators."