Aussie Pumps develops 'rental survivors'
By Thomas Allen01 June 2020
The recent redesign of Aussie Pumps' trash pumps was inspired by a conversation with Australian rental company Coates Hire.
The Australian pump manufacturer's Chief Engineer, John Hales, said Coates had shown them a rental yard full of trash pumps that had been on rent; "They were the conventional design trash pumps and every single frame was bent out of shape."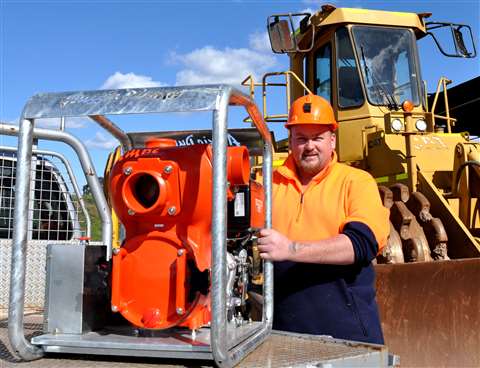 Coates Hire said it is common practice on jobsites for people to move pumps around using excavators to carry them and drop them in position, causing damage to the pumps.
In response to this, Hales came up with a new design to make Aussie Pumps' trash pumps more robust for use on construction and mining sites.
"We called it the Mine Boss and built it so that it can survive even the toughest handling," Hales said. "Big 38mm hot dipped galvanised frames, integrated lifting bars, E-Stops and battery isolation, a fire extinguisher and high vis livery makes it a rental survivor."
The range extends from 2" through to 4" machines. They are all said to meet Aussie Pumps' criteria of fast priming and the ability to handle large solids in suspension with flows of up to 1,800 litres per minute.
Aussie Pumps produces units from its Sydney facility, which are then distributed across Australia, Southeast Asia and the rest of the world. The company is looking for distributors in the Northern Hemisphere.