Autism awareness
By Lindsey Anderson17 December 2008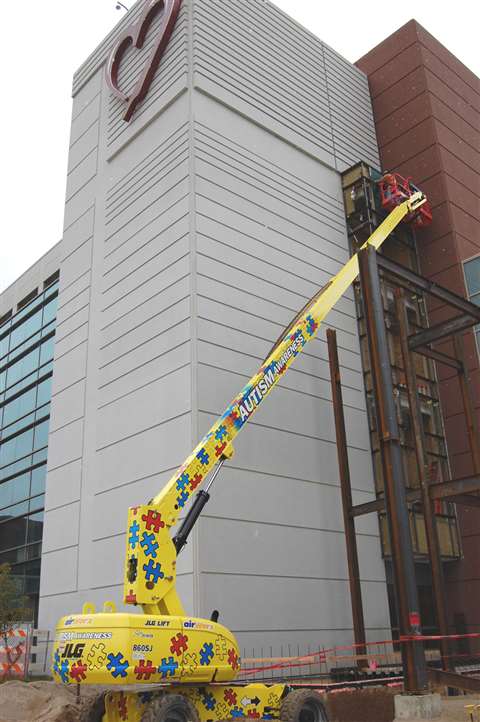 AirWorx Construction Equipment & Supply recently worked with JLG to design a boom to bring awareness to autism. Scott Huggins, vice president of the Indianapolis-based equipment rental company, has a son who was diagnosed with autism and decided, with president Dick Kagy, to somehow help other families affected by autism.
Huggins read a story about an Iowa rental company that raised money for breast cancer awareness by using a pink boom lift to spread its message. Huggins thus decided to contact JLG's vice president, market development and sales, Tim Morris, about the possibility of the two companies working together to produce a uniquely designed boom for his family's cause.
AirWorx then purchased a boom and JLG painted it for the company in a jigsaw puzzle pattern to reflect the pieces of the autism puzzle that have yet to be completed. AirWorx decided a portion of the rental income from the special boom would then go to fund autism-related activities.
Taking delivery of the boom in November 2008, AirWorx concluded that 20 percent of all rental revenue generated would be split up with half going to the Autism Society of America, and the other half going to a school that specializes in education for students with high-functioning autism (The Independence Academy).
Currently (December 2008), AirWorx anticipates that more than $7,000 per year will be set aside for contributions to both causes, with upward of $70,000 donated over the life of AirWorx's commitment.
The 86-foot-tall boom was first delivered to Tonn and Blank Construction Co. in Indiana to work on the St. Francis hospital in Greenwood, IN. "Tonn and Blank is proud to be a part of this important program," said Bryan Cooper, project superintendant. "Not only are our workers asking about the significance of the graphics, we've had people who were walking by stop us and ask about it."