Awards: Contract $1m or over
Adamo Group
Country USA
Project Georgia Dome Demolition
Client Holder, Hunt, Russell, Moody (joint venture)
The Georgia Dome demolition presented many challenges from its downtown location, its proximity to the Mercedes Benz Stadium and GWCC Convention Center, the MARTA subway transit system a mere 4 m (13 ft) to the south of the stadium, which remained in operation at all times other than during the actual implosion, to the safest way to demolish the ring beam, which was 700 m (2,300 ft) long, 8 m (26 ft) wide and 1.5 m (5 ft) thick, and sat perched on pot bearings supported by the concrete columns of the superstructure.
Edifice Engineering
Country India
Project Demolition and Dismantling of Mahatma Gandhi Setu Bridge
Client Afcons Sibmost joint venture
The Mahatma Gandhi Setu bridge is one of the longest balanced cantilever segmental bridges in India over the River Ganges, spanning 121 m (400 ft), with a total length of 5.75 m (19ft) for a single carriageway.
The contract value for demolition is US$10.89 million for the complete bridge. About 16,000 t of steel reinforcement and strands are being recovered. The bridge is partly on land where water has dried up and partly over a river where the current is slow and steady.
Erith Contractors
Country United Kingdom
Project 22 Hanover Square
Client Clivedale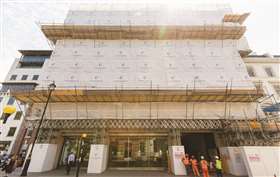 Erith commenced the demolition of 22 Hanover Square. Situated in the heart of London, the site had numerous constraints and risks, for which mitigation strategies were discussed at the earliest planning stages.
22 Hanover was on the corner of Regent Street and Hanover Street. Oxford Circus underground station was only 100 m (110 yards) north of the site, while sharing a party wall with the famous Fenwick store to the east. Both these pedestrian hot-spots meant that footfall around the site would be significantly higher than most other projects.
Ferma Corporation
Country USA
Project Oroville Dam Spillway
Client Kiewit Infrastructure West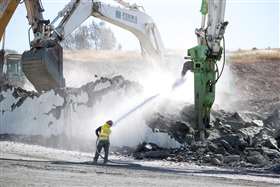 Oroville Dam is an earthen embankment dam on the Feather River, east of the city of Oroville in Northern California. At 235 m (770 ft) high it is the tallest dam in the United States and serves mainly for water supply, hydroelectricity generation and flood control. Heavy rainfall during the California floods damaged the spillway in February 2017. Ferma Corporation was contracted by Kiewit Infrastructure West to demolish the temporary RCC left and right spillway concrete walls.
Demolition & Recycling International wishes to thank all the awards judges for their time and effort analysing this year's entries. Look out for a feature on them in the September-October issue of D&Ri
The World Demolition Awards are part of the World Demolition Summit, which is organised in cooperation with the European Demolition Association and with the support of the National Demolition Association of the USA. Headline sponsor is Volvo Construction Equipment.
The awards ceremony takes place at the Aviva Stadium in Dublin, Ireland on Thursday 8 November. For more details please visit www.demolitionsummit.com