Awards shortlist: Innovation, Plant & Equipment
Ferma Corporation
Country USA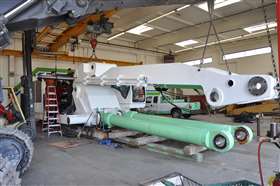 Ferma Corporation was contracted to remove the existing drawbridge and supporting structure to enable the completion of the half built new bridge directly adjacent to the new Schuyler Heim Bridge in Long Beach, California. This included four primary bridge piers, two of which are within the main active water channel and extend with their concrete footings to a depth of 19 m (63 ft) below mean sea level with 50,000 t of concrete and rebar.
Keestrack
Country Belgium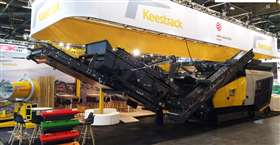 Due to the hybrid system when running on mains the R3e, Red Dot award winning, impact crusher, designed for demolition and recycling has zero emission levels. Both crusher and ancillary equipment run while the diesel engine is switched off resulting in reduced noise levels by more than 30% due to the hybrid system. The noise reduction rubber lining in the loading area of the hopper and the large cooling fan running at only 1,300 rpm also contribute.
Kobelco
Country Japan
This entry is an advanced dismantling machine developed by Kobelco, which developed the building dismantling machine ahead of the world from 1977 and boasts the top share in the Japanese demolition machine market with advanced dismantling method. Bring innovation to your building dismantling site with solution attachment which is easier and improved transportability.
National Grid Property
Country United Kingdom
With a diverse portfolio of around 300 former gasworks sites, National Grid Property (NGP) is undertaking an accelerated programme of dismantling redundant gasholders in towns and cities across the United Kingdom. This activity paves the way for regeneration of brownfield land for future beneficial use.
One key stage of gasholder dismantling is the removal of sludge from the base of the gasholder. The traditional means of removing sludge involves significant manual work close to the sludge and presents a slip hazard. NGP and its desludging sub-contractor Harpers Environmental both felt that a better way of removing sludge could be found.
Following a design and trial period, and innovative approach has been devised, shifting manual work to remotely-controlled equipment. The solution is Robo Dozer, a remotely controlled tracked device with an adapted blade feature which can push gasholder sludge to a collection point, for air conveying to a tanker.
Volvo Construction Equipment
Country Korea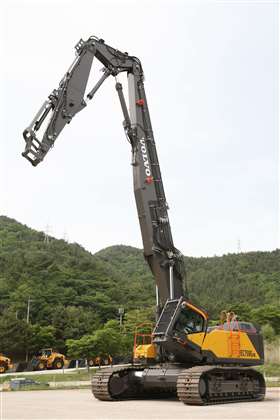 The EC750E HR from Volvo Construction Equipment is an exceptional high-reach demolition excavator that can be reconfigured to become a multi-use demolition machine.
The EC750E HR comes with two high-reach demolition boom sets, and one digging boom set with extension. The longest of the high-reach configurations allows for a 36 m (118ft) maximum pin height, while a second has a maximum pin height of 26m (85ft).
Demolition & Recycling International wishes to thank all the awards judges for their time and effort analysing this year's entries. Look out for a feature on them in the September-October issue of D&Ri
The World Demolition Awards are part of the World Demolition Summit, which is organised in cooperation with the European Demolition Association and with the support of the National Demolition Association of the USA.

The awards ceremony takes place at the Aviva Stadium in Dublin, Ireland on Thursday 8 November. For more details please visit www.demolitionsummit.com