Awards Shortlist – Manufacturers' Innovation, Plant and Equipment
Judges: Dan Costello, Costello Dismantling, USA; Jim Graham, Winter Environmental, USA; John Woodward, C&D Consultancy, UK
Kocurek (United Kingdom)
Kocurek was approached by a UK contractor with the request to design and manufacture a demolition excavator derived from a standard mining excavator. For this project, a CAT6015B was selected by the customer and delivered to Kocurek. A unique set of requirements were requested that were fundamentally different from any tracked demolition excavator previously manufactured. The customer requested a combination of the two categories on a fully converted base machine – high reach and heavy duty. A working range of between -19 and +70 m (-62 and +230 ft) was required with varied attachment weights. The engineering team at Kocurek devised a modular system that could be interchanged onto the front of the heavily modified base machine for a variety of working conditions. The result is a demolition machine that had undergone substantial modification to achieve the design specification.
Komatsu Europe (United Kingdom)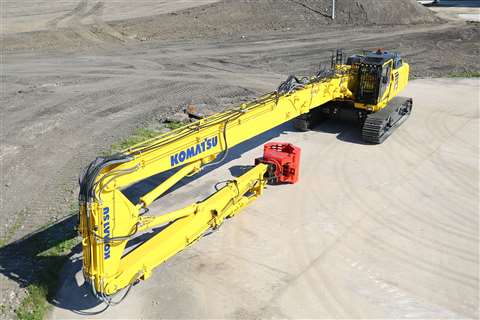 Launched in June 2017, the PC390HRD-11 machine is the latest in a long line of European-built high reach machines from Komatsu. The new machine has been developed from the outset to work in six different configurations.
The machine is capable of carrying a hydraulic breaker for 36 t class excavator up to a height of around 15.5 m (50 ft), and typical demolition tools up to a maximum height of 26 m (85 ft). A boom extension piece can be used to vary the working configuration of the machine significantly. All from a machine which weighs less than 56,000 kg (123,500 lb) with the standard undercarriage installed.
Red Rhino (United Kingdom)
Simon Winfield, managing director of Red Rhino (UK) said: "One of the attractions of acquiring the Red Rhino Mini-Crusher brand in 2009 was the opportunity to help to drive down harmful emissions by reprocessing waste materials for use on the same site. Over the years we have supplied to some either remote or specialised areas and due to some enquiries we had in to the business we saw a potential gap in the market. As our most popular crushers and screens are track mounted with diesel hydraulic drive fully complying with the latest and most stringent global emission regulations. Continuing the environmental theme, we decided to develop an all-electric version of our very popular 5000 Series tracked crusher
XL Industries (France)
As part of the Harbour Control Tower demolition project carried on in Sydney, Australia, XL industries designed a state-of-the-art modular access system. It provides the perfect solution to working on façade and on landmark demolition when there is a need of surrounding the construction, it greatly raises the safety and productivity standards.
The World Demolition Awards are part of the World Demolition Summit, which takes place in London, UK on Thursday November 2. The event is organised by Demolition & Recycling International in co-operation with the European Demolition Association and with the support of the National Demolition Association of the USA. The headline sponsor is Volvo Construction Equipment.
For more details please visit www.demolitionsummit.com