Awards shortlist: Recycling & Environmental
Despe
Country Italy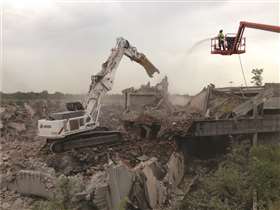 The former Dogano site in Milan was monumental worksite completed in record time.
To be awarded this contract, Despe guaranteed to complete in just five months the removal of asbestos from a 60,000 sq m (646,000 sq ft) of roofing, 12,000 t of railway ballast containing asbestos and further reclamation and demolition of all the reinforced concrete structures never used and abandoned in an area covering 450,000 sq m (4.85 million sq ft).
It had to bring in a fleet of large machines to achieve the agreed target.
Lloyd's Construction Services
Country USA
When a unique opportunity to be a part of a cutting edge Living Building Challenge project arose, contractor Lloyd's Construction Services, (LCS) did not shy away.
The Wolf Ridge project is one of 45 in the world attempting certification in the Living Building Challenge. The extremely rigorous certification programme takes a unique stance on sustainability and resource conservation goals with requirements that include no installation of products that were manufactured in a harmful way, use of electric equipment to reduce carbon footprints, paperless communication and job files, and advocacy to governmental agencies when recycling outlets were not available.
Perfect Contracting
Country Australia
Perfect Contracting completed a project for its client Gartner Rose at Campbells Cove in Sydney's iconic Circular Quay. This project presented many environmental and operational challenges along the way. From the outset of the project it had intended to recycle as much material as possible and arranged with its preferred recycling facilities prior to removing the material. Overall it recycled over 200,000 bricks and almost 95% of material removed from site went into recycling.
Priestly Demolition
Country Canada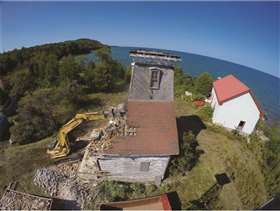 In 2017, Priestly Demolition was contracted by the Federal Public Works Government Services to demolish a lighthouse and its auxiliary buildings on Hope Island, located in Georgian Bay, Ontario. The purpose of the project was restorative – returning the land back to its original condition and ultimately handing it back over to the people of the Beausoleil First Nations. The project presented many challenges, including sensitive environmental and wildlife concerns and logistical complexities as Hope Island is uninhabited and there was no bridge or ferry access to the project site.
Demolition & Recycling International wishes to thank all the awards judges for their time and effort analysing this year's entries. Look out for a feature on them in the September-October issue of D&Ri
The World Demolition Awards are part of the World Demolition Summit, which is organised in cooperation with the European Demolition Association and with the support of the National Demolition Association of the USA. Headline sponsor is Volvo Construction Equipment.
The awards ceremony takes place at the Aviva Stadium in Dublin, Ireland on Thursday 8 November. For more details please visit www.demolitionsummit.