Barin underbridge heads to Perth
By Euan Youdale22 January 2016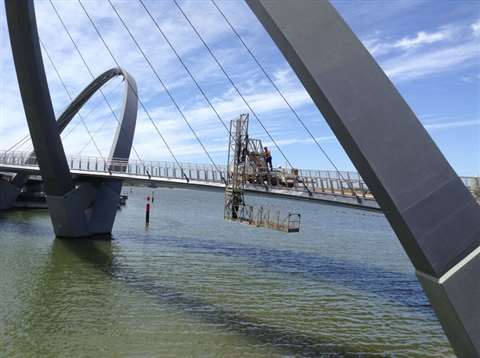 Australian rental company Lincon Logistics, based in Brisbane, has supplied a Barin bridge inspection unit to Perth.
The ABC 60/l is inspecting the Elizabeth Quay pedestrian bridge in Perth's central business district.
There are many attractions around the banks of the Swan River estuary over which the bridge stretches, including the Swan Bell Tower, on the Barrack St. Jetty.
The machine is mounted on to a 2-axle Mercedes Benz truck chassis. The structure is an underbridge platform type machine, with an underbridge working length of 6 m.
The lift is made completely of aluminium and comprises a fixed section and sliding section manually extended up to 6,000 mm horizontal length underbridge. Platform width is 1,000 mm, while payload of platform is 300 kg.
It is able to work across sidewalks up to 1.7 m width and wind barriers up to 2 m height. The machine can work parallel to the bridge axis, with an undebridge rotation of 135°.
During road service, the machine occupies one traffic lane only, thanks to its width of 2 m, allowing the traffic the flow in the second lane.