Bauma 2019: Earthmoving part 1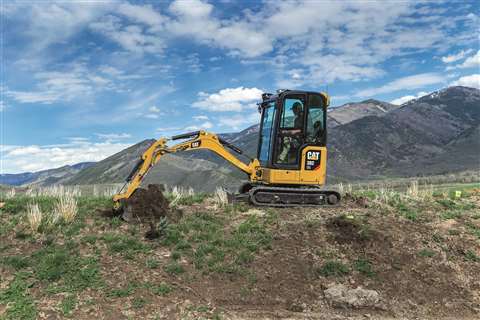 Caterpillar's theme at Bauma 2019 will be "Rewrite the Rules" and the company will be displaying 64 machines, 20 of them new introductions – the largest number of new products Caterpillar has ever introduced at the show.
Bauma will be held from Monday 8 to Sunday 14 April, 2019, in Munich, Germany.
With a display occupying more than 9,000m2 in the main indoor exhibit, the equipment on display will include the D6 XE, said to be the world's first high-drive electric drive dozer, which claims to offer up to 35% better fuel efficiency than its D6T predecessor.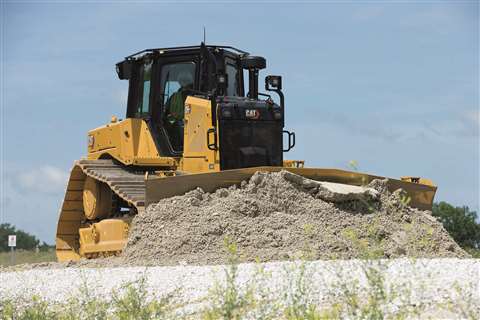 The wheeled loaders on display will be the 950 GC, 950M, 962M waste handler, 986K, and 992K, plus several XE models, such as the 966M XE, 972M XE, and 988K XE.
The 966M XE and 972M XE are equipped with the Caterpillar parallel path drive system that combines hydrostatic drive with a parallel mechanical-gear path to provide a continuously variable transmission that delivers flexible ratios to run the engine at proficient operating levels. This is said to ensure optimum efficiency and fuel economy in all operating conditions.
The XE technology on the 966M XE and 972M XE is said to offer up to 35% more fuel efficiency, compared with wheeled loaders with conventional powershift transmission.
The 988K XE is Cat's first diesel/electric-drive loader, with a durable switched-reluctance drive motor, generator, and inverter, coupled with a mechanical gear box and axles.
Cat is also showing its Next Generation excavators – the new 330 GC, 330, and 336.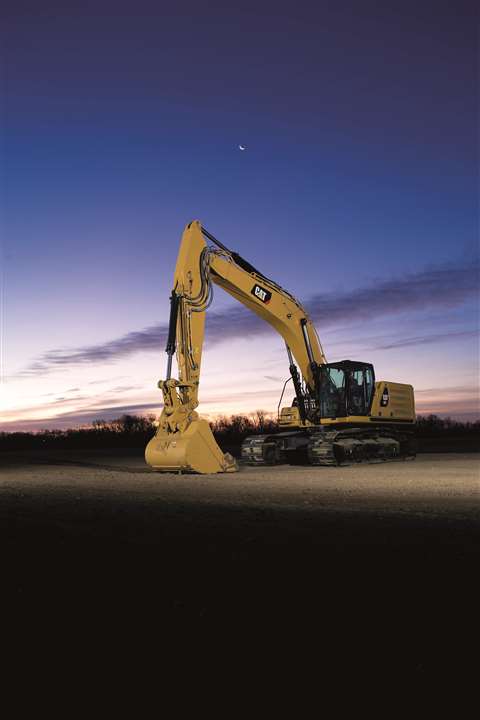 The 330 and 336 are equipped with integrated Cat Connect Technology that the company said could increase operating efficiency up to 45% and enhance fuel efficiency by 20%.
Additional models on display include the 973K track loader and 325F, 340F UHD (ultra-high-demolition configuration), and 390F excavators. Wheeled excavators will be represented with the M314F, M315F, M317F and the M318F.
Five new mini hydraulic excavators in the 1 to 2 tonne range are also on display – the 301.5, 301.6, 301.7 CR, 301.8 and 302 CR.
Industry-first standard features are said to include joystick steering and a tilt-up canopy or cab, as well options such as air conditioning and expandable undercarriages.
The Cat range of Next Generation mini excavators continues with three new models in the 7 to 10 ton classes on display.
The new models – 308 CR VAB, 309 CR and 310 – provide a selection of basic configurations, allowing customers to choose the machine that works most efficiently in their applications.
Additional machines on display include wheeled loader models like the 907M, 908M and 918M with a waste configuration.
Then there is the 926M in an agricultural configuration and the 938M; a backhoe loader 444; the 226D skid steer loader; the 259D compact track loader; and the TH408 telehandler.
The company said that to ensure optimum efficiency, profitability and machine protection, equipment owners had to be able to monitor the location and performance of their machines constantly.
Cat LINK technology provides equipment owners a choice of options that fit individual needs and budgets, ranging from simple machine monitoring to full-fleet tracking and management.
The Cat Product Link telematics system collects data from machine assets – any type, any brand – including asset location, engine on/off, work hours, fuel burn, and diagnostic-code alerts. A new feature is the introduction of PL161, which can track operating hours and the location of work tools. This information is available to the owner via a secure website, Cat VisionLink.
Caterpillar technology that keeps operators safe, comfortable and productive will be on display with the D8T dozer remote-control station.
With multiple levels of remote control and even semi-autonomous operation, Cat Command for dozing is available in two configurations; an over-the-shoulder remote-control console or the remote-operator station.
Operators have full control of the dozer without being exposed to job-site hazards.
Volvo Construction Equipment (Volvo CE) will be joined by sister companies Volvo Penta, Volvo Trucks and Volvo Financial Services.
Under the theme of Building Tomorrow, Volvo's 2,293m2 indoor stand in Hall C6 and 5,870m2 outdoor stand at FM714 will be a interactive performance featuring the complete product and service portfolio.
Bauma 2019 will be the first major industry event following the recent announcement that Volvo CE is to go electric on its Volvo-branded compact excavators and compact wheeled loaders in 2020.
Hydraulic-electric machines
The first two hydraulic-electric machines will be unveiled, followed by a staged market-by-market introduction and ramp up in 2020.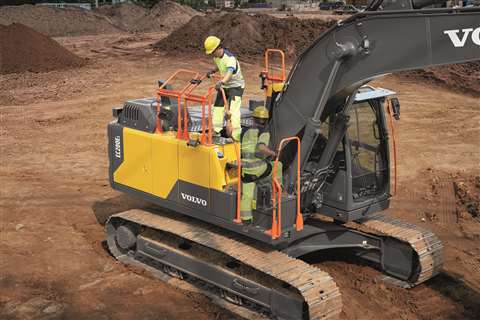 New excavators that will be launched at the show include the 18.1 tonne EC200E, alongside the EC15-EC20E compact excavators.
Demonstrating not only the breadth of Volvo's excavator line, but also its length will be the new EC750E high-reach demolition excavator.
There will also be launches of the EC300E hydraulic-hybrid excavator and an EC220E that features Volvo Active Control automated boom and bucket movements for a more efficient digging process.
In total, there will be 50 machines on Volvo's two stands, and they will be grouped into the sub-themes of load, dig, haul, pave, innovation and service.
For the first time, there will also be an Innovation Area, with automation, connectivity and electromobility in the spotlight.
There will also be plenty of action in the company's outdoor area. Set to the soundtrack from Volvo CE's mini-film Pump It Up, featuring Hollywood star Dolph Lundgren, will be what Volvo terms "a fun machine show".
An idea of what the Volvo outdoor area will look like
There will also be Operators' Club competitions and live action displays on the further developed Dig Assist solution and attachments.
Volvo's indoor display area will be where Volvo said the excitement came in the shape of events that proved that Volvo CE's success was as much about the excellence of its people as its machines.
Throughout the day, a professional master of ceremonies will conduct presentations – in German and English – focusing on the company's product and service solutions. This will be supported by video cubes displaying a range of customer interviews, facts and figures.
Hyundai Construction Equipment Europe (HCCE) will be displaying six new machines on its 2,705m2 stand in the open-air area), and a number of the machines are Stage V ready.
At the smaller end of the scale, Hyundai will be launching the new 1 tonne HX10 A mini excavator and the 8.5 tonne HX85A CR compact excavator, which is Stage V compliant.
Three of the new models will be crawler excavators – the Stage V HX220A L, the Stage V HX300A L, and the HX900 L, which replaces the R800LC-9.
Finally, the company will be introducing the HL960A wheeled loader, which is also Stage V ready.
The HX300A L, HX220A L and HL960A have engine connected diagnostics and machine connected diagnostics, which provide aftersales technicians and dealers with reports that show engine and machine performance.
They also give fault codes that help to reduce downtime because the correct technician can be sent with the right tools to fix a given problem.
These three machines also feature Eco Guidance, which indicates when an operator is using the machine inefficiently, which the company said helped to break bad habits that consumed more fuel.
In addition, machine guidance and machine control are available on the HX300A L and HX220A L.
This means the machine's attachment can be controlled automatically to assist the driver, said Hyundai.
The machine guidance system displays the position of the bucket with respect to the pre-defined target surface, while the machine control will automatically control the grading and has an automatic stop function to prevent it from going beyond a set point.
From a new location – at stand FN 817 – the focus of Case Construction Equipment will be on heritage and innovation.
Quarrying, recycling, urban construction and road-building will each have a dedicated area, with Case showcasing a total of 15 machines, and sister brand Iveco displaying four vehicles.
In the quarrying section of the stand will be a Case 1121G wheeled loader, a Case CX300D excavator and an Iveco Astra HD9 truck.
The Case 1121G features a Stage IV FPT Industrial engine without a diesel particulate filter (DPF), delivering high-torque performance at low rpm. An electronically-controlled pump, larger main valve and multiple hydraulic sensors on the Case CX300D are said to result in up to 6% greater breakout force.
Recycling
For recycling, there will be a Case 821G Waste Handler (WH) wheeled loader and an Iveco X-Way NP crane-tipper truck. The Case 821G WH's Stage V engine features FPT Industrial's Hi-eSCR2 aftertreatment technology.
Stationed in the urban construction sector will be the new CX90D excavator, the TV450 compact track loader, CX18C and CX37C excavators, a 570ST backhoe loader for non-regulated markets, a 321F compact wheeled loader and an Iveco Daily 4x4.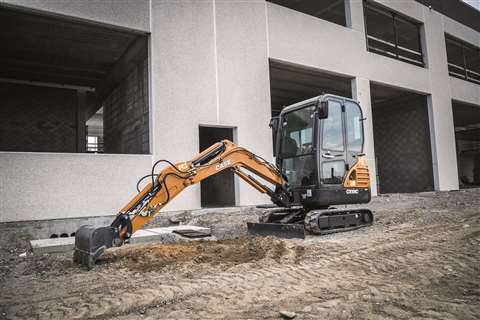 The Case CX90D MSR completes Case's D series excavator range by adding a midi-sized option. This swing version has a Stage V Yanmar engine, with its 3.3 litre capacity producing 69HP.
On show for road building will be the 856C AWD grader, 1650M dozer and the Iveco X-Way tipper truck.
Case's C Series of graders are said to feature best-in-class mouldboard control. Also, this latest range of Case graders comes with an advanced Ergopower transmission combined with a torque converter, ensuring smooth shifting for perfect control.
A roller-mounted, encapsulated slewing ring is said to mean effortless mouldboard rotation, providing a zero-friction engineering solution.
This year marks the 50th anniversary of the Case skid steer loader. As a result, an original 1530 Uniloader from 1969 will take pride of place on the stand.
Case is also set to debut many operator-focused advancements, including the reveal of the patented combined steering functionality on the 856C AWD grader.
Continuing the theme of enhanced operator experience, Case will also unveil an electrohydraulic (EH) control system for its 321F compact wheeled loader.
The new hydraulic quick coupler will improve visibility, while a new frame for the forks increases the rollback angle, allowing for safer handling of loads.
Hitachi will showcase the ConSite Pocket app and over 30 machines, including the ZX210LC-6 super long front, ZX135US-6 with telescopic/sliding arm and ZX210X-6 ICT hydraulic excavators, ZX85USB-6/ZX65USB-6 compact excavators, ZW75-6/ZW95-6 wheeled excavators, ZX17U-6, ZX19-6, ZX19U-6, ZX55U-6, ZX33U-6 and ZX26U-6 mini excavators.
The new app aims to enable customers to manage their machines remotely using their smartphones or mobile devices. Designed to complement Hitachi's Global e-Service monitoring system, the ConSite Pocket app has been developed with owners in mind, and claims a user-friendly interface and easy navigation.
Customers can use the new app to download monthly ConSite reports for their Hitachi machines, including data on daily working hours and fuel consumption. The new app can pinpoint the exact location of every Hitachi excavator and wheeled loader in a customer's fleet using Google Maps.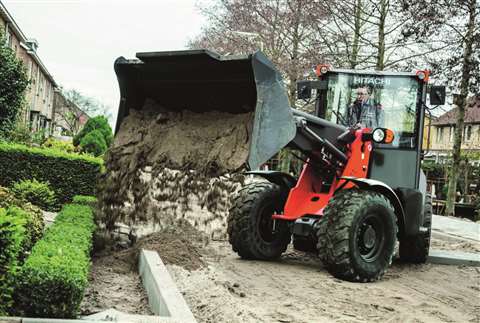 The ZW75-6 and ZW95-6 compact wheeled loaders are said to benefit from several enhancements to improve efficiency, comfort and performance for customers.
In addition to a new Stage V-compliant engine, the compact wheeled loaders are available with a DPF (diesel particulate filter) with passive regeneration as standard.
The new ZX210LC-6 SLF (super long front) excavator from Hitachi is said to be suitable for maintaining rivers and lakes, as well as slope finishing and landscaping. As one of the smaller models in this range, it has a maximum digging reach of 15m.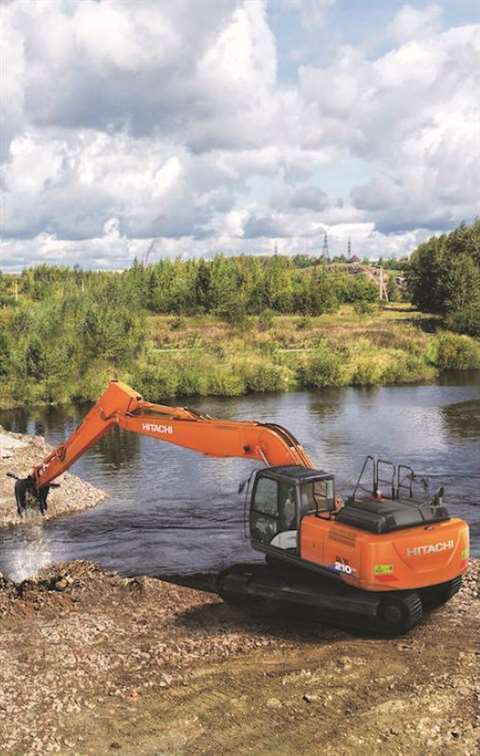 The ZX210LC-6 SLF has been developed by Hitachi to meet the needs of European customers, and shares key components with the standard Zaxis-6 model. However, it is capable of reaching further and digging deeper – it can remove soil from depths of 11m.
The ZX210LC-6 SLF model has a heavier counterweight than the standard version, and the arm and boom are fitted with hose rupture valves, which will maintain the load in the cylinder in the unlikely event of a damaged hose.
The ZX85USB-6 compact excavator can be used with a variety of attachments and is said to be suitable for rental, utilities, foundation work, landscaping and indoor demolition or construction projects.
It is equipped with a new Stage V-compliant engine, and a DPF aftertreatment device, and is fitted with an EGR (exhaust gas recirculation) for reducing NOx and a DPF to reduce particulate matter.
The ZX135US-6 telescopic arm excavator from Hitachi is claimed to be the best solution for deep excavation on narrow job sites in urban environments. As the smallest model in the range, it occupies less than half the space of the largest model, the ZX350LC-6, and is capable of excavating to depths of 16.5m.
It has been developed by Hitachi to meet the challenging requirements of underground projects in Europe.
One of the main attractions on Doosan Bobcat's stand will be the launch of the company's new Bobcat E10e electric mini excavator.
Said to be the market's first fully-electric, zero tail swing mini excavator to be offered in the 1 tonne class, the E10e was developed at the Bobcat Innovation Centre in Dobris, Czech Republic. It is based on the design of the conventional E10 mini excavator, which is now called the E10z to reflect the fact that it has zero tail swing.
The E10e has a width of 72cm, allowing it to pass through standard doors, as well as in and out of lifts. This, coupled with the fact that it produces no emissions and very little noise, makes it ideal for indoor applications.
By coupling it with an optional Bobcat super-charger, the battery can be topped up while operators are on work breaks, allowing the E10e to operate for a full eight-hour working day.
Doosan Bobcat's stand at Bauma will be divided into different application zones.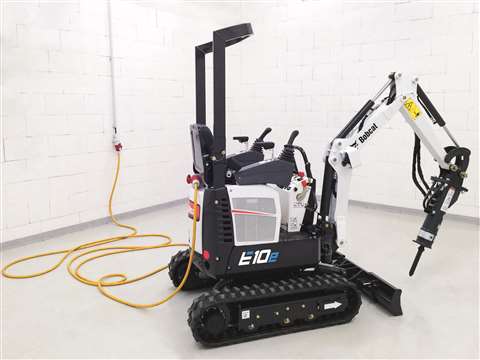 The material handling zone will include the new TL43.80HF telehandler, which has a capacity of 4.3 tonnes and a maximum lift height of almost 8m. Its heavy-duty design includes reinforced axles, an additional counterweight and Z-bar kinematics.
The new E27, E34 and E35z R-Series mini excavators will form the core of the earthmoving zone.
The E27 has just 280mm of tail overhang, even with its optional heavy counterweight, and the E34 is fitted with a new spacious premium cab that has the option of air conditioning.
In the roadwork zone, the company's new WS-SL20 wheel saw will be on display. It is designed to cut efficiently through asphalt, rock and concrete, and the variable segment wheel allows users to change the width of the wheel quickly in the field, rather than having to take it to a workshop for replacement.
Landscaping
In the landscaping zone, the E26 mini excavator from Bobcat's new R series will be on display. To overcome a common issue in the rental market – the damage of equipment – the E26 is equipped with features to make it more robust, such as the Cylinder-Inside-Boom. This protects the hydraulic piston from damage and stops the bucket from colliding with the cab.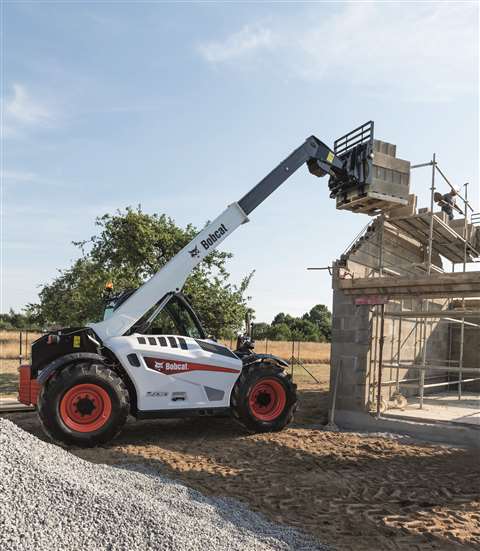 Finally, in the demolition zone the company's popular E10z mini excavator will be on show – more than 10,000 units have been sold over the past 10 years. It offers a maximum digging depth of 1.82m and weighs 1,066kg. The patented side adjustable consoles accommodate hydraulic pilot pressure controlled joysticks.
With Stage V engines having a big impact on new product launches at this Bauma, one example is the new 2.7 tonne class DX27z and 3.5 tonne DX35z zero tail swing mini excavators from Doosan.
These are both made in the Bobcat Dobris plant and are fitted with Stage V engines – a Kubota D1105 on the smaller unit and the Kubota D1703 on the larger. These are based on the Bobcat R series models, although will be slightly less versatile, with three rather than five hydraulic circuits.
Other Stage V compliant models are updated versions of its 6 tonne and 8 tonne minis, the DX62R-3, DX63-3 and DX85R-3 models, all featuring the same Yanmar 4TNV98C engine. This means a 22% power increase for the DX62 and DX63 units over the previous generation models. All three are made in South Korea.
Doosan is also adding some larger models. The DX250WMH-5 is a 25 tonne, Stage IV-compliant material handling machine based on Doosan's DX210W-5 wheeled excavator. It features front and rear stabilisers, a boom design that allows for lifting close to the cab, and a hydraulic cab riser.
Bigger still is the new 80 tonne DX800LC-5B crawler excavator. This is already sold in Asia with a Stage IIIB engine but will be available as Europe Stage V compliant by the end of the year.
With a peak hydraulic flow of 1008 litres/m it will be suited to applications in mining, quarrying and infrastructure projects.
It will be the largest Doosan excavator in the US and Europe, surpassing the 70 tonne model that previously topped the range.
Komatsu Europe (KEISA) will show more than 30 machines and their attachments, plus the latest Komatsu innovations introduced to the European market, on a 4,000m² indoor stand, and a 2,600m² outdoor area where it said the benefits of Komatsu's construction and mining equipment would be demonstrated live.
Visitors will see a number of Komatsu World Premieres.
Naser Memic Rendon, marketing and communications manager, said, "The novelties that Komatsu will unveil at Bauma will mark a turning point for owners and operators, and for the entire construction industry."
From the versatile MR‐5 machines to a PC4000 mining excavator, and from the newer dash-8 backhoe loaders, dash-11 excavators and dash-8 wheeled loaders to other well‐recognised Komatsu models, the entire Komatsu Europe range will be represented.
And the company added that there would be a focus on safety, innovative designs and comfort.
The recent HB215LC‐3 and the heavier HB365NLC‐3 hybrid excavators, both with an EU Stage IV engine, will promote Komatsu's hybrid technology and its workability, ecology and economy for customers.
Intelligent machine control
Komatsu's intelligent machine control will be highlighted on the demo area, with several hydraulic excavators and crawler dozers.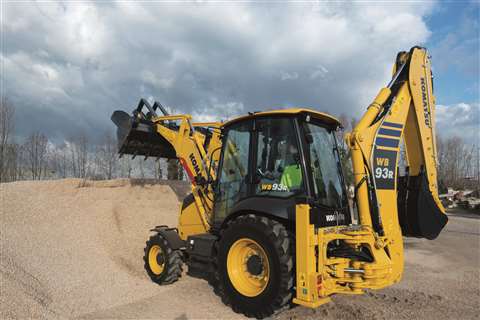 Visitors to the stand will learn about the company's high‐tech product support and services such as service agreements, optimal fleet recommendation, Komatsu Care, KomVision, and the Komtrax wireless monitoring system, standard on all new machines.
Liugong and Dressta will showcase a 20-machine line up of equipment designed for the world's toughest conditions.
This line-up is said to demonstrate the company's capability to deliver machines for every major application – mining, quarry and aggregate, demolition, material handling, utilities, landscaping, road and highway and agriculture.
The six new machines making their Bauma debut include new wheeled loaders, excavators, a motor grader, a forklift and two new dozers from Dressta.
Liugong and Dressta said that their principal aim at the show was to gain insight into what customers really need for tomorrow.
The new 909 ECR excavator has been designed in close co-operation with UK plant hire customers to fill a gap in the UK's rapidly growing rental market.
The 909 ECR is able to use a wide variety of attachments, ranging from buckets to hammers, in road and inner-city applications.
New for heavy demolition applications is Liugong's 950 demolition excavator. This machine is the result of extensive customer consultation and with close collaboration with partners Kocurek UK.
Positive customer feedback focuses on the machine's improved stability and stronger 30m long-reach boom. The design of the attachment group also allows changing of standard equipment to high reach equipment and vice-versa in 30 minutes or less.
This design of modular joint is now over 20 years in production and is well-proven having been incorporated into over 700 units working in the field on 20 to 150 ton class base machines.
Operator comfort and safety are said to be top priority in this demolition application excavator.
Versatility is a key demand for customers operating in waste and recycling applications, and the 848H wheeled loader with new Ergo transmission is said to deliver multi-tool flexibility with maximum power, minimum emissions and a safe and comfortable operator environment.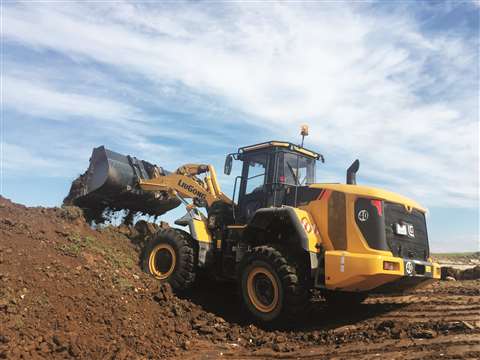 The new Cummins QSB6.7 combined with a wet axle and a five-speed transmission, with a lock-up clutch torque converter as standard, complies with Stage IV regulations.
Advanced load sensing hydraulics and auto shift transmission ensure rapid cycle times.
Productivity is said to be further enhanced by Liugong's quick coupler which enables fast and easy swapping of attachments.
With a new Stage V engine, the 856H wheeled loader brings Liugong's performance capability to customers in material handling and aggregate preparation.
An ergonomically designed joystick is said to enhance the operator comfort and increases total productivity.
Silicone oil shock absorbers improve the ride quality over the roughest terrain and help prevent material spillage
The 890H wheeled loader has a Cummins Stage 4 engine designed to develop more power at low speed, maximising torque output.
The power shift transmission and advanced load sensing hydraulics are claimed to combine to deliver superior breakout force with speed and agility.
Efficiency
Efficiency is said to be improved further by the Intelligent Power Cut Off function, which improves braking and supports the hydraulics in reducing fuel consumption.
The new 4180D motor grader is a completely new machine, with the UK-based industrial design team working in close co-operation with customers and operators to rethink the traditional grader.
The resulting machine is said to boast best-in-class 324° panoramic visibility.
New impact resistant materials have also been introduced to provide better weight distribution and increase recyclability.
The UK industrial design team along with R&D (research and development) conducted customer research into the operator's world before designing the new TD-15 and TD-25 crawler dozers.
The TD-15 is a new machine which benefits from a Stage V-compliant powertrain and has been designed to offer maximum versatility through the widest choice of frame structures and blades.
New load sensing steering provides more precise blade and ripper control and is said to reduce fuel consumption up to 10%.
The TD-15 also benefits from a new cab design.
The TD-25 dozer is a completely new machine in which visibility and safety are said to have been greatly improved, with 30% more glass in the cab and the inclusion of rear cameras.
A new bogie undercarriage design delivers comfort for the operator, especially on extreme rocky application and is still said to deliver the best in class drawbar pull and productivity.
The operator environment has been improved within the pressurised cab, with special attention on the operational ergonomics to improve efficiency and reduce fatigue.