Belfast Transport Hub approved
By Leila Steed25 March 2019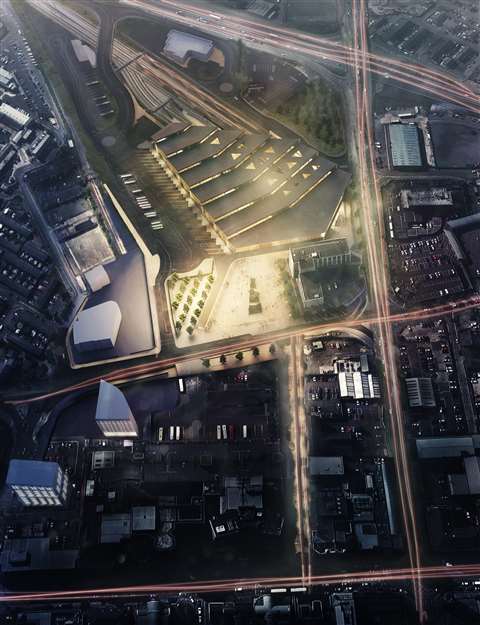 A new €240 million transport hub will be built in Belfast, having been granted planning permission by the Department for Infrastructure in Northern Ireland.
Northern Ireland's Executive Office (TEO) said that the Belfast Transport Hub (BTH) will increase Belfast's economic growth and kickstart regeneration in the local area. The TEO also said the scheme was essential to its Programme for Government and that the high capacity network, part of the larger Weavers Cross redevelopment project, will help secure long-term investment.
Designed by John McAslan & Partners, the transport-led regeneration project is estimated to cost €243 million (£208 million) to build. It will take five years to complete and over 400 skilled jobs will be created during its construction.
The proposal was submitted in June 2017 by public transport service provider Translink. The integrated design of the hub includes a new train station concourse with eight platforms, a public square and a 26-stop bus terminal. New parking, 200 bicycle spaces, taxi ranks and significant improvements to public areas are also planned.
Located close to Belfast's current Europa Bus Station, construction of the BTH will eventually replace the existing station and provide travel to the whole of Northern Ireland.
Translink, which runs Northern Ireland's railway, bus and metro services, said that the number of people using public transport has grown substantially over recent years. Last year 81 million passenger journeys were recorded by Translink — the highest ever figure.
Translink CEO, Chris Conway, said "This modern, innovative Transport Hub will allow us to build on this success, to meet growing customer demand, increase transport connectivity and enhance the customer experience as even more people choose to use public transport."
A video fly through can be watched here.