BeMå-lyft expands fleet with Spierings SK597-AT4 mobile tower crane
By Christian Shelton21 June 2017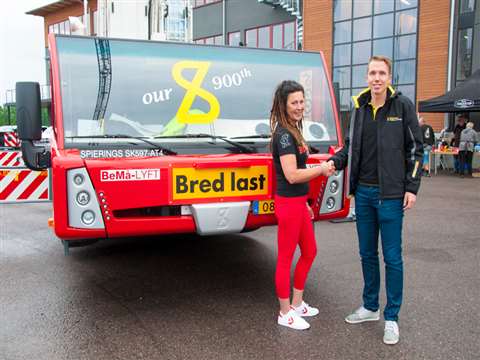 Swedish crane rental company BeMå-lyft has taken delivery of a new mobile tower crane, the SK597-AT4, manufactured by Netherlands-based crane manufacturer Spierings. According to Spierings, the SK597-AT4 is the fourth (and newest) generation of the Spierings hydraulic mobile tower crane with four axles. Spierings said it has already booked orders for more than 100 units, with the first 50 units having already been delivered. Spierings added that it is promoting its mobile tower crane concept more and more on the foreign markets and that its market position in Western-, Central- and Northern Europe is growing fast. As such, the company stated it is increasing its production capacity to meet the growing demand.
The SK597-AT4 has a four-part jib that provides a 48 metre radius, together with a compact vehicle length. The maximum lifting height is 27.8 metres with the jib in the horizontal position. With the jib at a 45-degree angle above horizontal, this increases to a height of 58.1 metres. Spierings said the SK597-AT4 can lift a maximum load of 7000 kg (up to 14.1 m) without using additional ballast blocks and the assembly time is four minutes for the outrigger support base and eight minutes to fold out the crane.
The SK597-AT4's truck cabin has an automatic ZF AS-tronic transmission, Bluetooth communication, a truck navigation system, air conditioning, a sound system, and reverse drive and side view cameras with a monitor in the cab. It's also the first Spierings crane to be equipped with standard disc brakes.
The SK597-AT4 has a hydropneumatic suspension system, high and low gears, and several control programmes, added Spierings, making it manoeuvrable on both construction sites and public roads. This also enables the crane to travel longer distances easily so it can be used in a greater area, Spierings added. The diesel engine drives three hydraulic pumps for crane functions. The crane can also be specified with four steel pads, 2000x900mm in size, including an auxiliary crane arm for placing the steel pads.
Eva-karin Mårtensson, co-owner and general manager of BeMå-lyft, said, "The last few years we saw that the mobile tower cranes were becoming more popular in Sweden. With the purchase of the SK597-AT4 we are the first company with a mobile tower crane in the Örebro area. The fast erecting time of 8 minutes in combination with the benefits of a tower crane are big advantages for our customers."
Jeroen Kerkhoff, sales engineer at Spierings, added, "the convenient lifting chart of the SK597-AT4 is extremely competitive with a 130 tons telescopic crane. The Spierings cranes have already proven to be resistant to the winter conditions in Sweden. The crane is equipped with a pre-heating system in the truck cabin and truck engine as standard. With steel pads and an auxiliary crane arm it's still a one-man concept. This crane offers all ingredients to make the new concept a success for the company BeMå-lyft."