Bentley Systems virtually connects construction
By Andy Brown16 April 2020
Bentley Systems has opened up its ProjectWise 365 cloud service, including waiving subscription fees through September 30, 2020, to virtually connect infrastructure project participants forced to work from home due to the COVID-19 pandemic.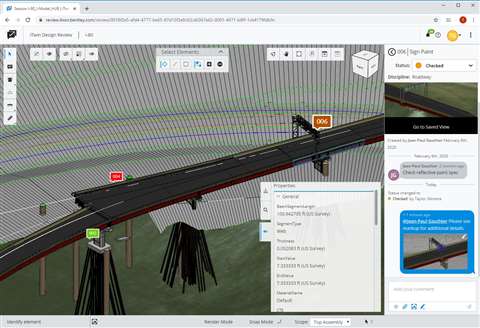 ProjectWise 365, leveraging Microsoft 365 technology and office productivity tools, is said to extend the reach and accessibility of BIM and infrastructure engineering data to aid collaboration and design review across the whole construction process.
As an 'instant-on' cloud service accessed through a web browser to simplify design review, transmittals, RFIs, information sharing, and issues resolution, ProjectWise 365 is suited for quick adoption while working from home.
In 2019 Bentley Systems was ranked by the ARC Advisory Group as the number one provider of Collaborative BIM for its enterprise-scalable ProjectWise Design Integration offerings.
"The enterprises using ProjectWise Design Integration for work sharing, have been telling us that they credit ProjectWise for sustaining their project productivity over the forced transition to work from home," said Dustin Parkman, VP, project delivery for Bentley.
"Now, by broadly and immediately opening up access to our new simplified ProjectWise 365 cloud service, we're extending ProjectWise advantages in collaboration and design review to infrastructure engineering project teams at every scale. By fully 'digitally' enabling every infrastructure professional, we hope to support their resilience in surmounting this crisis."