Big Pipe lifter
By Chris Sleight04 December 2008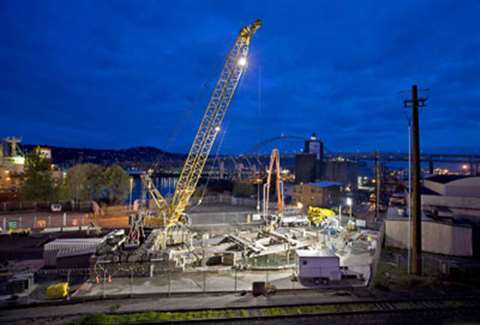 The East Side Combined Sewer Outflow (CSO) project in Portland, Oregon, US is designed to reduce sewage and storm water overflows into the city's Willamette River. When completed in December 2011, it will collect and intercept overflows from 12 existing combined sewer outfalls that discharge to the River.
Main contractor KBB, a joint venture led by Kiewit Construction with BilfingerBerger, is constructing a 22 ft (6.7 m) diameter tunnel, which runs for 6 miles (9.65 km) along the east bank of the Willamette River in Portland and connects to a similar project on the west side at the Swan Island Pump Station. At US$ 383 million, the East Side CSO - known locally as The Big Pipe - is the largest public works contract ever let by the City of Portland.
Seven shafts, ranging from 49 ft (14.9 m) to 67 ft (20.4 m) in diameter and ranging from 120 ft (36.6 m) to 160 ft (48.8 m) deep, are being built along the route of the tunnel. Construction on these began in March 2006, paving the way for tunnel boring to begin in May 2007. As of mid-November 2008, six of the seven shafts had been completed.
The shafts are being formed by constructing a slurry wall and then excavating within. Excavation is carried out using a Liebherr HS 895 HD duty-cycle crawler crane fitted with clamshell bucket. Periodically a drop chisel was required to loosen highly consolidated sand/silt/gravel formations.
On completion of excavation, the crane is also used to support the construction and installation of rebar mats, as well as tremie concrete operations, before moving on to the next shaft excavation operation.
The HS 895 HD is the largest model in Liebherr's series of duty cycle cranes. It has a maximum rated lifting capacity of 200 tonnes and has a maximum main boom length of 84.2 m. Maximum boom length when fitted with clamshell or dragline is 55.1 m. The 12-cylinder MAN diesel engine generates 670 kW at 1900 rpm.
Clutch and braking functions on the free fall system are provided by a compact designed, low wear and maintenance-free multi-disc brake. The drag and hoist winches use pressure controlled, variable flow hydraulic motors, with sensors that automatically adjust oil flow to provide max winch speed depending on the load. The winch can produce a line pull of 350 kN.