Böcker truck crane lifts roof sheets
By Niamh Marriott19 September 2023
Roofing company Hubert Clees & Sohn used a Böcker AK 42 truck crane to transport welding sheets onto the roof of a 5 storey residential complex in Duisburg-Rheinhausen, Germany.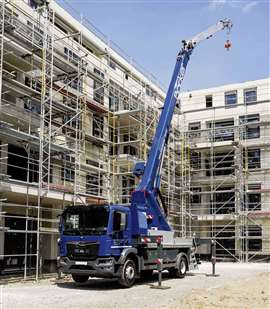 The crane lifted 900 kg of material per pallet onto the roof and the surrounding terrace on the fourth floor of the new building, a distance of 15 metres and a height of 20 metres.
With its maximum lifting capacity of 6 tonnes and extension lengths of up to 42 metres, the crane had significant power reserves to lift the attached load higher and further out.
Hydraulically powered, several functions of the crane can be controlled simultaneously.
The individual lifting operations were not only very fast, but also highly precise, said the company.
New control technology aided the lifting work. The crane can offer a reach preview during outrigger positioning when erecting the crane, transfer control, automatic rope tracking, switching between rapid and creep speed, rotation and erection angle limitation and go-home function.
For the construction project in Duisburg, the PGA 1800 A pallet fork simplified the safe pick-up and transport of the welding sheets. The crane's low swing-through radius and the upright mast position at 90 degrees to the vehicle also enabled space-saving erection and slewing close to the facade. The compact width of the crane of only 2.55 metre allowed for easy access to the narrow site.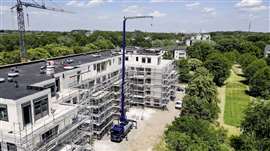 The new tower crane function of the AK 42 was used to telescope the load onto the roof and terrace. The aluminium jib can be hydraulically extended over 14 metres in a horizontal position, while the crane mast is completely vertical.
Böcker said another innovation of the AK 42 is the 180 degree position of the boom. With the boom joint fully extended, loads can be attached close to the crane or picked up directly from the loading area of the crane.
For low-emission and low-noise operation in densely populated areas, the AK 42 is optionally available as a hybrid crane with an additional electric motor.