Boehler elected as IPAF president
By Lindsey Anderson11 March 2019
Brad Boehler, president of Skyjack, has been appointed president of IPAF following Nick Selley's two-year term. Boehler will head-up the Federation for the next two years. The announcement was made during the IPAF Summitt and Annual General Meeting that was held March 6 in Dubai.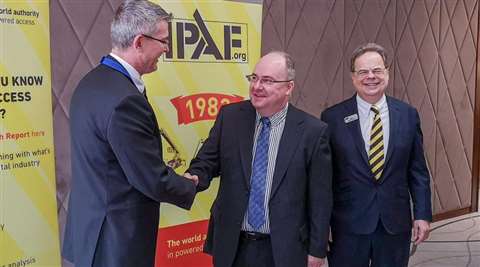 Other changes and appointments included Norty Turner of United Rentals elected as IPAF deputy president and Karin Nars of Dinolift confirmed as vice president. Nick Selley of AFI Uplift completed his full two-year term as president by handing the chain of office to Brad Boehler at the AGM. Andy Studdert of Cramo, the 2015-2017 IPAF President, maintains his seat on the IPAF board as a director and Tim Whiteman continues in his role as CEO and managing director of IPAF.
"I would like to thank our outgoing president, Nick Selley, for his tireless dedication to the Federation and his tenure in which he progressed the agendas of ensuring we remain relevant to the industry through ensuring that young people entering our industry have a future, that we seek out opportunities to collaborate with government agencies and other organizations around the globe to further access safety and that we continue to investigate new digital ways in which we can reach more operators in the future," Boehler said during the ceremony.
"About a decade and a half ago, I began my IPAF journey as an OEM product safety manager, new to the industry, looking to find a way to ensure that everyone who used our equipment was appropriately trained. My original analysis of injuries on MEWPs, very much pointed to the fact that, although powered access is a very safe method of achieving tasks at height, the vast majority of incidents that occur could be prevented by educating operators and site managers more effectively.
"I was also faced with updating our own training program and ensuring that our training staff was properly accredited. It was at this time I met with Tim Whiteman and Dennis Eckstine about how IPAF could help. I was very happy to get behind the IPAF mandate of promoting the safe and effective use of powered access around the globe.
"A lot has happened in the intervening years. IPAF training centers have trained more than 1.6 million operators and has expanded from an organization with 98% of its membership in the UK to one where 64.3% of the membership is outside of the UK.
"The safe and effective use of powered access has no borders, and we will continue to ensure that we advocate for the advancement of our industry around the globe, while maintaining our origin and base in the UK.
"To that end, we must continue the great work of those who have served before. We will focus on fulfilling our current three-year plan, with specific energy placed on: Engaging more effectively with our membership; ensuring we develop career paths for young people entering our industry; finding ways to reduce fatal and injury incidents related to MEWPs; continuing to explore and develop our ever-changing digital world relating to Smart PAL Cards, online training and 'extended reality' possibilities in future.
"I appreciate the continued support and leadership from the excellent IPAF staff, and more importantly the engaged and interested expertise provided from within our member base. The Federation belongs to its members and can only be as strong and productive as this membership itself allows. I applaud their volunteer efforts on a regular basis, around the globe, and hope that I can be worthy of their trust and support, during my tenure as the president of IPAF."