Boels adds solar lighting towers
By Leila Steed17 June 2022
Boels Rental has expanded its ECO label product offering with the addition of solar powered lighting towers mounted on trailers.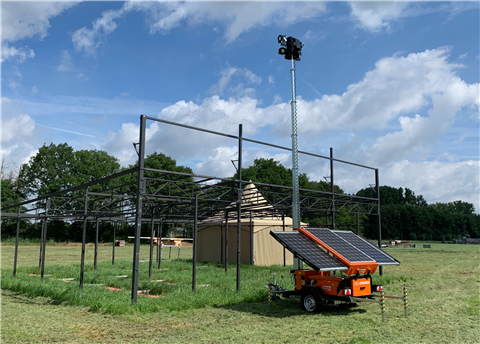 The 4x60W LED solar lighting tower model, which was already available as a stationary version, has now been installed on a towable trailer for easier transport.
Boels said it was the first rental company in Europe to offer solar powered towers mounted on trailers.
Offering zero CO2 emissions, zero noise and no air pollution, 4x60W LED Solar Lighting Towers are primarily designed for use in the construction and events sectors.
They are equipped with three 305W solar panels and feature four illumination settings - 25, 50, 75 and 100%, that enable users to choose the level of lighting they require.
"At its lowest setting (25% dimming), the zero-emission tower can provide light for up to 365 days without recharging," said Boels, adding that if weather conditions mean that there is little sunlight the unit can be charged using a 2kVA inverter.
According to the rental company, just one of the solar-powered lighting towers can save an average of 1.3kg of CO2 per hour, when compared to conventionally powered units.
Boels said the addition of the trailer-mounted lighting tower, which can also be charged via a 2kVA inverter when weather conditions mean there is little sunlight, "seamlessly" fits into its "orange is the new green" sustainability strategy. 
Harm Munsters, Manager Fleet & Maintenance Netherlands at Boels, said, "We continually invest in sustainable solutions and are therefore able to respond quickly to new market developments.
"We have further developed the lighting towers, so that they meet the wide-ranging requirements of our customers. Both ease of use and transport have been improved. For example, we installed an IoT system that allows remote monitoring," 
Munsters added, "The zero-emission lighting towers are ideal for large events, construction sites, security purposes and any other application where lighting is required."