C.J. Shaughnessy tackles tricky job with Magni
By Lindsey Anderson15 December 2020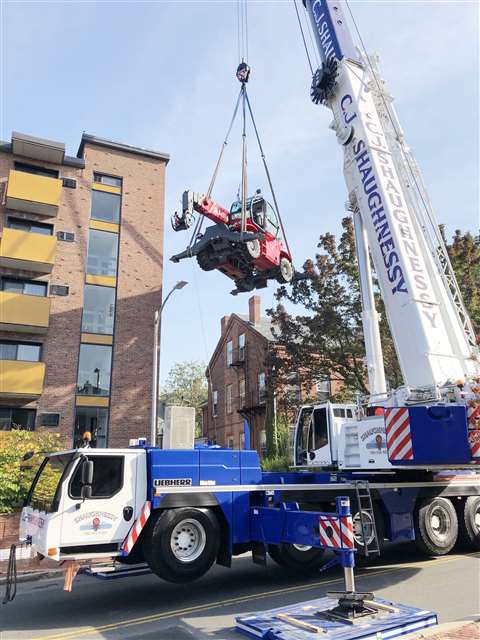 When Chris Shaughnessy, president of C.J. Shaughnessy Mobile Crane Service, took the job of replacing balconies at a Cambridge apartment complex, he knew there was only one machine for the job: a Magni. Shaughnessy rented a Magni RTH 5.25 Smart rotating forklift from Empire Crane Company along with the 6-ton hook attachment.
The entrance to the apartment complex was only wide enough for passenger vehicles so the Magni couldn't be driven in. Instead, Shaughnessy used its 2017 Liebherr LTM1200-5.1 to hoist the 37,985-pound Magni into the jobsite.
Once in place, there was only 16 feet between the balcony edges and a retainage wall on the opposite side. With outriggers fully extended, the RTH 5.25 Smart has a width of 14 feet – leaving only an extra foot of clearance on either side of the machine. Shaughnessy said, "It was just the perfect fit."
The job itself was to fully replace 8,000-pound, 30-foot-long precast, prestressed decking for the balconies. With only 9 feet of clearance between balconies, they needed to use the 6-ton hook attachment to comply with OSHA regulations. Shaughnessy said, "We had to come down to a middle pick-point spreader bar to gain height on these balconies."
Shaughnessy also mentioned that his operator found the remote control (that comes standard with every unit) very useful.
"My operator loved the remote control. He was able to be up placing the decking with the guys as they were rigging them in and out of place. It controls the machine very smooth, possibly smoother than when you're in the seat" Shaughnessy said.
"This was my first time using a Magni and it was awesome," Shaughnessy said. "We've actually found many more uses for it since then. For us, I can definitely see it on rigging jobs; it could replace larger equipment in tough to reach areas."
Justin Melvin, general manager of Empire Crane's New England branch, said, "Renting Magni telehandlers is a great option for crane service companies like Shaughnessy. They're so versatile that whenever they're in a tight space or need extra reach (that doesn't require a large AT), they can just give us a call and we'll have it ready.' 'The best part about it is that they're easy to learn and have numerous safety features."