Cancún 'pioneers' C&D waste recycling
By Leila Steed21 November 2019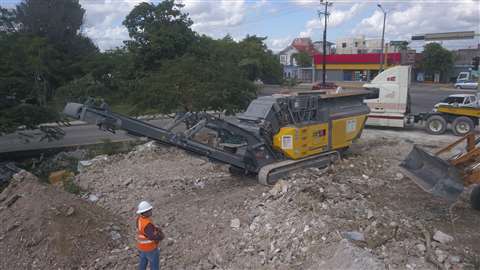 Austria-based equipment manufacturer Rubble Master has hailed the city of Cancún in Mexico as a recycling pioneer, after officials purchased its first Rubble Master crusher for the recycling of the city's construction and demolition (C&D) waste.
According to Rubble Master, the main use for crushers in the region is natural rock crushing, as the company says the concept of recycling is not as firmly established in the Latin American construction industry as it is in Europe.
The company said that, with its purchase of an RM 100Go! impact crusher, Cancún was setting a milestone for environmental awareness and sustainability in the Mexican construction industry.
The RM 100Go! impact crusher, which comes with a four hammer system and three rotor speeds, is powered by a John Deere diesel-electric drive engine. The mobile machine can process up to 250 t of rubble, asphalt or concrete per hour and produces an immediately reusable homogenous aggregate.
Ricardo Archundia, secretary of municipal works in Cancún, said: "The Rubble Master benefits, such as compactness, mobility and the rapid set-up time of the machine, make it much easier to use and enable flexible recycling of the material. Because the crusher is usually used to process C&D waste in the city centre or in residential areas, low noise, dust suppression and low carbon dioxide emissions are basic requirements for sustainable operation."