Caterpillar downgrades outlook amid weak Q2
By Helen Wright24 July 2013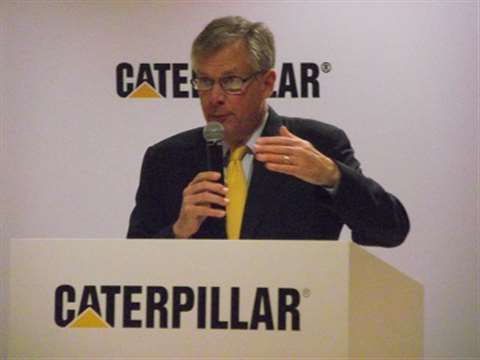 Equipment manufacturer Caterpillar has revised its outlook for 2013 after reporting a drop in revenues and net profit for the second quarter thanks to declining dealer inventories.
Revenues fell to US$ 14.6 billion for the three months to the end of June, down from US$ 17.4 million a year ago. Net profit slipped to US$ 960 million, compared to US$ 1.7 billion in the second quarter of 2012.
The construction industries division reported a -9% year-on-year drop in revenues for the second quarter to US$ 4.9 billion, while operating profit fell to US$ 362 million from US$ 688 million a year ago.
Caterpillar revised its outlook for 2013, and now expects to achieve revenues of between US$ 56 billion and US$ 58 billion, with a profit per share of around US$ 6.50. The previous outlook for 2013 revenues was a range of US$ 57 billion to US$ 61 billion, with profit per share of about US$ 7.00.
Nevertheless, chairman and CEO Doug Oberhelman said the company expected profit to improve in the second half of the year.
"We've taken action to respond to the economic environment we find ourselves in, and operationally, the team has done a great job. We experienced headwinds during the quarter, and while we had a positive US$ 135 million gain related to the Siwei settlement, it was more than offset by currency translation and hedging losses, an additional US$ 1 billion of dealer machine inventory reductions and a decline of $1.2 billion in our own inventory.
"While these were significantly negative to profit in the second quarter, our outlook doesn't reflect additional currency losses or reductions in our inventory during the second half of 2013. As a result, we expect profit to improve in the second half of the year."
But the US$ 1 billion reduction in dealer machine inventory was more than the company previously expected, and Mr Oberhelman warned, "While dealer machine inventory is low by historic standards, dealers are utilising inventory from our product distribution centres and are positioned to reduce inventory even further."
Caterpillar expects dealer machine inventory to further decline by about US$ 1.5 billion to US$ 2 billion in the second half of 2013, and end the year about US$ 3.5 billion lower than year-end 2012. It also expects to repurchase an additional US$ 1 billion of stock in the third quarter of 2013, on top of the US$ 1 billion it spent buying back stock between April and June.
In terms of regions, Caterpillar said it saw sales decline in all its locations, with the most significant falls reported in the Asia Pacific, thanks to lower demand for mining equipment.