Cemex delivers for Colombia's longest bridge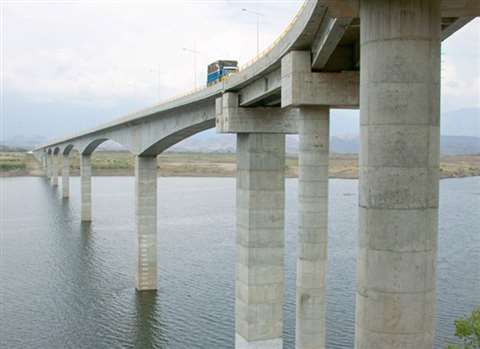 Cemex has designed and delivered 100% of the ready-mix concrete for Colombia's longest bridge – providing four new transportation routes in the country's Huila department.
The El Quimbo Hydroelectric project in Colombia comprises approximately 37,000 m² of tailor-made ready-mix concrete and prefabricated concrete beams.
The four alternative routes – which measure 13 km collectively – comprises nine bridges which run through mountainous land terrain and the Magdalena River.
The company said that basic ready-mix concrete would not meet the standards required for this project, therefore a high-strength ready-mix concrete was developed.
Carlos Jacks, CEO of Cemex Latam Holdings, said, "The right formula with the specific qualities necessary for this project couldn't be achieved at just any plant or with just any aggregates or additives.
"Our ability to innovate is what differentiates us. It was through our innovation that we contributed to the construction of one of the most important infrastructure projects in Colombia."
A temporary mobile plant was erected onsite during the project, and all prefabricated elements were cast in situ. Also, due to the extreme heat in the region, each cubic meter of ready-mix concrete had to include more than 20 kg of ice to control its temperature.
One of the bridges built – the El Balseadero Viaduct – is 1.7 km long, which the company said is the longest bridge in Colombia.