Central Crane Hire buys two Liebherr cranes
By Christian Shelton11 December 2017
Following the purchase of its first Liebherr crane in January 2016, Hull, UK-based crane rental company Central Crane Hire has now purchased two additional Liebherrs: an LTM 1070-4.2 mobile crane and an LTM 1040-2.1 mobile crane.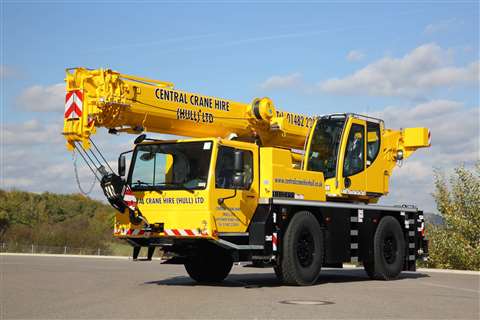 The Liebherr LTM 1040-2.1
According to manufacturer Liebherr, the LTM 1070-4.2 is a very versatile and compact four-axle crane that is light on its axles. It has a 50 metre telescopic boom and features include active, speed-dependent rear-axle steering and pneumatic disk brakes. It can carry the majority of its ballast when it is on the road, meaning it is immediately ready for use once it reaches site and, in the UK, it carries all 14.5 tonnes of its counterweight, said Liebherr.
The LTM 1040-2.1 has two driven, steerable axles which Liebherr said provides good all-terrain capability and manoeuvrability. The LTM 1040-2.1 has a maximum load capacity of 40 tonnes and a 35 m long, continuously variable four-section telescopic boom. The telescoping operation can also be performed under load. Pneumatic disc brakes are now fitted as standard on this model, which means maintenance costs are lower and braking more efficient.
Commenting on the two latest crane purchases Jonathan Hart, director at Central Crane Hire, said, "We are delighted to add two more Liebherr cranes to our fleet. Year on year we are renewing the cranes with the latest Liebherr models as we have found they are so reliable, have the best residuals and the backup is second to none."
The Liebherr LTM 1070-4.2