Chappell's takes delivery of Goldhofer MPA 5 semitrailer
By Ian Vallely11 February 2016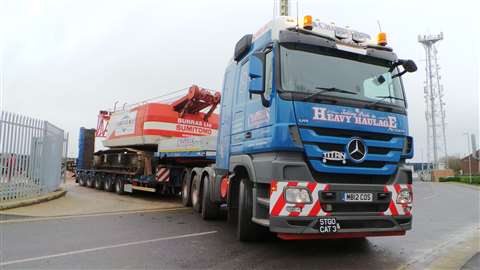 Transport services company Chappell's, based in Shedfield, UK, has acquired its first Goldhofer vehicle, an MPA semitrailer.
It is a five-axle version with a permissible axle load of 12 tonnes at 80 kilometres per hour or 156 tonnes at 20 km/h.
Chappell will use the MPA 5 mainly to move heavy construction plant. The semitrailer was chosen because of its MacPherson type suspension as further developed by Goldhofer, BPW, Neumeister and Heyd for heavy haulage. It is said to offer a combination of low weight and mature functionality, simple engineering and a minimal maintenance requirement. the MPA is claimed to retain full steerability at low loading heights (780 mm).
The maximum 60 degree steering angle is designed to give maximum manoeuvrability, and the 350 mm suspension stroke (with minimum track difference) is key to long tyre life and a smooth ride on uneven ground, Goldhofer said.