CHINA: Stimulus package to boost construction +40%
By Chris Sleight26 January 2009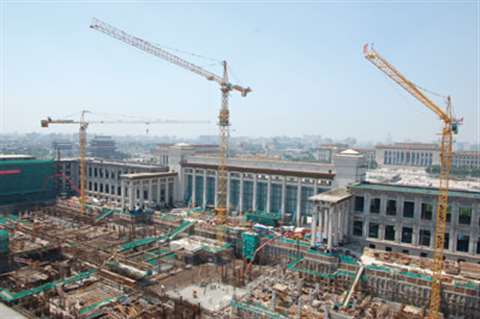 Contractors in the developed world would give anything for the +7.7% growth in construction output forecast for China this year by Global Insight.
But China has been used to year-on-year increases of anywhere between +12% and +20% for the first eight years of this decade, so as strong as this year's forecast looks, it is a concern for the industry.
Clearly China is not immune to the effects of the current global economic slowdown. With many of the developed economies of the world falling into recession, demand for Chinese exports is drying up, with a knock-on effect to the economy as a whole, including construction.
The construction sector is definitely feeling a slowdown and this was a major talking point at November's Bauma China construction equipment exhibition in Shanghai, where many manufacturers said they were seeing an impact.
Zeng Guang'an, president of Liugong, one of the country's largest manufacturers told iC, "Everything was OK up to July. In August most of the products started to go down, some of them quite steeply, and that has continued. It's still quite good for cranes, but wheeled loaders and excavators were down a lot - everyone in the industry has suffered."
There was a palpable sense of concern among manufacturers because, apart from the measures the Chinese government took to cool the market in May 2004, it is the first time they will have faced any sort of serious slowdown on both the domestic and export front.
Eddy Ning, assistant general manager of another large manufacturer, XGMA, told iC "I think the situation looks bad for 2009, but it will improve after that. Construction needs time and I think the situation will improve in 2010."
But the good news is that China has the money to spend its way out of trouble thanks to the previous economic boom. According to the central bank, the People's Bank of China, its foreign exchange reserves totalled US$ 1.53 trillion at the end of 2007, the last year for which full data is available.
These reserves allowed the government to announce a massive stimulus package at the end of last year. It proposes to spend US$ 4 trillion (US$ 585 billion) over two years to see its economy through the current downturn, and most of that money will go to construction schemes.
The biggest slice, CNY 1.8 trillion (US$ 263 billion) will be spent on roads, railways, airports and power grids. In addition, CNY 1 trillion (US$ 146 billion) is earmarked for reconstruction work in Sichuan province following last May's earthquake. Outside of the infrastructure sector, CNY 280 billion (US$ 41 billion) is allocated for the construction of low-cost housing.
That adds up to an injection of CNY 3.08 trillion (US$ 450 billion) for the construction industry. According to Global Insight, construction output in China last year totalled US$ 541 billion, so the impact of this spending could be massive for the industry.
The Chinese government is aiming to invest these vast sums of money this year and in 2010. So the additional US$ 225 billion per year could potentially add more than +42% to construction output in China for two years.
In addition, other areas of the stimulus package such as rural development and infrastructure, environmental protection and public healthcare, culture and education are likely to have a large construction component. Total additional spending in these areas will be CNY 760 billion (US$ 111 billion).
Timing
Certainly the numbers are very encouraging, but the question for construction is about practicalities. Announcing the funding for a scheme is one thing, but as XGMA's Mr Ning said, even in a dynamic market like China it takes time for this to translate to on-the-ground activity.
On the positive side, China has a good track record for doing what it says it will when it comes to infrastructure construction. Last year it built some 5000 km of trunk roads, and can now boast that all 78 of its cities with a population of 0.5 million or more has access to the network thanks to the completion of the five north-south and seven east-west arterial highways last year. These alone measure 35000 km.
So while the construction sector can have reason to think the extra spending will translate into increased activity, the question is when? Some of the stimulus plan spending involves bringing forward planned schemes, but many projects are at an even earlier stage of development.
Toru Sakai, managing director of Hitachi Construction machinery China told iC, "The Chinese government has announced they will spend a lot of money to stimulate the economy with infrastructure work, but of course that takes time. So we think the market may pick up after the Spring Festival - probably from April or May onwards. That's just because it takes time to start infrastructure work. In China that also depends on the location and how advanced the plans are."
This view that the industry will have to wait until after the Chinese New Year (January 26 this year) and subsequent holiday was echoed by Liugong's Mr Zeng.
"The Chinese government has taken some strong measures to improve the economy and keep high GDP growth. The decision to invest in infrastructure, housing and roads means there are a lot of investments coming. I think we will have to wait until after the Spring Festival for this to start," he said.
Indeed, even the normally bullish Chinese leadership thinks it will be next year before the growth in internal demand form the stimulus package is enough to offset falling exports. Fan Jianping, chief economist at the State Information Centre said at briefing earlier this year, "The policies' impact on economic growth would be obvious in 2010."
Progress
But things are moving in the right direction. At the start of the year the Ministry of Environmental Protection (MEP) gave the go-ahead for 153 stimulus package projects, with a total value of CNY 470 billion (US$ 69 billion). These included 31 transport and water projects, worth CNY 139 billion (US$ 20 billion).
Interestingly, the same statement said the MEP had blocked 11 projects worth CNY 43.8 billion (US$ 6.9 billion) on environmental grounds. These were coal-fired power stations and chemical plants that failed on grounds of poor environmental impact assessments.
And it is also worth remembering there is still plenty of activity in what might be described as the 'normal' Chinese construction market, before the impact of the stimulus package even come into the picture. In the context of China, 'normal' of course means some projects of impressive scale and ambition.
For example, the last few months has seen the announcement of a 29 km bridge across the mouth of the Pearl River in the south eastern province of Guangdong to link Hong Kong and Macau, and then carry on to Zhuhai. Work on this US$ 730 million scheme is expected to start this year.
In December meanwhile, ground was broken on the CNY 70 billion (US$ 11 billion) Yangjiang nuclear power plant, also in Guangdong. Due to come on line between 2013 and 2017, the plant will have six 1 GW reactors - equivalent to coal-fired power stations burning 16 million tonnes of coal per year.
In a more advanced state is the 1320 km high speed rail link between Beijing and Shanghai, which got underway late in 2007. Due for completion in 2013, the CNY 220 billion (US$ 32.1 billion) line is expected to cut journey times between China's two biggest cities from 13 hours down to five.
Another major area of activity is Shanghai itself, where work continues apace for the 2010 World Expo. The event is expected to attract 70 million visitors, and construction on the 5.28 km2 Expo site and supporting infrastructure is stimulating industry activity on a par with the run-up to last year's Beijing Olympics.
In addition to high-profile schemes like these, there is plenty of construction work. In the road building sector alone there are plans to add 85000 km of trunk roads to China's network by 2012, while an increased focus on rural roads should see some 270000 km of these renovated and upgraded in the coming years.
Bright future?
With so much work underway or planned, the future still looks bright for the Chinese construction sector, although it will undoubtedly see a slowdown from the rates of growth it has been used to. As iC went to press, the country was building up to the Spring festival, when tens (if not hundreds) of millions of people take an extended break to visit their families.
It may be a more nervous holiday than in previous years, but those in the industry will hope to come back to a new stimulus package-driven construction boom.