Colle orders 4500 Magni-Dingli scissors
By Euan Youdale03 May 2017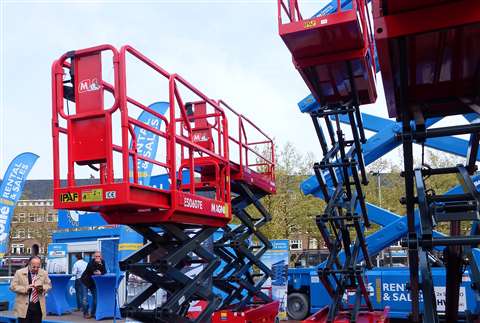 Magni has confirmed that it has a three-year deal to supply 4500 scissors produced by Dingli to Colle Rental & Sales.
Under the arrangement 1500 Magni Dingli scissors will be supplied each year until 2019 to Colle, which is also the distributor for Magni's range of telehandlers in the Netherlands, Benelux and Germany.
The first 600 scissor units will be delivered in June this year.
Dingli acquired 20% of Magni last year. Since then Magni has designed a range of boom lifts for the Chinese manufacturer that were launched at Bauma China last year. Up until now the booms have been introduced to the Chinese market but there are plans to bring them to Europe in early 2018.
Concerning the scissors, Magni requested Dingli make a couple of modifications to components for the European market, including common batteries across the scissor range. Otherwise they are ready for distribution, Eugenia Magni told AI at APEX, taking place this week. ""Once a company like Colle pushes forward with a brand in a country the other companies in that country tend to follow.""