Coming around: ICm20
By KHL Staff15 December 2017
Following a double-digit fall two years ago in the 2015 table, last year's drop of less than 1 per cent (%) was a major leap forward for the ICm20 ranking of the world's largest crane manufacturers. A slight decline on that this year, at 1.5 %, is as per the forecast for the 2017 table.
On the face of it extreme fluctuations among the sales figures of the long-running ICm20's manufacturers might give a feeling of uncertainty. More positively, however, it is not all steep declines as some have increased, others remained flat and sales for others have picked up in recent months which will be reflected positively in next year's figures.
The total revenue of all the top 20 crane manufacturers combined was down 1.5 % in 2017's table (2016 results), to US$24.48 billion, compared with a 0.78 % decline the year before so, while it is more than in the 2016 table, it is still rather better than the more than 10 % fall in 2015.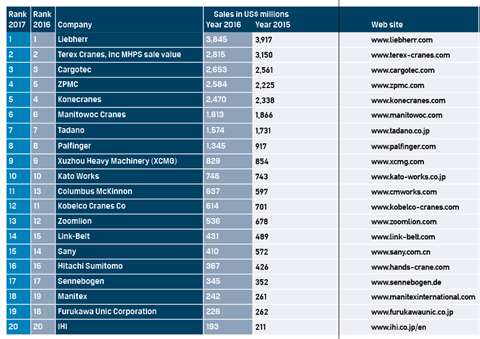 At the top of the table is Liebherr, as it has been for many years. The family-owned company has maintained its lead over next placed Terex which includes figures from the port and industrial cranes of the Material Handling and port Solutions segment for the last time. Ownership of the MHPS division transferred to Konecranes in January 2017. Next year this will see around $1.5 billion go from Terex to Konecranes in the ICm20 which might just about be enough to put the latter in first place as the world's largest crane manufacturer by revenue. It will depend on any increase that either of those two giants can make.
Looking at Terex Cranes in isolation, without the MHPS division, last year (2015 sales) the segment generated $ 1.57 billion of the total while in 2016 it was down 19 % at $1.275 billion. As you can read elsewhere in this issue, in the news special on page 19, Terex Cranes is striving to turn this around. Even stemming the decline won't prevent a major change in position next year as just being Terex Cranes will likely put it down the table by about five places.
Next in this year's table, Cargotec, has hung onto third place again this year, where it has been for many years. It showed a 2.3 % decline, however, from last year for the crane and lifting activities in its three divisions Hiab, Kalmar and MacGregor. Also threatening its position is ZPMC which moves up one place to 4th this year on the back of a 13.92 % increase in sales. The Chinese company manufactures port cranes and other materials handling equipment.
ZPMC displaced Konecranes which is down one place in 5th, despite almost maintaining its revenue level with a 0.37 % decline from the previous year. Next in the table is Manitowoc, maintaining its position despite its drop of 13.5 % in sales. This was a smaller drop than the 19 % in the year before so it is another company that helps bolster the view that things have turned around.
For the first time in several years Japanese manufacturer Tadano, retaining its 7th place, suddenly showed a decline in sales, by 14 %, from the previous year. This is not expected to continue, however, with what was once the world's largest crane maker, planning to regain that position within the next year or two at most.
Palfinger is still at 8th place despite its 9.17 % increase in sales last year.
A much smaller fall, of 4.81 %, than last year (21 %) was posted by 9th place giant Chinese manufacturer XCMG, probably the largest crane maker in the world by number of units. Fellow giant Chinese manufacturer Zoomlion was down a whopping 22.59 % but again, a lot less than the 38.38 % fall a year earlier. The other major Chinese manufacturer, Sany, reversed this trend with a 29.71 % fall in year 2016 sales compared with just a 4 % fall the year before.
At the bottom of the top ten is Kato, which showed a decline in sales but in October 2016 it acquired the crane manufacturing business of fellow Japanese corporation IHI so an increase in next year's ICm20 will be expected from this.
Outside the top ten at 11, industrial crane maker Columbus McKinnon was up a healthy 6.7 % from 597 to 637 million dollars. Next is Kobelco Cranes which is now amalgamated back into Kobelco Construction Equipment.
The remaining companies in the table were down on the previous year, Link-Belt at 14th by 11.9 % compared with 6.5 % the year before, Hitachi Sumitomo by 5.2 %, Sennebogen by 2 % and IHI by 8.5 % (see Kato above).