Commitment and adaptation from Liebherr
By Mike Hayes23 November 2016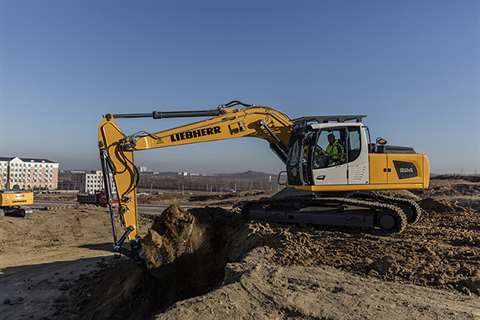 At Bauma China, Liebherr displayed a wide range of equipment, including earthmoving machines which have been specifically adapted to meet the requirements of less-regulated markets.
At Bauma China, Liebherr's head of communications, Dr Gerold Dobler, talked about the company's changing attitude to the Chinese market, including a firm commitment to the exhibition.
He said, "We have launched a number of machines in the earthmoving sector this year, which are adapted to the Chinese market.
"They are produced here, developed here and use local components, wherever they fit to our quality standard. We even now allow them not to integrate Liebherr engines, because we acknowledge that other engine manufacturers can have a better service network here in China."
Dr Dobler discussed Liebherr's changing attitude to the country, saying, "Following the downturn in the local market, we re-evaluated our approach to China and have made some important structural changes to equip our external manufacturing sites. For example, in a number of sites, including Dalian, in China, we have converted them from being assembly lines to being real factories, including engineering departments and so on – making sure the knowledge transfer is coming from our existing competence centres."
One of the adapted machines on show at Bauma China is Liebherr's R 920 crawler excavator, available with a diesel engine satisfying stage IIIA/Tier 3/China III emissions regulations.
The 21-tonne machine was especially developed for use in earthmoving, digging and drainage / sewerage work and has an output of 110 kW / 150 HP. The concept of the Liebherr R 920 is based on European standards and aims to improve reliability, as well as generate even higher productivity on the construction site – with lower fuel consumption at the same time.
In April, the market launch of the R 920 was accompanied by a complete renewal of all crawler excavator models for less regulated markets between 20 tonnes and 25 tonnes. In addition to the R 920, this product programme also includes the models R 922 and R 924 with operating weights of 22 tonnes and 24 tonnes respectively and outputs of 110 kW / 150 HP and 125 kW / 170 HP.
The new series includes enhanced comfort for operators, including newly-designed seats, larger windows and a large touch-screen display.