Compact equipment – building for tomorrow
JCB has developed its first electric excavator. With the drive towards lower emissions, the zero-emission JCB 19C-1 E-TEC will allow contractors to work inside buildings and in emissions-sensitive inner city environments.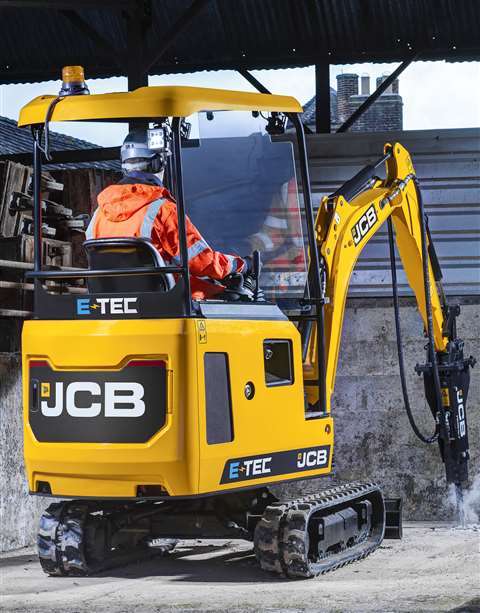 According to JCB, a big advantage of the new electric mini is that the external noise, at 7 dB (A) lower, is five times quieter than its traditional diesel powered counterpart. This means contractors can work after normal hours in urban streets without disturbing residents, as well operating in other noise sensitive environments such as hospitals and schools.
Chief innovation and growth officer Tim Burnhope said: "By replacing the diesel engine with an efficient, 48 V electrical driveline, with the latest generation automotive battery cells, JCB has once again moved the mini excavator market forwards.
"The 19C-1 E-TEC points the way to a new zero-emission future for JCB mini excavators."
Based on the premium specification 19C-1 E-TEC conventional tail swing model unveiled in 2017, the electric excavator replaces the standard machine's diesel engine with an electric motor and three, next generation 104 Ah battery packs, to deliver a full energy capacity of 312 Ah (15 kWh). The modular batteries utilise the most advanced NMC lithium-ion cells, shared with the latest road cars, in a rugged battery pack housing that has been designed to withstand the rigours of off-highway construction use.
For Volvo Construction Equipment (CE), 2018 has seen the introduction of the ECR18E excavator, featuring an ultra-short swing radius for safe working in confined urban applications.
The ECR18E is a 1.8 t class machine that can squeeze into the tightest of spaces, and thanks to its ultra-short tail design – the shortest radius in the Volvo range – it can work close to obstacles without colliding with them.
The new model complements the Volvo offer, which so far comprises seven short swing radius models, ranging from 1.8 to 9.5 t. The machine will be available worldwide from the end of 2018 and despite its short-tail design, remains highly stable all round. Featuring a variable undercarriage, the ECR18E can retract to less than 1 m (3 ft 3 in) wide to enter confined areas – or expand to a more surefooted 1.35 m (4 ft 5 in).
Rental businesses
Particularly suited to the needs of rental businesses, the ECR18E is designed for low cost of ownership. Robust by design thanks to a high-profile counterweight, the machine is made for easy maintenance, with 50 hours greasing intervals and a hinged fuel tank providing best-in-class access to the engine compartment. The engine can also be fitted with auto-idle and auto engine shutdown features, which both reduce noise disturbance, service costs and fuel consumption while ensuring a higher resale value.
Yanmar CEE announced a special edition livery for its SV60 compact excavator model, to celebrate 50 years since launching the first of its kind.
A limited run of 10 units will be made available through the compact equipment's global dealer network.
The models will feature a distinctive red colour scheme and combine "sector-leading technology", according to Yanmar, along with a business-class feel. The company, which also made a special film of the 5-6 t machine, said it will boast a 3.56 mm (0.14 in) working envelope but promises the performance of a midi excavator.
Sales and marketing director Andreas Hactergal said: "We wanted to celebrate the 50th anniversary of our very first mini excavator with a series of festivities.
"Yanmar is renowned worldwide for its excavator range, so launching a limited-run edition of our modern-day equivalent seemed a fitting gesture.
"Celebrating the people behind our class-leading range was also hugely important.
"As such, we undertook a project to film the SV60 build process and showcase the commitment, creativity, hard work and attention to detail that goes into the build of every model manufactured in our St-Dizier facility in France."
Asia-Pacific
Outside Europe, John Deere has entered into a strategic supplier agreement with Wacker Neuson to initially provide compact excavators in China, Southeast Asia, and Oceania.
The models will range from 1.5 to 6.8 t and are specifically designed and manufactured for the growing Asia-Pacific marketplace.
The objective of the partnership is said to be long-term collaboration in key growth markets.
"In partnering with Wacker Neuson, John Deere is leveraging the experience and success of their innovative and strongly customer-focused products to help us further develop our position in the Asia-Pacific region," said David Thorne, senior vice president, sales and marketing, John Deere Construction & Forestry.
While both companies are said to be committed to long-term strategic collaboration, the agreement will run for five years and can be extended in five-year increments.
The initial rollout of four compact excavator models will begin in early 2019. They will predominantly be sourced from the new Wacker Neuson factory in Pinghu, China. Service and support of these machines will be offered through the John Deere dealer network.
Bobcat has been busy across more than one compact equipment product group. In mini-excavators, it launched the R-Series from 2 to 4 t. The company describes the five models in the series – the E26, E27z, E27, E34 and E35z – as offering a best-in-class mix of high digging forces, superb stability and smooth controllability of working functions complemented by low weights for easy transportation.
The new excavators use newly developed flexible machine platforms that allow different configurations of models and specifications to suit a range of applications and customer needs, alongside enhanced operator comfort and functionality.
Jarry Fiser, product range director for Bobcat mini-excavators in Europe, the Middle East and Africa (EMEA), said: "The current line-up has been one of the most respected products in the industry.
"Now backed by nearly five years of development work, we are raising the bar even further and we are confident that we are now offering the best-in-class machines available."
Bobcat has also announced several new developments its compact loader range for EMEA, such as auto ride control and heated cloth air ride seats.
Complementing this, Bobcat has also launched the S100E model, an updated version of the company's popular S100 skid-steer loader that meets Stage V emissions regulations.
These advances have come in the year that Bobcat celebrates the 60th anniversary of the first loaders it produced.
Low-cost operations
Also in compact wheeled loaders, the Komatsu WA100M‐8 includes improved features that the company said provides effortless and low‐cost operations. These are a powerful EU Stage IV engine and the proven Komatsu Selective Catalytic Reduction (SCR) system, a new ergonomic design,a high level of standard specifications and an array of new options. The loader can be used on jobsites or in recycling with the hydraulic quick coupler, Easy Fork kinematic and a range of available attachments.
"The WA100M‐8 is built on the strong base of the WA100M‐7" said Sebastian Zienau, product manager at Komatsu Europe.
"And with its many new features and options it opens up a new range of versatility."
The WA100M‐8 has an operating weight of 7,200 kg (15,873 lb). Its EU Stage IV Komatsu SAA4D94LE‐3 engine is also more powerful with 70 kW (94 hp) net and optimised for tough construction applications, it delivers high torque even at low rpm.
This article first appeared in the November-December 2018 issue of Demolition & Recycling International. To register to receive the magazine on a regular basis, please visit www.khl.com/subscriptions