Concrete construction: Cemented in the industry
Concrete is an invention that changed construction methods for thousands of years after its discovery, but how has the use of concrete changed today? Joe Sargent investigates
Deep set into the industry, you'd be hard pressed to find a technique more widely used in construction than the use of concrete.
The material offers a versatile quality while providing a solid foundation, which is a necessity for many ambitious construction projects. It's cost-effective, plentiful and has proven to be a tried and tested method, time and again. Structures built using this substance often last for many years too, with a general service life of around 100 years.
Though the principle use of concrete remains the same, the aggregates industry has embarked on a technology revolution of its own. Health concerns surrounding the material, such as respiratory conditions are being tackled head-on, as are wider environmental concerns involving pollution.
Aggregate alchemy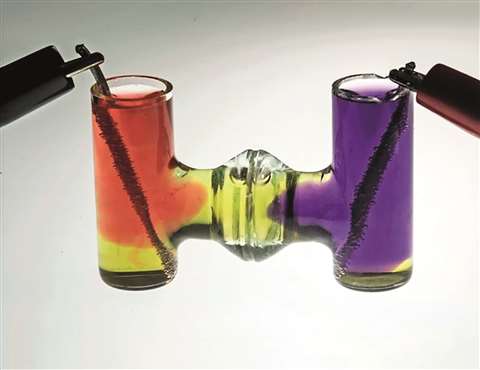 One such development has been established by a team at the Massachusetts Institute of Technology (MIT) in the US. The team has created a way to make cement without heating, potentially eliminating the carbon produced in the process.
Portland cement, the most widely used variety, is made by mixing limestone with sand and clay and then fusing them together at temperatures of around 1,450°C. During this process carbon is emitted from the fuel used in the heating process and the limestone itself.
Altogether, it has been estimated that cement production accounts for 8% of global carbon emissions. Therefore, development of low-carbon production is a vital challenge that the industry has a responsibility to tackle.
The process that the team has developed involves the use of electrochemical processes rather than heat. Firstly, limestone is dissolved in acid then placed in a tank with an electric current passing through it.
This splits water molecules into oxygen and hydrogen, creates an acid at the positive electrode and an alkali deposit of calcium hydroxide at the negative. This deposit, which forms in flakes, can then be used to produce Portland cement.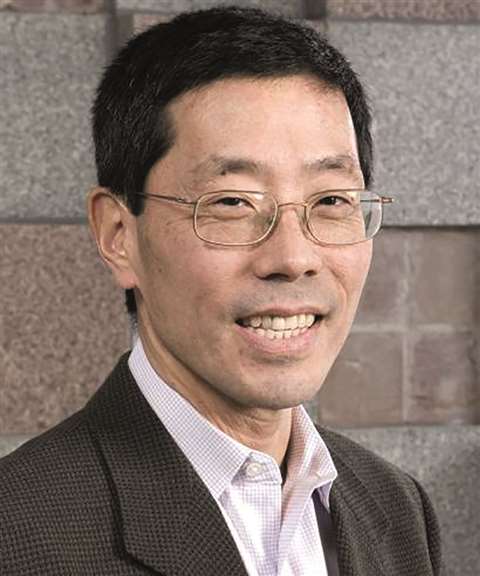 The results were published in the Proceedings of the National Academy of Science, in a paper by Yet-Ming Chiang, professor of materials science, among others.
Chiang said, "About 1kg of carbon dioxide is released for 1kg of cement made. That adds up to 3-4 gigatonnes of cement and of carbon dioxide produced annually, and the number of buildings worldwide is expected to double by 2060, which is equivalent to building New York City every 30 days."
So far, the team has demonstrated the process at laboratory scale, but the researchers said it could be scaled up to an industrial process. They warned, however, that it would be difficult to change such a basic process in such a large industry as construction.
Scaling up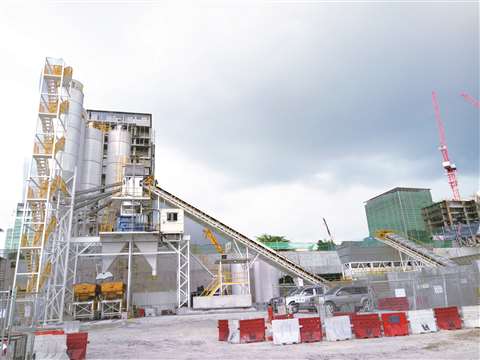 In Kuala Lumpur a concrete batching plant capable of producing 200m3/hr of material was recently deployed for use in the construction of the Jalan Tun Razak Traffic Dispersal Project in Malaysia.
The Plant – a Eurotec 4MZ6750Ti model from Lintec & Linnhoff – has, so far, provided the material for over 3km of road tunnels, utility service installation works and tunnel fit-out works for the project, which aims to reduce traffic into the city by 30%.
The underground section for the proposed connection to the Stormwater Management and Road Tunnel (SMART) at Jalan Sultan Ismail is currently under construction. The loop tunnel, which will allow direct access to and from
major highways and regulate the underground traffic, will take visitors to parking bays in the area rather than joining local traffic.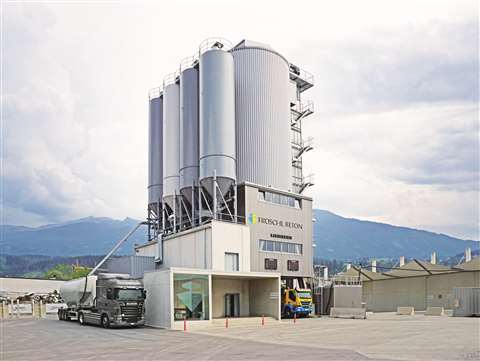 Elsewhere, Liebherr has deployed a new concrete mixing tower in Austria. This will cover the entire concrete logistics chain for construction materials supplier Fröschl Beton.
The company says that production of standard concrete types, as well as special concrete, has now been optimised. In the company's new design, two vehicles can be loaded simultaneously with different types of concrete.
The Fröschl Beton company has been supplying construction sites in the Innsbruck area in Austria with ready-mixed concrete for many years. Before the new addition, the company had been using the same tower for 45 years. Liebherr's Betomat concept was chosen because it enables the operation of two separate mixing plants within one mixing tower.
Within its compact form factor, the Betomat holds up to 600m³ of stone in nine silo chambers. The mixing tower is fed with aggregates via two charging hoppers and a bucket elevator with an hourly output of 200m³/h. The plant itself has seven silos for a binder supply of around 840 tonnes.
The new mixing plant is equipped with two mixer systems: a ring-pan mixer with agitator system and a double-shaft mixer. This means that normal standard concretes as well as high-performance and special concretes can be produced. When in operation with both mixer systems, the plant achieves a possible output of around 160m³ of compacted fresh concrete per hour.
Electric evolution
Liebherr recently introduced two truck mixers to its ETM range; the fixed structure ETM 905 and the ETM 1004 T, a semitrailer with a fully electrical tractor. The company says its electrically-driven truck mixer range offers the reduced emissions now increasingly required in urban areas.
When tested under extreme conditions, Liebherr says the electrical drum drive proved effective, even with very thick concrete consistencies, including F1 and F2 types. A compact generator recharges the mixer's battery during the journey, or can be charged at up to 22kW, using a standard plug.
How concrete is being dispatched is just one of the ways in which concrete applications are changing. The way in which concrete is installed varies between contractors and jobsites globally.
US-based manufacturer Reed has developed a high-performance pump that is said to be capable of delivering high enough pressure to form structural concrete columns and walls, without traditional formwork requirements.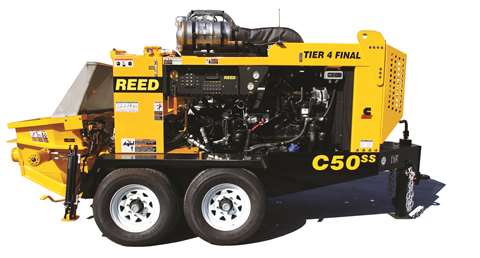 The pumps from Reed implement a Rexroth 'Closed Loop' hydraulic system, with twin axles, and twin-shifting cylinders making them capable of delivering a maximum pressure of 2000Psi.
The company says that it is the first manufacturer to bring this technology to trailer line pumps.
A different strategy
Torrent Shotcrete is one such company that have invested in the new Reed products. Torrent's pump of choice is a Reed C50SS model, capable of achieving the 2000Psi pumping power mark.
Rather than the traditional method of forming concrete walls and structures using a form-and-pour strategy, the shotcrete method requires substantially less formwork.
Ross King, vice president of business development Torrent Shotcrete, said, "Not too long ago, form-and-pour methodology completely dominated the forming marketplace, but that's changing. Today, the marketplace is seeing structural shotcrete gain far greater acceptance as a more logical and efficient option for structural concrete applications."
In Shotcreting, the pneumatic pump sprays the concrete into position over a single panel and at a minimum two reinforced bar layers. With less formwork required on site, time is said to be saved in the setup process, translating into reduced costs for labour, and the formwork itself.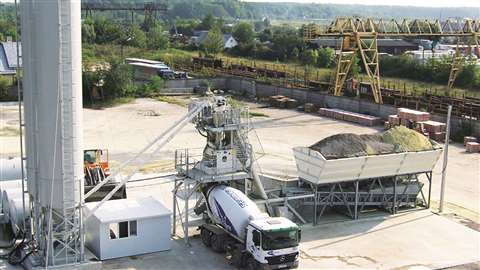 Elsewhere, Ammann has supplied ready-mix concrete supplier Betonbud with a new CBT 60 SL Elba concrete mixing plant in Ukraine.
The new structure serves the company's plant in Lviv, a heavily urbanised region of Ukraine where there is lots of construction activity taking place. Ammann confirmed Lazar's favourable impressions during the tender phase, scoring high with fast and accurate processing.
Ammann's CBT Elba series has been designed for easy transportation; featuring flexible modular technology the plant can be shipped in two open-top containers, and is said to be easily assembled on site.
Of course, the perfect finish can't be achieved without the right tool for the job. Wacker Neuson's has created a new battery-powered internal vibrator.
The new environmentally-friendly option features a hardened vibrator head in the front third and high-frequency operation to deliver stable revolutions per minute (rpm). This is said to optimise the quality that the vibrator can deliver in concrete consolidation, removing the trapped air more evenly.
This product is targeting the rental market: the new internal vibrator system is modular, allowing separate internal vibrators with different vibrator head sizes and protection hoses to be connected to the battery backpack. In this way, rental firms can keep the entire range of vibrator head and hose sizes available and thus offer the right solution for a wide variety of applications.
New models from Wirtgen
New technology for company's slipform pavers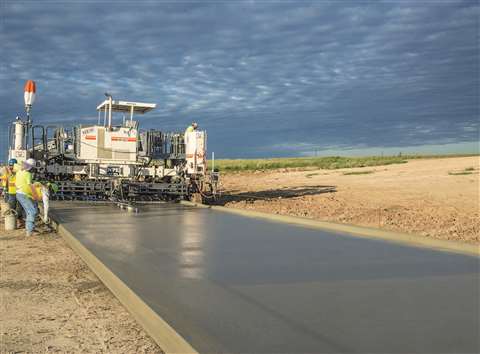 With the addition of two new models, Wirtgen is equipping its slipform pavers in the 12m class with the latest technologies from the SP 60 and SP 90 series. For example, the SP 124i/SP 124 has four steerable and slewing crawler units while the SP 124 Li/SP 124 L has crawler units with a rigid connection and slew drive steering as standard.
Inset slipform pavers are the ideal choice for the cost-effective paving of large-scale concrete pavements, such as highways or aircraft runways. Wirtgen offers 14 machine models in various performance classes for this paving method alone. Due to their modular design, the machines can be customised to meet nearly any customer's specific requirements. The two new pavers in the 12m class are the smaller cousins of the larger Wirtgen slipform pavers, which are capable of paving concrete up to a maximum working width of 16m.
With a 321 kW/430 HP Cummins engine that meets the Euro 5/US Tier 4f emissions standards (or 272 kW/365 HP that meets the Euro 3a/US Tier 3 emissions standards), the new Wirtgen slipform pavers are said to have sufficient power for paving concrete pavements from 4.50m to 12m wide and up to 450mm thick.
Strong focus on new technology
Kevin L. Klein, GOMACO's research and development expert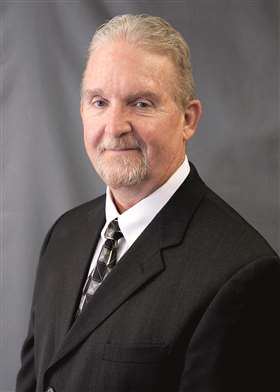 How big a focus is new technology for the company?
A big part of our development efforts is related to controls, such as the G+ controller. We do all our own software in-house, which means we're able to react quickly. A big focus has also been engine emission regulations. We've reached the end of Tier Four on the engines now, but we're already looking at Stage Five for Europe.
We spend a lot of time developing the next engine installations for our machine models. People think it would be easy to put different engines in our machines because they're big, but space claim is a major issue for us, along with the noise reductions and fuel economies that we want to achieve. It's a big part of what our engineering staff has done in the past ten years or so, incorporating new engines.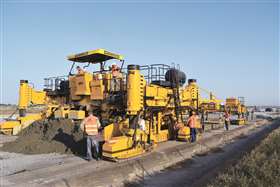 We are also starting to look at incorporating electric power into our machines. We will be concentrating on one of our smaller machine models first and will use that effort as a learning curve to transfer the technology to some of our larger machines in the future. Our engineering staff who attended Bauma Munich were exposed to technologies relating to electrifying construction equipment. We are well into the project now with the first machine; hopefully we'll have something to show for next year, possibly at Conexpo. We feel this is something that we must be looking at.
How much more information is available to operators now?
New technology has certainly allowed us to install more sensors on the machine so we can monitor performance. This information is utilised by the G+ control system and improves overall machine performance.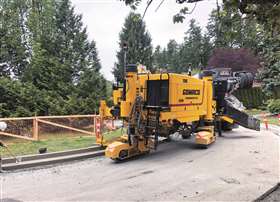 Grade and steering controls of our equipment is not a new thing and that's the first and primary function of the G+ system. But G+ also allowed us to do a better job of integrating 3D machine control. Keeping machine control simple for the operators is key. The workforce has changed significantly, our equipment needs to meet the needs of a new workforce. The modern operator expects to see the type of digital machine control complete with graphics in the display which G+ brings them. The G+ display's intuitive information makes machine operation easy for all.