Confidence will aid equipment sales say OHR analysts
By Mike Hayes21 November 2016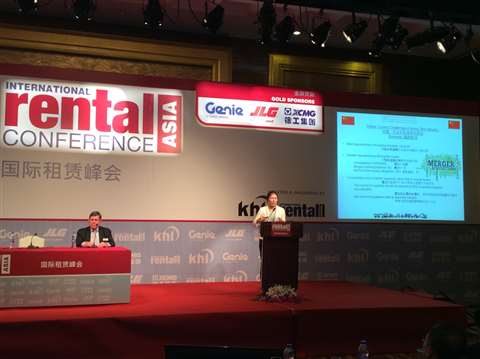 David Phillips, managing director of industry analyst Off-Highway Research (OHR), gave his insight into the changing face of the global market for construction equipment, during the International Rental Conference in Shanghai, China.
In a wide-ranging presentation, he described the performance of many piece of general construction equipment, from articulated haulers to wheeled loaders, also breaking down the best current markets for each.
We are facing an uncertain future, he said, not only following the turbulence caused by events such as the presidential election in the US and the UK's decision to leave the European Union, but also due to continuing concern over commodity prices and socio-political unrest in the Middle East and other parts of the world.
While he did predict global equipment sales rising to around US$ 89 billion by 2020, he pointed out that that figure was still almost US$ 10 billion shy of total sales in 2007.
In terms of specific machine types, Phillips said excavators were currently leading the way, accounting for around half of all global equipment sales.
These were followed by dozers and then, perhaps surprisingly, telescopic handlers, which are becoming increasingly important to Chinese manufacturers.
While he pointed out that Chinese equipment sales have fallen dramatically over the past five years, he predicted the bottom of the market had been reached and that sales for Chinese manufacturers would once again outstrip those of European manufacturers by 2020.
Following Phillips' presentation, OHR's senior consultant in China, Karin Sun, took to the stage to drill down into the firm's China-specific analysis.
She said one of the biggest problems facing China's construction equipment manufacturers is the decline in manufacturing quality, due to staff being laid off and the huge amount of restructuring being undertaken in factories, with a view to optimising capacity.
She added that ramping up production to cope with increased demand for machines such as large excavators was proving difficult as component suppliers are having similar issues, with a shortage of the skilled staff required to increase productivity.
When questioned about the international perception that there are quality issues with Chinese machinery, she said manufacturers are changing their attitudes to quality and, through the use of more international components, as well as better links with reputable dealers, they aim to improve their international image.