Contract of the Year under $1m Award
Apart from Erith Contractors, the other company to win in more than one section was Canada's Priestly Demolition, whose successes included one of the coveted Contract of the Year categories.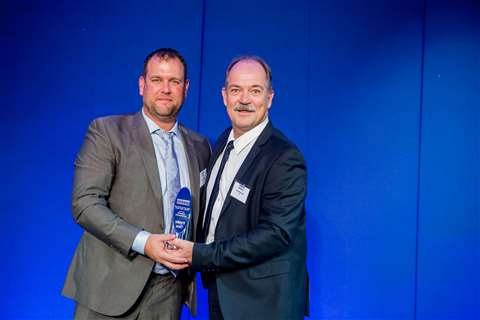 The company was contracted to perform the demolition of the existing 17-storey stair tower which was land or "building" locked within the existing functioning hospital and where the only access to the work was by foot or tower crane. Priestly's demolition plan called for the use of the onsite tower crane.
The obvious challenge with demolishing a stair tower is that nothing is level, so Priestly designed and fabricated a self-levelling platform to work from. This platform was installed and moved down through the floors as the project continued, helping the company to make short work of the removal.
At the 12th floor the footprint became slightly larger where the stair tower became a link between two of the existing structures that were to remain. This portion of the stair tower was from the original construction.
At this time Priestly deployed a second hammer on a Hitachi 27 to facilitate the hammering of the slab, beam, and columns portion of the link. This activity took place at the same time the Brook 100 worked on the stair portion.
Temporary shoring posts were engineered and installed to support the mini excavator and rubble load. Clean up of the rubble that was left from hammering and the block infill was done by bobcat and by manual labour.
Priestly added that on-site logistics were extremely difficult as the entire stair tower had to be removed using small equipment in a very limited foot print.
This was appreciated by the judges, who said: "Quite simply this was a great execution of a project to overcome every imaginable obstacle. And they did it safely, on time and on budget."