Cormidi three-in-one first in Las Vegas
By Euan Youdale13 February 2013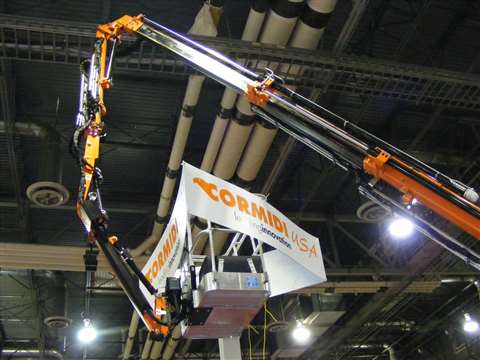 Italy-based Cormidi showed its KB 19-12 multifunctional machine for the first time at the Rental Show in Las Vegas, USA.
The company claims it is the only product of its kind to offer all three functions, as well as under-bridge reverse basket capabilities.
Armando Cormidi, general manager, told AI that it had sold three units in the USA, as well as two units to its distributor GGR Group in the UK.
Offering a 19.5 m and 22 m working height the tracked model provides 11.3 m horizontal side reach and 4 m down reach for under-bridge work. At 2900 kg, the lightweight chassis of the KB19-4 is also suitable for bridge locations, said the company.
The crane has three stage telescoping hydraulic knuckle sections and hydraulic jibs for accurate positioning. As a work access and under-bridge platform, the KB, which is part of a two model series, uses its flexible boom system to lift an operator up and over, then underneath a bridge for repairs and maintenance.