Corruption widespread according to latest TI report
By Chris Sleight18 November 2009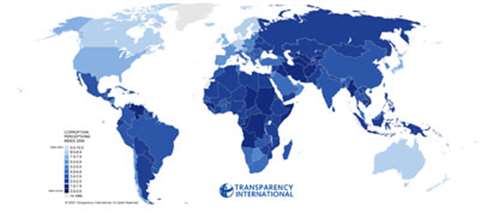 The 2009 edition of Transparency International's (TI's) Corruption Perceptions Index (CPI) shows that public sector corruption remains a problem in all regions of the world.
The CPI scores 180 countries from 0 to 10, based on how corrupt they are perceived to be (0 is highly corrupt, 10 is very clean). The score is based on perceived levels of corruption in public-sector procurement, drawn from 13 independent business surveys.
According to the CPI, the least corrupt countries tend to be relatively small developed world nations with high per capita wealth - the top five are New Zealand, Denmark, Singapore, Sweden and Switzerland. In contrast, the most corrupt countries tend to be poor, conflict-ridden and often undemocratic - the five lowest scoring countries are Iraq, Sudan, Myanmar, Afghanistan and Somalia.
Out of the 180 countries surveyed, only 49 achieved a score of 5.0 or more, a fact highlighted by TI chair, Huguette Labelle. "This year's index demonstrates that no region of the world is immune to the perils of corruption. Although some regions score much better on average than others, the fact remains that the vast majority of the 180 countries listed on the Index score below 5. This is very troublesome, particularly at times of a tentative economic recovery with massive stimulus packages and fast- track disbursements of public funds," she said.
The cleanest region of the world was the EU and Western Europe, where 22 out of the 30 countries surveyed - 73% - scored 5.00 or more. The region also contained six out of the ten highest-ranking countries in the world.
In contrast, none of the group of 20 non-EU European and Central Asian countries scored above five. The highest ranked was Turkey with a score of 4.4. Sub-Saharan Africa was also poor, with only Botswana, Mauritius and Cape Verde scoring 5.0 or more out of a group of 47 countries.
Although the CPI is published every year, TI describes it as a snapshot view and is reluctant to track countries' changing scores and rankings over time. Having said this, it highlighted Bangladesh, Belarus, Guatemala, Lithuania, Moldova, Montenegro, Poland, Syria and Tonga as countries that had improved since the 2008 study. Conversely, it said Bahrain, Greece, Iran, Malaysia, Malta and Slovakia had seen deteriorations in the way they are perceived.
For more informaition, visit TI's website. An interactive map of the CPI rankings is available here.