Cranes for all terrains
By Christian Shelton06 March 2018
The versatility of all terrain (AT) cranes underpins their popularity, and business in this sector continues apace. In such a competitive market, crane manufacturers are doing all they can to keep their ATs ahead of the pack, resulting in a raft of innovations and upgrades.
US crane manufacturer Terex Cranes, for example, has implemented its new IC-1 Plus control system across all its latest AT crane models, including: the Demag AC 500-8; the Demag AC 100-4L; and the Demag AC 300-6. The company says the system provides the crane's maximum allowable lifting capacity, based on the slewing angle, for every crane configuration. The control system no longer limits the maximum lifting capacity to a pre-calculated, 360-degree load chart, which was based on the least favourable position of the crane.
Terex's AC 500-8 is a compact eight-axle machine that can achieve a maximum system length of 145.8 metres with a luffing fly jib. Its star shaped outrigger design provides the required strength needed for minimal carrier deflection during maximum capacity lifts, according to the company.
The Demag AC 100-4L is one of Terex's most compact cranes in the 100t (120 US-ton) class. Following a redesign, Terex says the crane offers improved lifting performance, especially when working at steep main boom positions.
The Demag AC 300-6 has an 80 m (262.5 ft) main boom and can perform jobs at heights up to 78 m (255 ft) radius without rigging a jib. Terex says it is a good crane to use for tower crane erection, with a lifting capacity of 15t (16.5 US ton) on a fully telescoped 80m main boom. Also, the Demag AC 300-6 is the smallest in the Demag range that can be outfitted with a luffing jib, bringing the maximum system length to 118m (387 ft). The luffing jib rigging system is the same as on the AC 350-6 and AC 1000-9 cranes and Terex says it provides efficient rigging.
The company has also made efforts to implement the use of common parts between its product ranges to help make its customers' operations more efficient. For example, the Demag AC 300-6 helps maintain a lower stock of spare parts because it uses a high number of interchangeable parts with the Demag five-axle family of all terrain cranes. In addition, the 21 m (68.9 foot) double folding main boom extension of the five-axle Demag cranes is compatible with the AC 300-6.
Tier 4 engines
Terex has also upgraded its AC 500-8 with a new Tier 4/Euromot 4 engine and says it has received a positive reaction from the market.
Likewise, US crane manufacturer Manitowoc has used a Tier 4 Final engine from Mercedes in its GMK5250L. The GMK5250L also has a new Mercedes transmission and a VIAB turbo clutch module, which is designed to eliminate fluid overheating and clutch burning while simultaneously delivering improved fuel economy. "All of these components reduce fuel consumption by 30% while driving," says Manitowoc's global director for all terrain cranes, Andreas Cremer.
Manitowoc debuted the GMK5250L at the 2017 ConExpo trade show in Las Vegas, USA, along with the GMK5150L. It reports that these two ATs generated a lot of interest and the company has since sold a Grove GMK5250L to a diamond mine in South Africa – a first for Manitowoc in this country.
Japanese crane manufacturer Tadano has also updated its 120 ton (110 tonne) capacity ATF 110G-5 in line with the transition to Euromot 4 / EPA Tier 4F. Additional new features include multiple counterweight configurations for ease of transport and Tadano's AML-F load moment system with full on-board diagnostics. The ATF 110G-5 and ATF 220G-5 also have new drivers' cabs that Tadano says offers enhanced all-round visibility, ergonomic seats, and a new multifunction touchscreen.
Innovations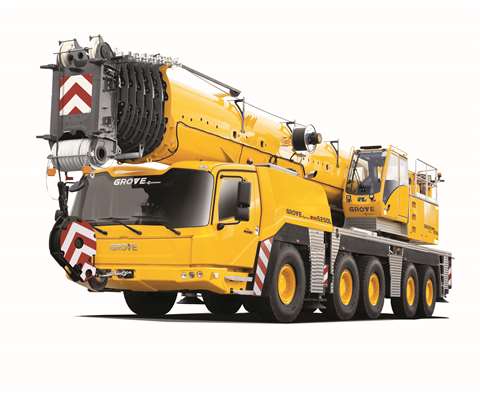 An exciting area of innovation for Manitowoc has been in its outrigger design. "Our flexible outrigger systems are gaining in popularity," says Cremer. "Our new MAXbase system is a part of this trend, enabling crane operators to set the outriggers halfway out on one side and all the way out on the other, or to have all outriggers out save for one – which might be needed because of restricted space. This system will soon be available on all of our newest all terrains and will enable greater flexibility on the job site."
US crane manufacturer Link-Belt has developed a number of innovations for its ATs, including its greaseless boom, its Pulse crane operating system, and the company's focus on designing cranes with 'transportability' in mind. For example, its US-built 185 tonne (210 US ton) ATC-3210 all terrain crane can transport at (or less than) 11,793 kg (26,000 pounds) per axle internationally and, for North America, both over-the-front and dolly configurations are utilised. In a boom dolly configuration the ATC-3210 can travel with a three-piece hydraulic fly, auxiliary lifting sheave, hook block, ball and main and auxiliary winches all while staying below 9,071.8 kg (20,000 pounds) with a maximum of three overflow loads.
The sector has also seen innovation from the East, where Chinese heavy machinery manufacturing company XCMG has produced the G-1 XCT75. This all terrain crane, the company says, has a 48 m, five-section 'U-shape' main boom with a 75 tonne lifting capacity. The crane has a twin variable pump-based fuel flow control system which XCMG says allows the hydraulics to be tailored to suit various hoisting and derricking applications. It also says the variable fuel pump control system on the engine results in a higher operating efficiency, reducing fuel consumption by up to 15%.
Rough terrain cranes
The appeal of rough terrain (RT) cranes is their ability to negotiate rough ground. They are often the first cranes on a job site, preparing the area for further equipment to follow. Their continuing popularity means there is a steady stream of new models being launched at all the key trade shows on the calendar.
The latest rough terrain crane from Japanese manufacturer Tadano is the GR-1100EX (also known as the GR-1200XL for North and South American markets). The crane is Tadano's largest two-axle rough terrain crane and has a maximum lifting capacity of 110 tonnes. The boom can extend from 12 to 56 metres and has a 44 m load radius. This maximum working radius extends to 46.9 m with the addition of a jib. The rounded boom is made from strong and light high tensile steel with a single telescopic cylinder. The boom has lifting height of 56.1 m, while the addition of a jib raises this to 73.6 m.
Tadano says that the GR-1100EX has been built with applications such as industrial energy site work in mind. The crane is compact (almost the same size as Tadano's GR-1000XL), which the company says makes it easy to manoeuvre and transport.
Control and monitoring
The GR-1100EX also has Tadano's new Smart Chart safety and control system. With conventional cranes, outriggers extended to their maximum length provide uniform, circular rated load capacity footprint over 360° of slewing angle, Tadano says. However, by using the Smart Chart it claims the crane can achieve a square-shaped rated load capacity footprint, with extended 'corners' over the outriggers that increase the load radius depending on the degree to which the outriggers are extended.
Tadano's GR-1100EX/GR-1200XL comes equipped with the company's 'eco-mode' fuel monitoring system which is designed to reduce fuel consumption when the crane is being operated. It also has a system called 'positive control' which is designed to reduce fuel consumption when the crane is on standby. Tadano says it does this by controlling the quantity of hydraulic pump discharge at the time of crane operation in response to the amount of movement applied by the operating lever. Additionally, it keeps the quantity of hydraulic pump discharge to a minimum, reducing CO2 emissions and fuel consumption by up to 20 percent, Tadano says.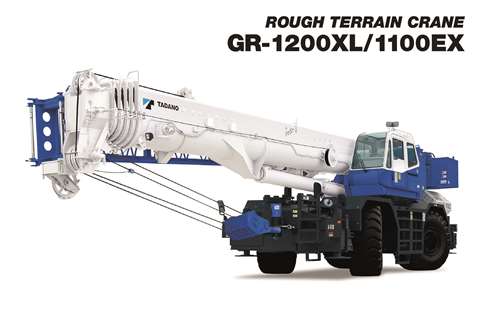 Monitoring of crane activity, work history, machine position data, and maintenance information can also be conducted via computers and mobile phones using Tadano's Hello-Net telematics system.
The newest rough terrain crane from Link-Belt is the 75|RT, which it launched at ConExpo 2017. "We've heard great things from our customers since its debut," says Brian Smoot, Link-Belt rough terrain crane product manager. "NessCampbell in Portland, Oregon and Smith Erectors in Markle, Indiana, received our first field test units.
With a 70 tonne capacity (75 USt) at a radius of 2.5 metres, a 43.3 m (142 ft) full power boom, and a 24 volt electrical system, the 75|RT offers remarkable control, reliability, and capacity performance."
The 75|RT has an all-new operator cab, which Link-Belt says offers 20 percent greater visibility thanks to the use of extra-large windows. Visibility is further aided with a full LED lighting package, three on-board cameras, and the cab can tilt up to 20 degrees. The 75|RT is one of Link-Belt's first models to have the company's new Pulse 2.0 RCL system – the most recent iteration of its crane control system.
Manitowoc's latest rough terrain models are the GRT8100 and GRT880 (the 'G' stands for Grove), with capacities of 100 and 80 US tons (90 tonnes and 80 tonnes) respectively. They share the same carrier structure and hydraulic components but have different booms. The GRT8100 has a five-section, 39.2 to 154.3 ft (12 to 47 m) Megaform boom with three modes of telescopic extension (which can achieve full extension in 160 seconds).
The GRT880 has a four-section, 41.2 to 134.7 ft (12.6 to 41.1 m) full power boom. "The GRT8100 was designed to replace and improve upon the RT890 – a 90 US ton machine that we had in our fleet since 2003, while the GRT880 replaced the 2008 RT880," explains Manitowoc's Paul Cutchall, rough terrain product manager – sales and marketing support. "We did this in response to customer feedback. It seems like longer booms have become much sought-after in most of the applications the RT890 is used in, so that's why we introduced it and increased the tonnage into the 100 US ton class with the GRT8100."
Both rough terrain cranes are four-wheel drive, four-wheel steer, two-axle machines. "As they are often the first machines on site," says Cutchall, "they need these capabilities to work effectively on potentially difficult ground."
Terex's latest RT model is the RT 100US which it introduced at ConExpo 2017. The crane is designed to B30.5 standards and has a lifting capacity of 90 tonnes (100 US tons). It uses a five-section, fully hydraulic boom that extends 47 m (154 ft). A 17 m (56 ft) bi-fold jib further enhances the crane's reach and versatility. The boom has three different modes and a two-part folding jib.
A new ergonomic cab design has 18-degree tilt functionality and a flat deck for enhanced safety and access. The cranes have a narrow width of just 3 m (9.8 ft) and a removable counterweight which allows them to be trailered without weight and width restrictions in most situations, says Terex.
The RT 100US also has four steering modes: two-wheel; four-wheel; crab; and independent rear axle steering. Two engines are available: Tier III and Tier IV final.