Crawler launches from JLG
By Euan Youdale08 May 2018
JLG is launching crawler versions of the 600 telescopic boom lift series.
The wheeled 600S and 660SJ lifts were launched at Conexpo in 2017 and today the company announces the crawler versions, the 600SC and the 660SJC, bringing the series to four models.
"The series offers class-leading platform capacity, allowing operators to bring more tools and material to the work area," said Jan-Willem van Wier, JLG EMEA senior product marketing manager.
The 600SC and the 660SJC have the same benefits as the wheeled versions, with the 600SC offering an unrestricted capacity of 270kg, which represents a 20% increase over the previous version, and a restricted capacity of 455kgs. The unrestricted capacity of the 660SJC has increased by 50% to 340kg, with a restricted capacity of 250kg.
Lift speeds are faster with the ability to operate multiple functions at once. In addition, the machines are easier to transport. Their lighter-weight telescopic booms allow for multiple transport configurations.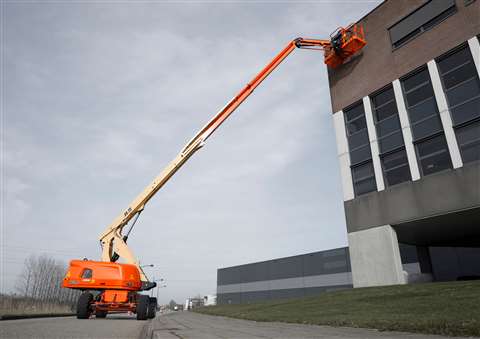 The four models include the JLG SkyGuard enhanced control panel protection system as standard equipment. The SkyGuard sensor, when activated by approximately 23kg of force, stops all functions in use, temporarily reversing the unit. The booms also benefit from extended wire rope and sheave replacement intervals - from eight to 12 years - up to 7,000 hours.
A wide range of accessories and attachments are available; among them, the optional JLG SkyPower system which improves fuel economy and saves time, while providing additional power for hand tools and accessories.