Crossrail marks rail flyover launch
By Sarah Ann McCay01 June 2014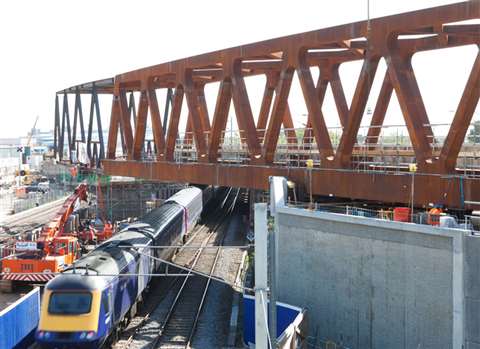 The UK's Crossrail has completed work on a new rail bridge over the Great Western Main Line as part of works to ensure that the existing railway is ready for Crossrail trains to and from Heathrow Airport. 

For the new 120m long flyover in Stockley, Hillingdon, two jacks launched the bridge with a force equivalent to that needed to lift 115 London taxis. A total of 20 moveable wheels and special Teflon sheets were also used to help the bridge launch.
Matthew White, surface director at Crossrail, said, "Launching a 10,000 tonne bridge over the Great Western Main Line is quite a feat of engineering. 


"The new flyover at Stockley is an essential part of our works in west London, ensuring that the network has enough capacity to run frequent services to and from Heathrow. Crossrail will significantly improve transport links to the airport, bringing the West End, the City and Canary Wharf closer than ever before."


Rob McIntosh, Crossrail programme director, Network Rail, said, "We used innovative methods as this was a complex and difficult operation. The system of sliding the bridge over the railway line allowed for controlled and safe installation with minimal interruption of rail services.
"That said, it took a lot of preparation ahead of time, and we monitored progress very carefully."


Crossrail services between London Paddington and Heathrow will begin in 2018. From 2019, the full service will begin, allowing passengers to travel from Heathrow right through the centre of the capital without changing trains.