Crossrail project's City bridge
By Neill Barston16 December 2014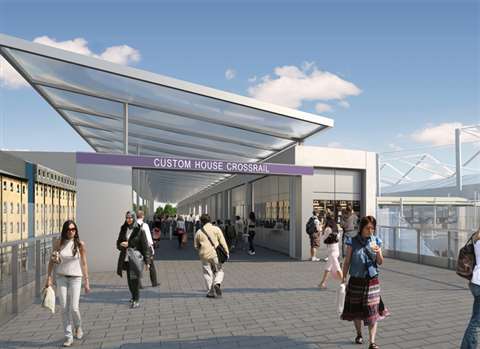 Work on the UK's Crossrail scheme in London has continued with installation of a 34m long bridge and new station at Custom House.
The structure will connect with the city's ExCel London exhibition centre and was erected last weekend in three sections.
Construction work on the project's latest station is nearing its halfway stage and has been largely pre-assembled off-site at Laing O'Rourke's Explore Industrial Park in Steetley, near Sheffield.
According to Crossrail - which will operate from Reading to the west of London to Abbey Wood in the south east of the city - journey times between Custom House and Bond Street will be soon be around 10 minutes faster.
However, passengers travelling to and from Heathrow are to experience the greatest benefits, with 30 minutes being cut off time commuting.
Its developers have confirmed 55,000 jobs will be created during the overall project and believed the time saving achieved would offer considerable economic benefit to the capital.
Crossrail, which has a total budget of £15 billon (€18.8 billion), will feature 26 miles of new tunnels including a River Thames crossing as part of the upgraded network, which is due to be operational by the end of 2019.
With work on the scheme said by its developers to be progressing strongly, further plans have now emerged to consider a companion project, dubbed Crossrail 2, costing £20 billion and enhancing rail connections between the north and south of London.

Mujahid Khalid, project manager for the Custom House station, said, "Installing this huge bridge was a vital part of our construction programme at Custom House. The new station is rapidly taking shape - we expect the outline structure to be completed by the beginning of next year, after which the process of fitting out the station will begin in earnest."