Crushing & screening efficiency drive
By Neill Barston19 December 2014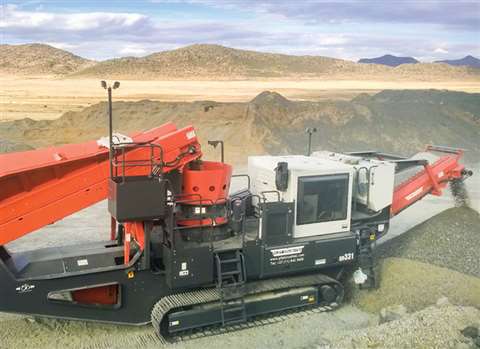 Achieving greater levels of efficiency and operating reliability remain among the key drivers in the crushing and screening equipment sector.
Keeping pace with new developments in technology including engine design that has seen stricter Stage IV/Tier 4 final emissions limits introduced this year in the US and Europe has also posed its own set of challenges.
So too has the on-going industry need to develop ranges of mobile equipment that are capable of operating in some of the world's most inaccessible locations.
As Mikael Delbrant, vice president of Sandvik's crushing and screening division explained, another core factor has been in devising products that respond to expanding health and safety regulations.
This has included environmental impact analysis of Sandvik's overall business practices, including developing emissions-conscious equipment and improving its recycling policy.
Among its technology advances, this year has seen the introduction of an ASR (automatic setting regulation) automated control system for its cone crushers.
This core development protects the equipment from overload when used with an accompanying software package to further improve efficiency levels through greater automation.
The company has also developed wear-protection lining for its products, which it has said can extend the lifetime of equipment by up to 25%.
Working environments are also improved through Sandvik's focus on dust encapsulation features built into its crushing and screening products.
Mr Delbrant said, "We have seen an increased global focus on environmental health and safety. Together with the feedback we receive from our customers, we have developed several new products (including the CH500 series of cone crushers) and made improvements to our existing products in order to reduce our environmental footprint, improve safety and ergonomics for the users, better performance and quality of the end product, together with less energy consumption."
There was plenty of attention on one of the company's latest releases at the Bauma China exhibition held in Shanghai – the Q1441 mobile tracked crusher featuring its C1421 Prisec Impactor box.
The company has redesigned the crushing chamber to allow the base crusher to easily be switched between primary and secondary mode to effectively give users two machines in one.
It retains many of the features of the previous model, including direct drive, user friendly programmable logic controller (PLC) system and remotely-operated inlet opening adjustment on a machine that features low wear, easy maintenance and low cost operation.
Meanwhile Shanbao, the Chinese crushing and screening equipment maker in which Sandvik owns a majority stake, also used Bauma China to launch a range of mobile crushing and screening units for the global market.
This included tracked, wheeled and modular units, featuring primary, secondary and tertiary crushing and screening equipment as part of an entirely new venture.
Delivering machines that are both robustly-designed and fit for their respective markets remained a core priority for many companies including Austrian manufacturer DSB Innocrush.
Its general manager Dieter Durstmuller, explained that responding to customer feedback had been an integral part in establishing itself in a competitive marketplace.
He said, "One of the biggest changes and challenges we have faced has been the introduction of a lot of new technology. This includes dealing with new emissions regulations.
"We have found that our customers do not want equipment that has too many options - especially with excavator drivers having to operate many systems by remote control."
The manager added that its early decision to develop its Innodrive operating system had proved critical in reducing levels of maintenance-intensive components for crushing equipment.
He added that moving towards Tier 4 emissions technology had also posed challenges, but said that rules permitting its phased introduction were proving effective in managing the switchover.
Key uptime
As a number of manufacturers including Metso have expressed, ensuring as much operational uptime as possible plays a key role in crushing operations.
Consequently, the company has developed its Orange Series Rotor for vertical shaft impact (VSI) crushers. The company said use of the new system, productive uptime can increase substantially in terms of the extended life of parts and faster service.
Maintenance is also simplified by reducing the number of wear parts by -30% and incorporating -25% less components. This is achieved by integrating several components and using less fixing points.
The company explained that remote monitoring of crushing data from quarries is becoming a crucial element in mobile crushing and screening applications.
In response, Metso has developed complete fleet management and automation systems that are designed for all its Lokotrack range mobile applications.
The company's fleet management system consists of an IC process control system, a satellite uplink and a DNA Report portal. This collects and presents a daily overview of the operating fleet including effective hours, fuel consumption and unit locations.
Another of its major releases comes in the form of a joint venture with Liugong to produce a 40 tonne mobile crusher, which was on show at Bauma China.
It has been built around Metso's Nordberg C106 single toggle jaw crusher designated as the Liugong LM J106. The machine was joined on the stand by the LM S48 tracked screen.
Both are designed for the Chinese market, with the crusher featuring a diesel delivering 194 kW certified to Tier II and the latter, weighing in at 32 tonnes, featuring a Tier III engine delivering 86 kW.
According to the company, they are designed for crushing hard stone and recovering building materials in quarrying, mining, cement, municipal road and bridge construction.
Crushers
Precision and efficiency are key to Irock's latest crusher, the TC-20, which made its debut at the Conexpo industry event in Las Vegas earlier this year.
Combining a larger feeder and a high performance four-bar impactor, the company said it produces a uniform, cubical product, with hydraulically adjustable aprons providing added control over sizing.
According to Irock, its latest machine has the versatility to process soft to medium rock, recycled concrete and recycled asphalt.
The crusher's rotor measures 40 inches (1,016 mm) by 56 inches (1,422 mm) and can process a variety of materials up to 24 inches (610 mm) in diameter. A 440 hp (328 kW) Caterpillar C-13 ACERT Tier 3 engine powers the machine, which can process up to 500 tonnes per hour.
The tracked crusher features a fixed, Hardox steel hopper offering a
11.4 m3 capacity. It is paired with a 52 inch (1,320 mm) vibrating grizzly feeder, which has three quarter inch (19 mm) liners on the pan and side walls. The feeder is up to 3 feet (914 mm) longer than comparable units, making it possible to feed material with a large wheel loader.
Consistent product development in terms of flexible design and operational readiness is an approach that Rockster says it has applied to its range of crushers – with its R1100DS no exception.
Featuring its multi-function display the machine's crushing gap can be adjusted fully hydraulically and continuously, so the final material can be defined simply and easily, aiding precision of screening curves.
The conveying velocity continuously adapts the crusher load and the operating pressure of the main conveyor, which prevents overload and downtimes. If necessary, the vibrating feeder can be infinitely controlled manually via the remote control.
Competing with harsh climates is often a key consideration for equipment for the crushing and screening sector.
One example of performance under testing conditions is SBM's STE 100.65.T combined with its Remax 132 Eco operating in the Tschita region of Siberia.
The mobile track-mounted primary and secondary crushing unit, consisting of a jaw crusher and an impact crusher, is loaded here with especially hard and tough gabbro basalt with a feed size of up to 600 mm. With a throughput of some 200 tonnes an hour, a final grain size of 0-45 mm was achieved.
Traditionally in Russia such a task would be realised with two further crushers so there is an obvious advantage in achieving these desired product size with just the MFL jaw crusher with SBM impact crusher.
Having built a new UK production facility, Red Rhino crushers has expanded its range of mobile and static jaw crushing machines used for a variety of contracting work and civil engineering projects.
Business development manager John Bird explained there were now six crushers within its range.
He said, "We offer diesel, electric and hydraulic options. We have the latest variance in output size and are currently designing and working on bringing two new machines to the market in 2015 a 3 tonne size impact crusher designed with the recycling and glass industries in mind and a 3.2 tonne Red Rhino mini screener capable of screening up to 80 tonnes per hour.
"We have now sold close to 500 crushers throughout the UK, US, Canada, Europe and Australian markets, with growing demand from South Africa and the Far East."
Adding to its mobile crushing range, Powerscreen has released its Warrior 2100, which the company says offers greater power and fuel economy.
It has been designed with the company's triple shaft technology, which was first seen in its previous 2400 model.
The company said this has been designed so the 4.8 m x 1.5 m screen box is highly effective and efficient, while maintaining exceptional throughput productivity.
Its extreme screening acceleration offers the Warrior 2100 screen improved capabilities over its class rivals, especially in sticky scalping applications.
According to the company, one of its key features is economy - with reduced fuel consumption being offered through a lower engine running speed of 1800 rpm and enhanced hydraulics.
With media solutions which include Bofor Grizzly, Finger Modules, Punch Plate and new 3D Punch Plate, the Warrior 2100 screen, the company said it had a wide range of applications including scalping, screening and recycling.
Versatility is said to be a key selling point of Terex Finlay's latest 893 tracked mobile heavy duty screener.
It has been designed to work in a range of demanding environments including quarrying, mining, construction and demolition debris, topsoil, recycling, sand, gravel, coal, ore and aggregate applications.
A high performance 1,100 mm apron feeder and hydraulic gearbox drive is fitted to the machine as standard and has proven performance and versatility in demanding and varied working environments. The hopper has a 10 m³ capacity as standard.
The machine is powered by either a Tier 3/Stage IIIA Caterpillar C6.6 151 kW or a Tier 4i Caterpillar C4.4 129 kW and is equipped with three hydraulically folding discharge conveyors allowing for maximum stockpiling capacity and associated benefits of rapid set up and tear down times.
Combining the durability and longevity of polyurethane and cost-effective characteristics of woven wire cloth, are two of the key features of Ty-Wire Screen Media from W.S Tyler.
It offers a highly efficient screening alternative to traditional screen media, which the company claims is a unique design that delivers up to 80% more open area than modular polyurethane.
Ty-Wire blends polyurethane and woven wire into an affordable, practical option that's also designed to maximize screening efficiency and productivity.