CTE special firefighting truck mount
By Euan Youdale04 August 2015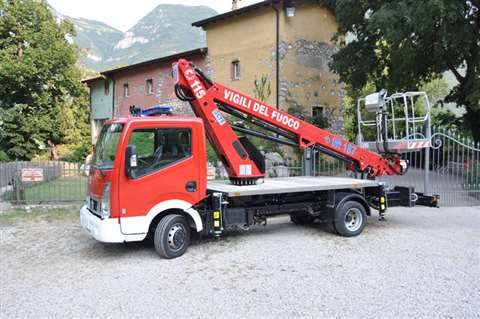 Following CTE's special ZED 19 truck mount for the Pisa Fire Fighters Brigade some months ago, CTE has customised another truck mount, this time for the Lucca Fire Fighters Brigade in Tuscany. It is a telescopic B-Lift 187 with fire rescue features.
The B-Lift 187 has 18 m of working height, 12.7 m of outreach and 250 kg capacity. To meet the requirements of the Lucca Fire Fighters Brigade, the platform is equipped with a water/air hose connection to the basket. There is also a 250 Bar, 12V light on the basket, along with alarm and flashing lights fitted to the cab.
Lucca already owns a B-Lift 187 adapted for firefighting operations and has chosen this second one for its compact dimensions for operation in confined spaces. Team leader Moreno Andreuccetti, says that "the boom of this platform is very stable. During the rescue work following the tornado that recently hit the Versilia coast, it was a great ally. "
The platform was donated by the Fondazione Cassa di Risparmio of Lucca city.