Cutting edge lift from GGR
By Sarah McCay23 July 2014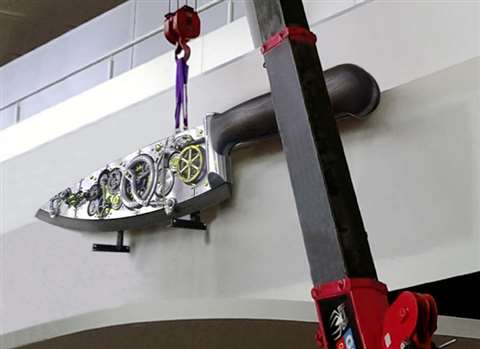 UK rental firm GGR Group recently provided a Unic URW-095 mini atrium lift to install a clockwork knife at the front of award-winning chef Heston Blumenthal's new restaurant in London Heathrow airport's Terminal 2.
The 0.995 t capacity Unic URW-095 mini crane was used to lift artist Rob Higgs' clockwork knife sculpture. The 3.2 m long mechanical sculpture, weighing 200 kg, took 10 weeks to design and build and features a moving metal blade.
The restaurant is situated on an upper level in the departure lounge, which meant that the 600 mm wide Unic URW-095 compact crane had to be tracked through the terminal and transported in a goods lift. GGR supplied an LPG-powered mini crane model to reduce on toxic fumes in an enclosed area.