D&Ri 100 2008: World's top 100 demolition companies
By Lindsay Gale01 May 2008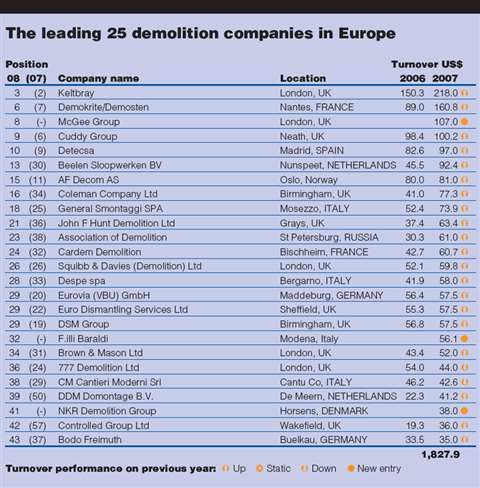 This year's D&Ri100 listing provides proof positive that 2007 was a good year for those companies active in the industry. Record revenues last year have led to a cumulative D&Ri100 total up 22% on 2006 at US$4,764 million.
Since we have made our biggest ever effort yet to source financial data on demolition companies from around the world during the preparations for compiling this years D&Ri 100, we once again have a number of new entries in the list, headed notably by Australian outfit CMA Corporation, who has jumped straight into the list an No.2, emulating UK contractor Keltbray's performance of last year.
In total, 11 contractors have made their way onto the list for the first time or, in some instances, rejoined the list following an absence because of a lack of the necessary data
While the threshold for entry in the D&Ri100 remains pretty much as last year at US$8 million, the total value of the list has increased by 22%, from US$3,688.9 million up to US$4,764 million.
The North American stranglehold on the leading positions has also been well and truly broken this year. In the past, it was almost standard for at least the top three slots (and often the top 10) to be occupied by companies from North America. This year, we have a true representation of the demolition/recycling industry around the world, with contractors from North America, Australia and Europe occupying the top three positions. In fact, the top 10 is made of four North American contractors, one Australian and five European contractors, precisely mirroring the percentage of contractors on the list from these geographic regions.
In total, the top 10 contribute US$1,650.6 million, or 34.7% towards the total D&Ri100 (last year's comparable figure was US$1,238 or 32% of the 2007 total). Of note is the increase in the number reporting total incomes in excess of US$100 million - last year, there were five but this year, the figure has almost doubled to nine, of which just two are new to the list (AMC and McGee)
Meanwhile, the top fifty in the list account for US$3,944 million or 83%, with the bottom 50 contributing US$820 million, a result that presents a picture similar to that presented by the comparable figures for last year.
Increased revenues in 2007 over 2006 seem to be almost the exception than the rule this year.
However, the best of all if percentage increase is taken as a guide has to be UK contractor Syd Bishop. In 2006, reported revenues were US$1.9 million (from a financial reporting house) but this year the company supplied figures reporting a turnover of US$24.3 – a growth of over 1,200%. It must be said, however, it is entirely possible that the figures obtained last year considerable understated the company's actual performance and illustrates the pitfalls that can be encountered when using these routes for data collection.
Perhaps the star performers this year in Europe are French contractor Demokrite (soon to be renamed Demokrite/Demosten), who reported annual revenues up more than 80% and Russian contractor Association of Demolition, who reported a growth of more than 100%, as did Dutch contractor Beelen Sloopwerken. Some leading UK contractors give them a run for their money, however, with Connell Brothers, John F Hunt and Keltbray, among others, posting strong results.
In North America, D.H Griffin reported a 140% increase (although this also may be the result of underreporting last year, since a financial reports service was used then, whereas this year's figure was supplied by the company). Other star performers in North America include Brandenburg and Penhall, based on the figures.
It should be pointed out that European contractors have once again been the beneficiaries of the relatively weak US dollar and the exchanges rates that are the result, especially where the Euro is concerned – with a slighter lower Euro/US$ rate, for instance, US based CST Environmental might have switched places with Spanish contractor Detecsa.
Speaking of CST Environmental, it, and fellow US contractor Nuprecon are still listed separately in the D&Ri100 despite their both now being owned by Seattle-based Evergreen Pacific Partners as recently announced (see news). This year's D&Ri100 listing is based on 2007 revenues and since D&Ri understands that both companies will continue operations under their separate names for the foreseeable future, it appears reasonable to list them separately. The same logic has been applied to the listing for the former Mazzocchi Wrecking, which was acquired by LVI in the middle of 2007, although in this company's case it is listed under its new name, LVI/Mazzocchi. It is possible, however, that a different decision will be made where the latter is concerned when next year's D&Ri100 comes round.
As always, we have endeavoured wherever possible to exclude non-demolition and C&D recycling income from the final published figures, but in some cases it has not been possible to confirm that this is the case with the figures reported.
While the responses from countries outside of North America or Europe was somewhat greater than that experienced last year, I am still conscious that there is no doubt that there are certain to be major players out there who do not appear on the listing. We will once again intensive our efforts over the course of the next year to identify appropriate contractors who qualify for inclusion on the listing from countries other than in North America and Europe.
Once again, I would like to thank all of those who took time out from no doubt busy schedules to respond to my request for information that was sent out at the beginning of the year, and my follow-on 'nudges of elbows'. The more contractors that do so will help the D&Ri100 listing become ever more comprehensive and accurate, making it a valuable gauge to the industry.
Where next year's D&Ri100 is concerned, we are giving some though to expanding it into the D&Ri150, or even the D&Ri200, so I would like to encourage demolition/recycling contractor readers to await the January-February issue in 2009, which for the first time will contain the documentation required for submission of the necessary financial data.