Dana and JLG collaborate on electric axle
By Lindsey Anderson09 April 2019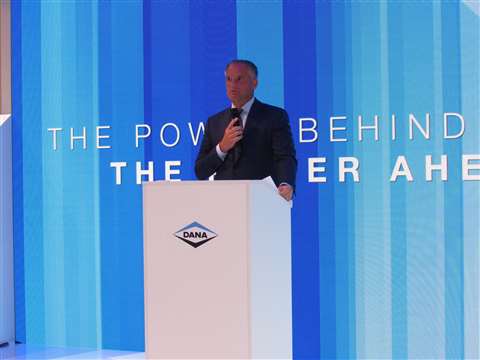 Announced at Bauma, Dana and JLG have partnered to develop an advanced Spicer Electrified e-Axle as part of JLG's electrification initiative.
The Spicer Electrified e-Axle features an optimized combination of electrified drive components packaged in a configuration that reduces power losses by up to 20 percent when compared with traditional diesel-powered drivetrains.
"As the market continues to shift towards a mix of electrified equipment, JLG is advancing concepts that deliver the same lift performance, maneuverability, workhours, and ease of maintenance offered by diesel power," said Guru Bandekar, global vice president, product management and development, JLG Industries. "Dana offers a comprehensive suite of advanced drive and motion systems for electrification. This axle concept signifies one joint exploration that will help JLG retain its market leadership."
For more than 20 years, Dana has supplied drive and motion technologies for select JLG aerial work platforms and telehandler models, including axles, hydrostatic and hydrodynamic transmissions, hub drives, slew drives and driveshafts.
"Dana has made numerous strategic moves that have grown our electrification portfolio exponentially," said Aziz Aghili, president of Dana Off-Highway Drive and Motion Technologies. "JLG and Dana share a passion for innovation and a drive toward excellence through electrification."
The Spicer Electrified e-Axle concept combines a number of Dana products, including Spicer axle components and drive and motion intelligence, SME motor and control technologies and gearing in a modular package that can be fine-tuned for vehicle size and performance.
The design of the Spicer Electrified e-Axle concept improves the mechanical efficiency of the drive system, which enables the use of downsized battery systems while improving noise, vibration and harshness performance and extending working hours and operating range.
The e-Axle concept also utilizes Dana's Spicer Smart Suite Intelligent Load Monitoring System (ILMS) and a Spicer intelligent steer system.
Spicer Smart Suite ILMS uses patented and proprietary data-collecting technologies across the vehicle to prevent tip-over incidents, supply intelligent calibration management and estimate axle attitude. It is designed to alert the operator of potential tipping situations, reduce the risk of vehicle breakdowns, improve productivity, and enhance the long-term serviceability of drive systems.
The Spicer intelligent steer system continuously analyzes real-time vehicle operation to adjust steering angles – improving productivity, maneuverability and safety.
The two companies are showcasing the technology at Bauma during special viewings. Visit their booths to learn more.